Producción creativa de música con ACID
ACID ofrece una legendaria tecnología de creación musical basada en loops junto con una grabación multipista de calidad excepcional, edición de audio y MIDI profesional y numerosos instrumentos y efectos plug-in de alta calidad. Ahora, con la potente tecnología de 64 bits y unos instrumentos y loops completamente nuevos, ha llegado el momento de llevar la creación musical a un nuevo nivel. ACID tiene todo lo que una gran producción musical necesita.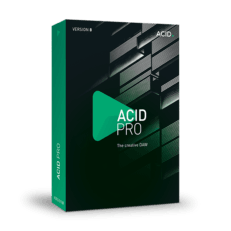 ACID Pro 8
Composición musical legendaria e innovadora: grabación, edición y mezcla a nivel profesional; docenas de nuevos plug-ins y un potente motor de 64 bits.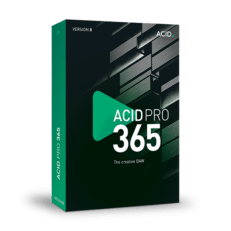 ACID Pro 365
Mantente al día con el universo ACID Pro: por un bajo coste mensual, podrás disfrutar de todas las nuevas actualizaciones, parches, funciones, instrumentos y efectos a medida que se lanzan al mercado.
No te fíes solo de nuestra palabra.
Artistas en ACID Pro.

"ACID is instantaneous gratification in a way that's not talking down to the user, nor is it making music for you. It's a phenomenal compositional tool."
BT, Grammy nominated Composer, Producer, Technologist, Engineer, Multi-Instrumentalist and Inventor of the Stutter Edit

"If you wanted two programs from MAGIX and you just had ACID Pro and SOUND FORGE software, that's all you'd need. I don't think I've ever looked at the manual for any of my MAGIX products. You open it up, and because they're designed so well. I've never had an installation fail on me. I don't think any of my MAGIX products has ever crashed."
Ted Perlman, Grammy rewarded Producer, Songwriter, Musician and Arranger

"Producing great tracks quickly and efficiently is key in this business. ACID software helps me achieve my goals without sacrificing creativity."
Tony Verderosa, Drummer, Composer and Producer

"It's impressive how a DAW this powerful feels so lightweight. Complex projects open and close nearly instant and the new UI is snappy and responsive. The dark UI is easy on the eyes but keeps the classic ACID look old fans of the software have grown to love. Version 8 has the most comprehensive sound and effects package bundled with ACID Pro to date. Finally being able to use all of my 64 bit plugins in ACID is a dream come true."
Mac Melto, Producer, Composer and Viacom Library Contributor

"The projects that would normally take me two-three hours to create a sound, or a plug-in feature in Pro Tools, would take me 15-20 minutes in ACID."
Rod Carillo, Producer and Remixer

"The moment I was introduced to ACID Pro everything changed. It was the first DAW that made it super easy for sequencing, to create and manipulate loop-based content. No longer did I have to fight for studio time because now I could work from home and get amazing results fast. (...) More than 20 years later, I've yet to find another program that has the same power and versatility as ACID Pro. The latest version of ACID Pro 8 picks up where ACID Pro 7 leaves off, providing more stability, plug-in support and a sleeker look that's easier on the eyes."
Curtis Atchison, Producer and DJ

"I've been using ACID Pro since forever and the new ACID Pro 8 is a real game changer. I've tried many DAWs, but ACID Pro always works best for me. It's fast, easy to use and have all you want in a DAW. Soon to release my second album made 100% in ACID Pro just as my first album and all my remixes!"
Moist, Producer, Remixer & Art Director

"ACID Pro has been a great partner during my entire music career. Even before I started working as a professional composer, I had made all of my music using this DAW.ACID Pro has an optimized workflow for making dance music, and an excellent editing capability for recording & remixing. It is the prototype for some popular DAWs today, and in a way, still has some advantages compared to them. Now, thanks to the happy update by MAGIX, I'm making my new songs in the 64-Bit environment. It gives me more power, therefore even making the most complex projects possible. And the huge number of new built-in plugins are very useful for me. More people should know about this great DAW! I love it!"
AKADU, K-Pop and J-Pop Composer, Producer

"I've been using ACID ever since I can remember. I've tried almost every other major DAW in the market and I always find myself coming back to ACID. There's a certain magic that can be created with it that can't be done anywhere else. It's ease of use, loop handling, and simple workflow sets it apart in the industry - and that's why everyone loves it. The new 64 bit version will open a whole new world of creativity for me and I'm excited to continue my musical journey as an ACID user. It simply feels amazing to use 64-Bit plugins in ACID Pro 8!"
Manni Sandhu, Producer and Composer

"I've tried for years to get my head around the Top DAWs on the market — and despite their innovative concepts, nothing gets close to ACID Pro when it comes to workflow, ease of use and mind-to-music process. You won't open the user manual once because it just makes sense, which is why it truly deserves to be called The Creative DAW."
Zacchino, Producer and Composer
BT
Ted Perlman
Tony Verderosa
Mac Melto
Rod Carillo
Curtis Atchison
Moist
AKADU
Manni Sandhu
Zacchino
Únete a nuestra comunidad
Interactúa con otros usuarios de ACID y comenta las últimas tendencias o retos en producción musical o, simplemente, ¡comparte tu música en Facebook!

Community
Únete a la conversación con otros profesionales y apasionados del audio. Comparte tus consejos y trucos de producción con la comunidad de ACID.

Facebook
¡Descubre el mundo de ACID en Facebook! Únete a una comunidad impresionante para compartir tu música, inspirarte y enterarte de las últimas actualizaciones de productos.

Newsletter
Regístrate hoy y estarás siempre al tanto de las últimas noticias, información interesante u ofertas sobre ACID.