How to make Action-Cam or GoPro Videos? Fast and easy with MAGIX Fastcut!
Whether for skating, biking or surfing, action cams are a must for anyone who wants to share and relive extreme experiences and personal successes.
Complicated and long-winded video editing can make preparing action cam videos a real chore since it's not possible to concentrate on details such as light, contrast and stability during filming.
MAGIX Fastcut: The video editing program designed specifically for action cams and GoPro users.
Create professional action videos without any previous experience
MAGIX Fastcut's easy-to-use controls allow any action cam or GoPro user to create high-quality action clips. Plus it contains all the features expected of video editing software for action cams:
Image stabilization

automatic video editing wizard

Wide-angle correction

Speed changes and slow motion

Noise removal for video sound optimization

Full HD support

Music tracks (30s-90s) for background music

Share feature for direct uploads
The numerous features offer everything you need for good clips. Removing fisheye distortion, stabilizing shaky footage and adding slow motion scenes to accent important moments are no problem at all for MAGIX Fastcut - even in Full HD.
This goes for editing video sound too. Whether you want to add background music or remove wind noise, the sound optimization is easy to use and provides professional results.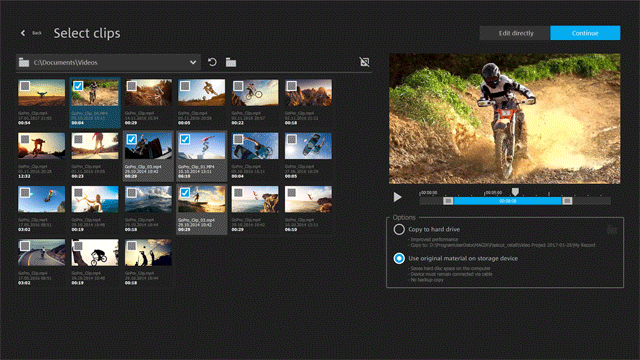 No tutorial needed - thanks to easy-to-use controls
Tutorials are very popular. Nearly every problem has a corresponding guide which explains how to use complicated program features. But you don't need long tutorials to use MAGIX Fastcut. The easy and intuitive controls allow anyone to edit their recordings.
How to make action cam and GoPro videos
Got a new action cam video you want to optimize? Just load the video via SD card or USB cable and let the editing begin!
How to edit action cam and GoPro videos
Quickly and easily cut and optimize recordings with Fastcut. First remove the fisheye effect, then filter out the wind noise and add some background music. All you have to do now is save everything and starting filming your next clip.
How to share action cam and GoPro videos
Once you're finished editing, simply save the video to your hard drive or upload it directly from the program to Facebook, YouTube and other sites using the share feature.
Already have an action cam and want to share your experiences with everyone in an engaging way? MAGIX Fastcut is the right software for you! Everyone can use the intuitive controls and numerous visual and acoustic effects to create high-quality videos and action clips.