New design, optimized workflow

Sleeker, better organized, and easier to work with. Video Pro X has a new look and is more intuitive than ever before.
Revamped program interface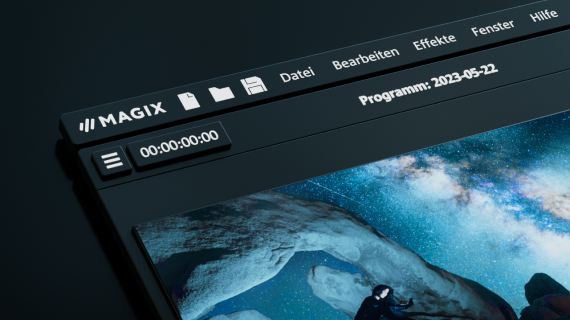 The streamlined design ensures more clarity while working. Fonts & icons are even clearer and easier to read thanks to higher contrast.
New zoom feature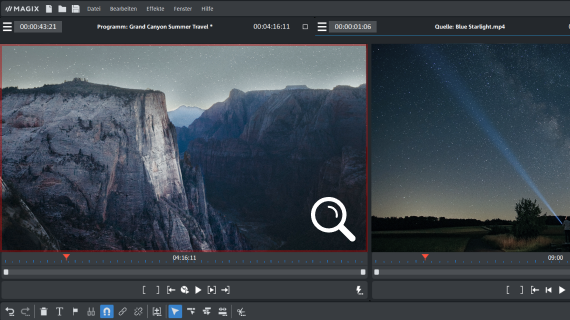 Zoom in with the mouse and use the tracker to work more precisely in the preview monitor and view details better.
Edit in the preview window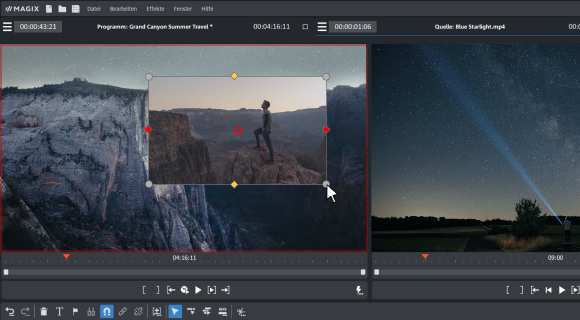 Select objects in the video preview and adjust them instantly without first having to find them in the Timeline.
MAGIX Hub – now fully integrated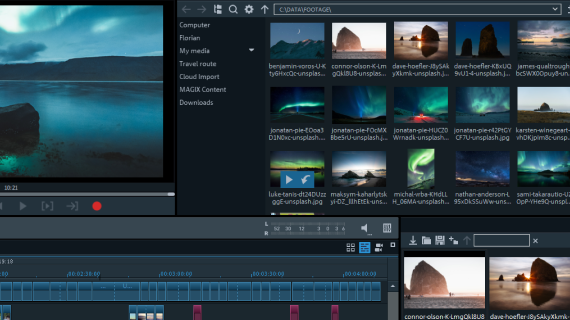 Subscription users can access their user profile, MAGIX Content and the new online help directly from the Media Pool.
AV1 codec: Compression without loss of quality

Save a huge amount of hard drive space without sacrificing your movies' quality thanks to revolutionary AV1 encoding. The improved INFUSION Engine 3 provides even more stability and performance for every step of the video editing process, helping you finish your work faster than ever before.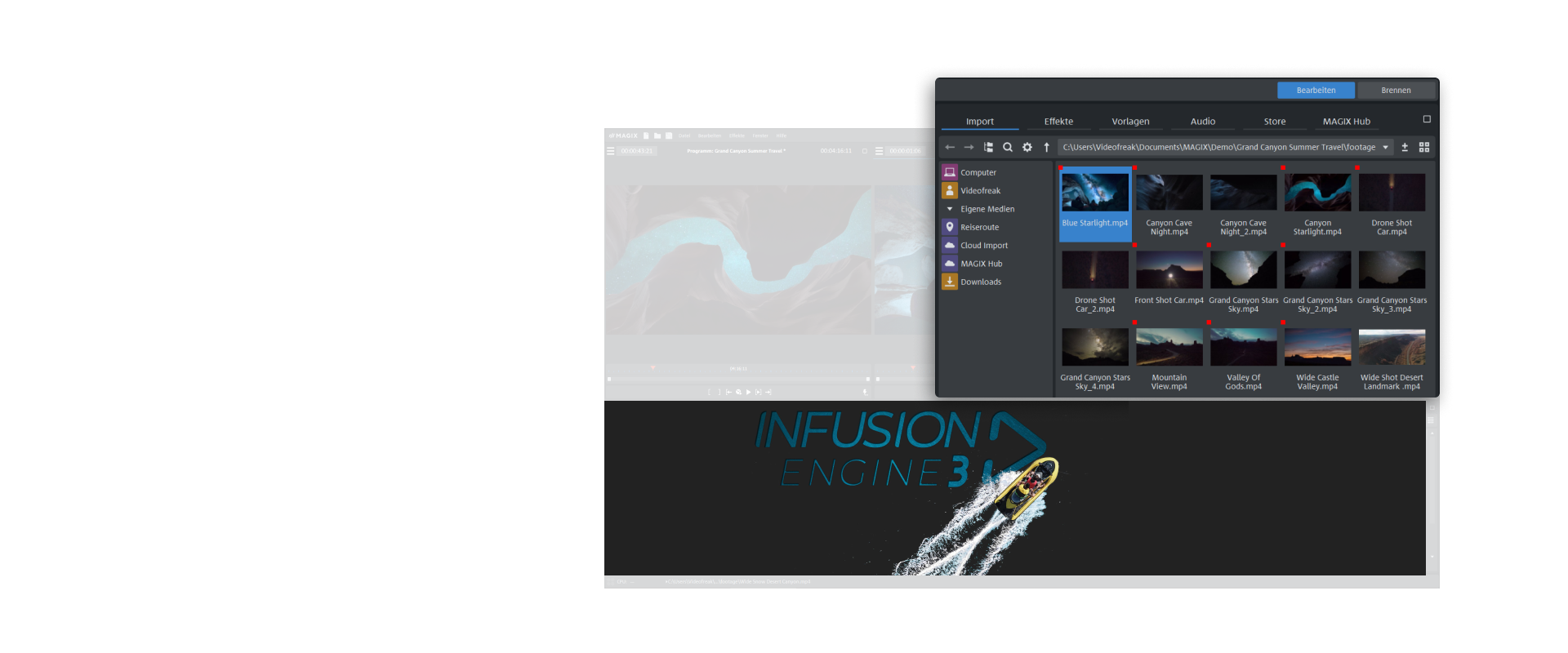 The most stable video engine to date

The enhanced INFUSION Engine 3 offers more stability and performance for all video editing steps and gets you impressive results lightning fast.
BCC Chroma Key Studio

The all-in-one suite for color-based clipping! Combines 8 effects in a single plug-in for maximum convenience.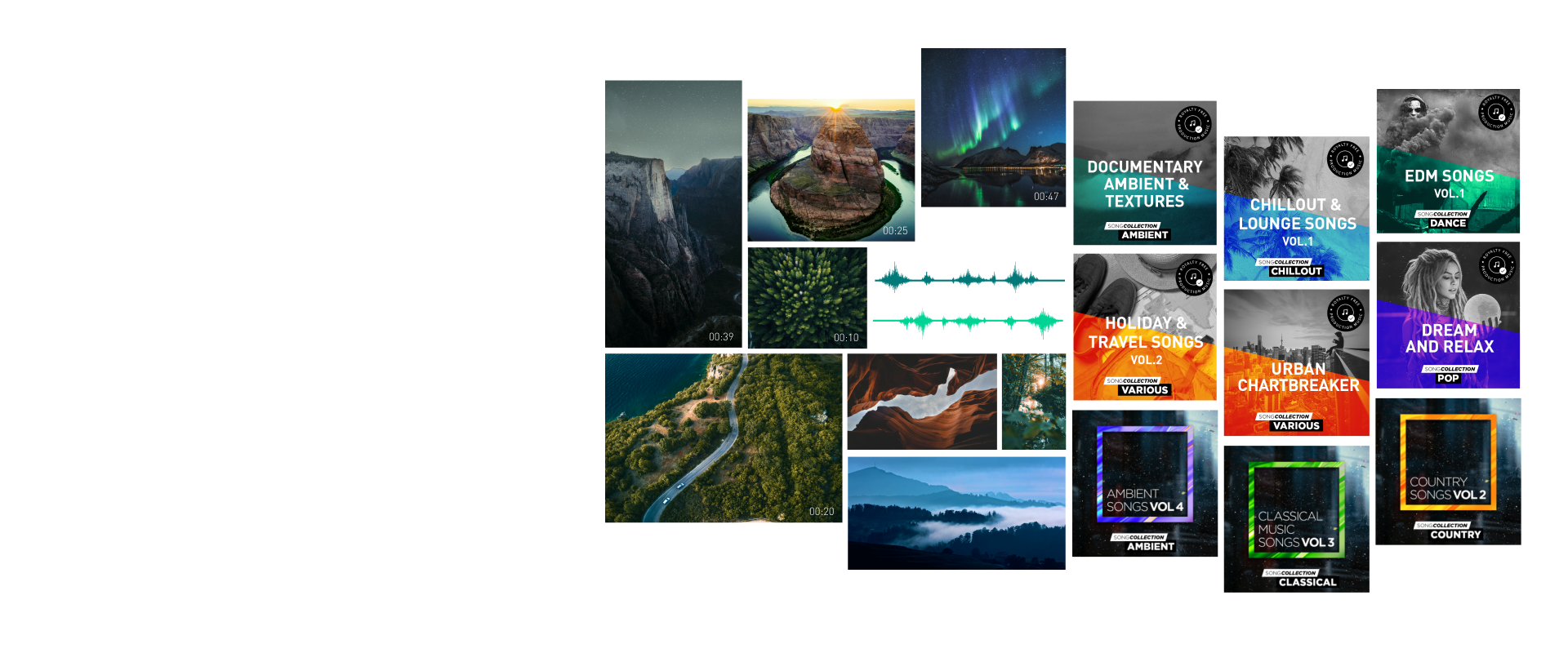 MAGIX Content: Included exclusively with a subscription

With this massive library, you're sure to find the right clips and sounds for your movies every time. Download up to 20 files every month for permanent use.

MAGIX Content provides you with license-free video and audio files. With this plan, you receive the perpetual, worldwide, limited, non-exclusive, and non-transferable right to integrate files you download into your individual, creative work. Any files from MAGIX Content may be embedded into any project, for example web videos (YouTube, social media, websites, etc.), feature films, television shows, advertisements, educational media, offline printing, multimedia, games, and merchandise.
You may freely distribute and publish projects in which you have used content from MAGIX Content. You are not permitted to transfer individual content (e.g. a song or video) by MAGIX Content as a stand-alone file to third parties.
Highlights from recent versions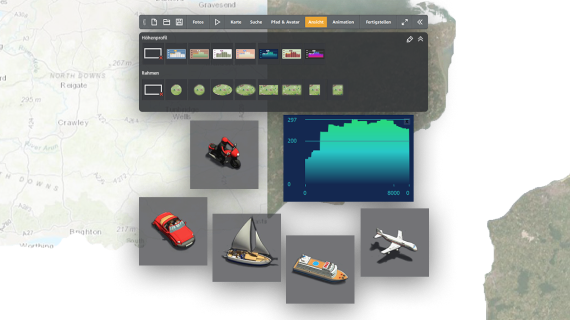 Turn your dream getaway into a dazzling animated itinerary with the help of innovative tools.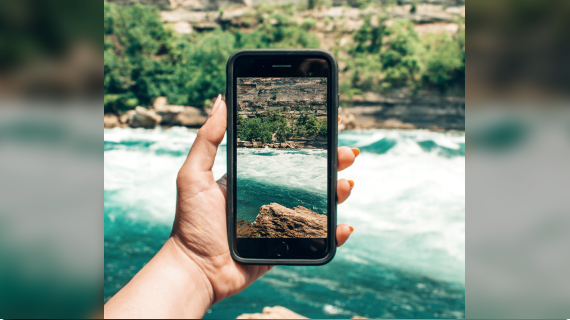 Import and edit vertical recordings from your smartphone and easily create videos for social media.
Easily switch to the new version
and get started

Watch a demonstration of the new version's features when you first open the program.

Good to know:
You can continue editing your Movie Studio projects in Video Pro X!
MAGIX Video Pro X15
Intuitive video editing for advanced users
MAGIX Video Pro X15
Intuitive video editing for advanced users
MAGIX Video Pro X 365
MAGIX Video Pro X 12 month subscription
MAGIX Video Pro X 365
MAGIX Video Pro X 1 month subscription
Upgrade: MAGIX Video Pro X15
Intuitive video editing for advanced users
What is MAGIX Video Pro X?
Is MAGIX Video Pro X free to use?
MAGIX offers a free 30-day trial version of Video Pro X. The trial version only lets you create videos up to three minutes in length, but this is more than enough to try out all the features. Click here to download the trial version.
Who can upgrade to
MAGIX Video Pro X?
If you already own an older licensed version of MAGIX Video Pro X, you can upgrade to the latest version here.