Impressive sound quality
Unwanted audio sections can be easily isolated or removed completely in Video Sound Cleaning Lab. Additional sound effects and audio commentary will make your favorite videos stand out from the crowd.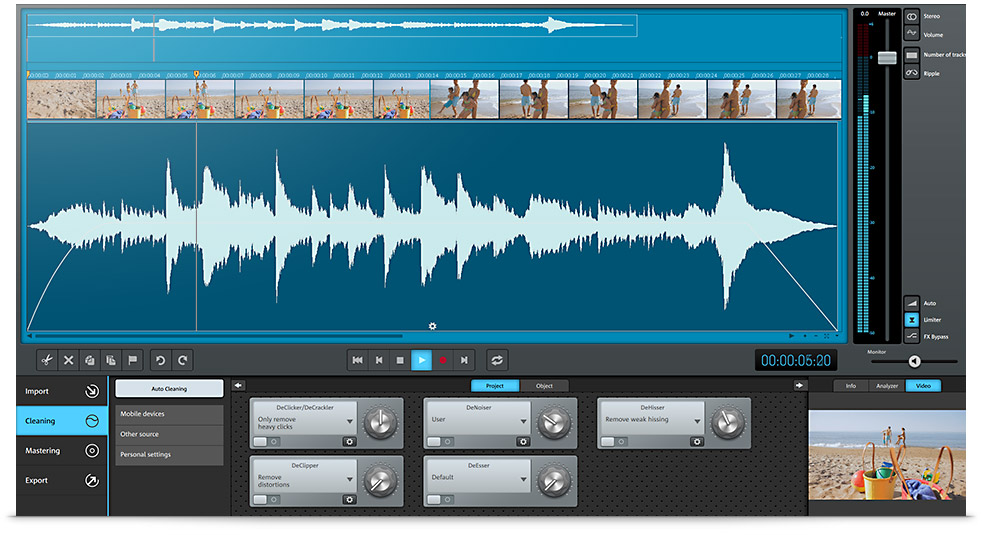 Import
The program supports all standard audio formats from camcorders, cameras, smartphones and action cams.
Sound optimization
Includes precision tools, powerful presets and a wide range of effects for enhancing the audio tracks in your videos.
Export & Complete
Export the finished video or just the audio track in any format. You can transfer directly to your video editing software.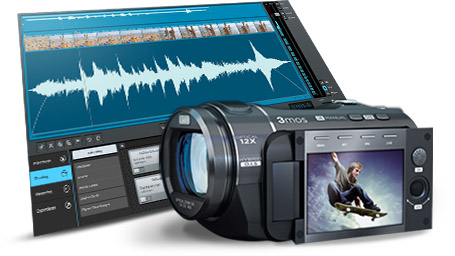 The most important features:
Remove annoying noise e.g. wind & electrical interference
Choose from over 150 presets with practical preview feature
Use the practical preview feature to view your changes
Adjust volume & reduce clipping to get the right balance
Automatically correct music & speech recordings
Audio editing on 2 tracks for dialog optimization
Automatic and advanced editing effects
Touch screen operation
The perfect complement to video editing programs
Intuitive right from the start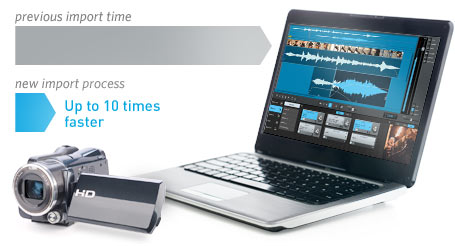 Ultra-fast import
Experience a faster import process. You can import video sound up to ten times faster to Video Sound Cleaning Lab than the previous version.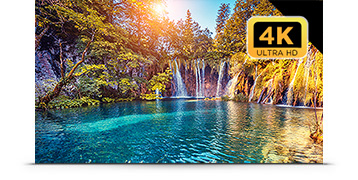 4K and HD support
Developed to ensure the highest quality on both acoustic and visual levels. The design includes display support for even high-resolution 4K & HD monitors.
Intelligent search feature
Use the search feature to help you find the exact template, help text or effect you need.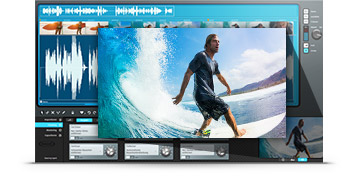 Preview monitor
The preview monitor is the ideal tool for checking and perfecting sound and image synchronization.
Easy-to-use controls
Make individual sections for either tracks, effects or visual analysis more prominent using shortcuts. This lets you focus on a specific section even when working with smaller monitors.
F5 maximizes the upper section of the screen for audio objects
F6 maximizes the effects section below
F7 brings the info area to the foreground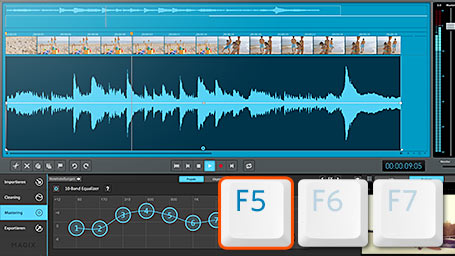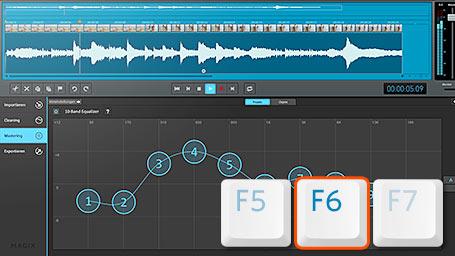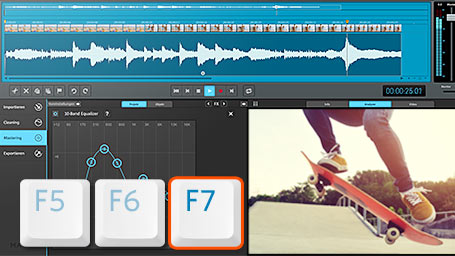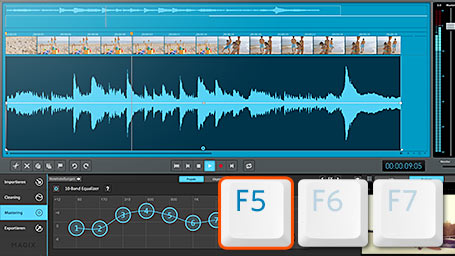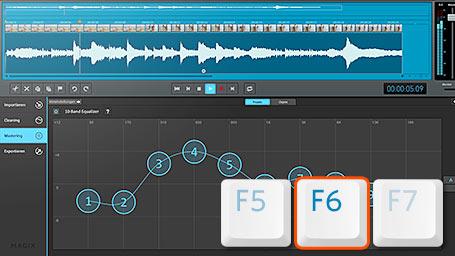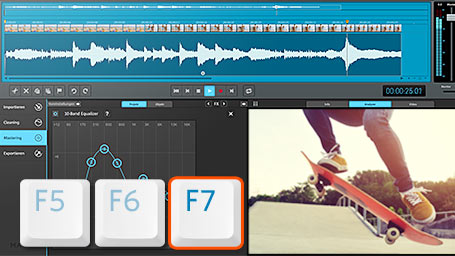 Video Sound Optimizer
Maximum sound quality with minimum effort. The Video Sound Optimizer helps you find the perfect sound for music or speech in your footage in no time.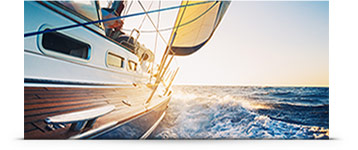 Stop the wind with the click of a button
With the help of presets, removing wind noise from recordings and adjusting intensity is easy.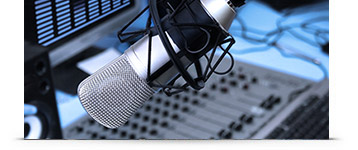 Get rid of sibilants
The DeEsser feature gives human speech a pleasant presence and warm sound by removing sharp hissing and sibilants.
Automatic sound optimization
Start the Auto Cleaning feature for an automatic analysis of your audio material and then adjust effect settings manually.
Visualization
Visualization of the audio signal lets you easily identity problems with the frequencies or volume.
Touch-optimized control
The new user interface includes numerous touch elements that make editing more simplified than ever before.
Practical preview feature
Thanks to the handy preview feature you can check which effects are best for dealing with sound issues.
The free tutorial videos from MAGIX provide you with an initial look at various MAGIX programs.
You'll learn quickly and easily how to use the most important features in order to bring your own projects to life.
All MAGIX programs are developed with user-friendliness in mind so that all the basic features run smoothly and can be fully controlled, even on low-performance computers. The technical data for your computer can be found in the control panel of your operating system.
Graphics card
Onboard, minimum resolution 1280 x 768
Hard drive space
1 GB for program installation
Internet connection: Required for registering and validating the program, as well as for some program features. Software can also be used offline.
Video
| | | |
| --- | --- | --- |
| | Import | Export |
| MPEG-2¹ | | |
| MPEG-4 (incl. AVCHD)¹ | | |
| MOV | | |
| WMV(HD) | | |
| MXV | | |
| MKV | | |
Audio
| | | |
| --- | --- | --- |
| | Import | Export |
| WAV | | |
| MP3 | | |
| AIF | | |
| OGG | | |
| AAC² | | |
¹ MPEG-4 and MPEG-2 require initial free online activation
² Fee-based activation for Windows Vista
MX stands for Media-X-change – the fast exchange of media with other MAGIX programs, online services and mobile devices.
Share your audio data effortlessly with the following programs and services from MAGIX:
Ideal for your music collection
Add your enhanced audio files to your digital music collection in MAGIX MP3 deluxe with a single click.
These programs also allow you to:
Create playlists
Add search filters
Design CD covers
Perfect video sound
With a single click, you can use your optimized music tracks as background music for your videos in MAGIX Movie Edit Pro, Video Pro X, Photostory or Fastcut.
Set videos to music
Create soundtracks
Record voice-overs
Share worldwide
Share your audio files and other projects online with just a few clicks.
Upload to YouTube and Vimeo
Post on Facebook and share with friends
MAGIX Video Sound Cleaning Lab
New soundscapes for your videos
MAGIX Video Sound Cleaning Lab
New soundscapes for your videos
Optimize vocals and melodies to create audio that will affect your viewers. Video Sound Cleaning Lab lets you create fantastic sound for your videos. Select from a huge range of options for optimizing video sound with the Auto Cleaning feature.