All Features in
MAGIX Photostory easy
Simple introduction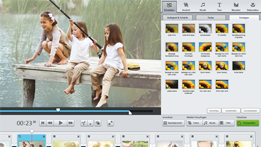 Intuitive user interface
Large buttons, easy-to-understand dialogs and automatic wizards make designing incredible slideshows a whole lot of fun – even for beginners.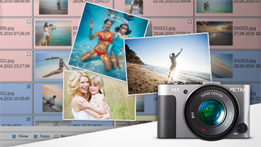 Convenient Import Wizard
Use the Import Wizard to transfer your recordings from cameras, drives and data storage devices directly to your computer and into your slideshow without time-consuming searches.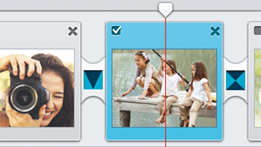 Simplified media management
We put quick access buttons directly on the user interface so you can add your own media such as photos, videos and music to your slideshow quickly and easily.
Image optimization & effects
Automatic image optimization
Not every photo turns out perfectly. Intelligent image optimization wizards allow you to salvage any imperfect shots. With their help you can manually customize color, contrast, brightness and saturation or alternatively do it automatically using the auto correction feature.
Red eye correction
Why, despite pre-flash and other innovations in modern camera technology does the red-eye effect still occur? Photostory easy allows you to highlight the area around the eyes and correct it with a click.
Animated titles & texts
Titles for opening/closing credits, chapter markers, and subtitles can be entered directly and positioned precisely. Or create impressive title animations & captions from a variety of text styles.
Crossfades transform photos into movies
Photostory easy offers a wide range of premium transitions that you can use in your project anywhere you like.
Create panorama pictures automatically
Seamlessly combine individual pictures into horizontal or vertical panoramas including automatic focal length detection, correction of lens distortion and perspectives. It's also great for full camera panning without any black edges.
Professional templates for animations
Highlight special moments in your slideshow with animated decorative elements. Choose from over 150 templates including audio and effect sounds.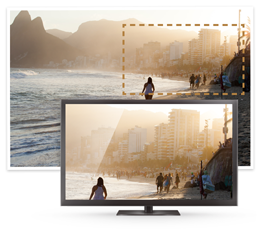 Smooth tracking shots
The unique effect automation selects various soft tracking shots suitable for your project and applies them to your photos. You can barely tell the difference from a real video.
Impressive HDR effect
Turn landscapes and buildings into images that look like paintings. The High Dynamic Range effect brings out colors and evens out the brightness. You will immediately see more detail – especially in extremely bright and dark areas.
Automatic background music
The integrated MAGIX Slideshow Maker automatically creates the ideal musical accompaniment for your slideshow as well as transitions and tracking shots.
Record commentary and sounds
Directly record spoken commentary, optimize sound, and even remove annoying, unwanted noise.
Automatic volume adjustment
Photostory easy now automatically adjusts the volume of your background music so you don't have to waste time doing it manually.
Helpful Export Wizard
This practical feature shows you the most important export and archive functions at a glance.
Interactive DVD player menus
Add the finishing touch to your slideshows with animated disc menus just like the ones on professional store-bought DVDs and Blu-rays.
CD/DVD cases & labels
With the included MAGIX Xtreme Print Studio you can create amazing CD/DVD covers & and labels for your slideshow discs.
Free Online Album
Impress others with photos and graphics and present your most beautiful moments and creations to the world with your very own album website.
MAGIX Photostory easy (Version 2)
Transform precious memories into unforgettable slideshows.
MAGIX Photostory easy (Version 2)
Transform precious memories into unforgettable slideshows.
Make your own slideshows with MAGIX Photostory easy in just 3 steps: Style templates for various themes easily turn your photos and video clips into real picture stories with text, music and spectacular effects.