Recording Software - For bands, songwriters & producers.
Time to take your band to the big stage: The recording software Samplitude Music Studio offers musicians everything they need to professionally record songs in studio quality.
This sequencer includes a virtual mixer with up to 128 channels and allows for multitrack recordings in 24-bit/96 kHz studio quality. That means in the future your demos won't sound like demos anymore. Plug in the electric guitar, check the microphone, turn on the keyboard, take one last look around and once the recording session begins, the drummer starts to count everybody in: This music software pushes you toward excellence - with each recording. The software supports all common MIDI keyboards - also other hardware controllers can be easily integrated and thanks to MIDI Learn connected with virtual plug-ins. Whether multitrack or solo recordings - this DAW impresses with both recording techniques.


Rebellion, your first love or even your ex: There are a thousand good reasons to write a new song. And Samplitude Music Studio offers even more reasons to record them. With 64-bit & multicore support the stage is set for even more ambitious music productions. The integrated multitrack recorder MR-128 is ideal for multitrack recordings - on up to 128 tracks simultaneously. And the internal Hybrid Audio Engine offers total control of latency during recording and playback. The virtual recording studio can easily be adapted to your surroundings, for example, the rehearsal room, the stage or the recording studio.
And if your guitarist shows up once again too late for the recording session, then let the automatic accompaniment for vocal or instrument recordings take over. This feature is not only ideal for band projects but also for solo artists. Also very practical: The tool for correcting and editing pitches in vocal and instrumental recordings. The Easy Mixer offers easy access to all relevant features for mixing once you've finished recording and allows beginners an easy way to develop their own sound. The program includes various virtual instruments and studio effects that offer great sound quality and are easy to use, putting you on par with professional producers.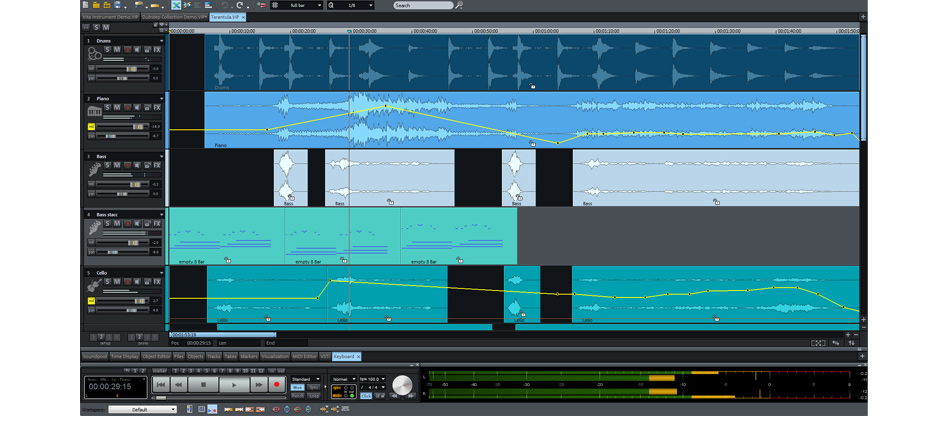 From the rehearsal room to the studio - with the recording software Samplitude Music Studio.
As it should be for a professional DAW in this price range, you can take your music to the next level with more advanced steps. Automatic solutions are available directly in the recording software for mastering, the final editing and professional effects. Once you're finished mixing your songs and have optimized the sound, you can then easily publish your songs to platforms such as SoundClound, Facebook or YouTube with just a few clicks. Turn your Windows PC into a first-class recording studio with this recording software - no matter whether you want to record as an entire band or a solo artist. The sequencer's highlights:
Adaptable to recording environment
Integration of plug-ins via VST, ReWire and DirectX
MIDI Editor including MIDI Learn
Tutorial videos for the program
Connect and use MIDI keyboards and hardware controllers
Timestretching & pitchshifting
Import and export of broadcast-quality WAV & FLAC
Multitrack recordings in studio quality