Stabilize video with
MAGIX Video Pro X
More flexibility while filming. From now on you can concentrate on what you're filming instead of the camera itself. There's no need to have a steady hand while filming. MAGIX Video Pro X can quickly and easily stabilize your shaky footage for you, whether you're using DSLR, a smartphone or an action cam.
It's particularly useful to be able to stabilize videos if you film by hand. And if you are filming from a moving car, airplane or boat, the resulting footage will almost always be shaky. The same is true for footage shot using action cams or in special conditions e.g. underwater. It's also nearly impossible to zoom in a lot or film from creative perspectives without distortions occurring. Warp stabilization can remedy these issues.
Modern cameras typically use a digital sensor, also known as a CMOS sensor, for recording. The advantage here is that this results in lower production costs. The downside is that filming fast moving objects produces so-called rolling shutter distortions. Footage made with DSLR cameras, action cams and smartphones often suffers from this kind of distortion. An example of rolling shutter distortion is wobbling in the footage. Video Pro X includes plug-ins from Mercalli and other developers, which enable you to achieve perfect stabilization in your videos. 3D video stabilization for all camera axes allows for smooth rolling shutter compensation and perfectly balanced video material. In addition, comprehensive plug-in support in Video Pro X enables you to integrate 64-bit plug-ins from renowned developers. Expand the Video Pro X effects palette with plug-ins for automatic CMOS correction or compensating wobble from developers such as NewBlue, proDAD and Red Giant. Transfer shaky footage - for instance from action cams - into stable, high-quality videos. The technical interaction with Video Pro X is also one-of-a-kind and allows you to stabilize video easily thanks to comprehensive plug-in support.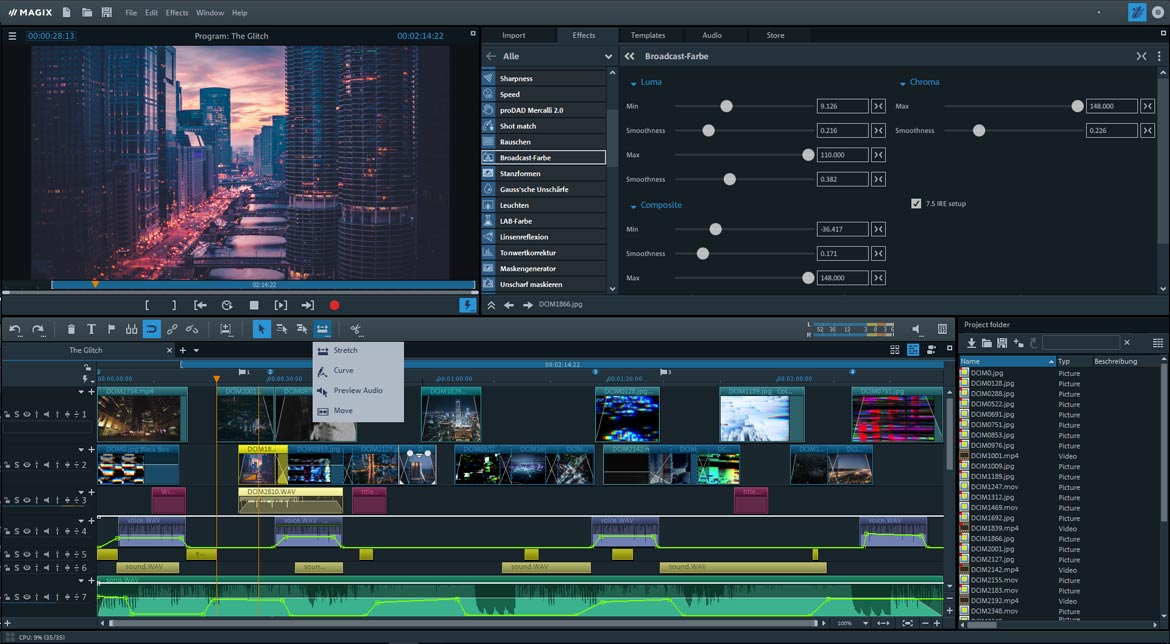 Top-notch image stabilization
Correcting rolling shutter errors such as "wobble", "jello" and "skew" used to be very time-consuming and complicated, even for advanced users and professionals. This is now a thing of the past, thanks to the latest version of Video Pro X and plug-ins from developers including proDAD. Achieve perfect videos as a result, with a clean picture and smooth camera movement. Vibrations can be automatically fixed just as easily as distortion and shaky footage. However, it's also possible to fine-tune your footage manually, if necessary. CMOS corrections can also be made automatically with plug-ins in the new Video Pro X in order to stabilize video. The combination of ease of use and high speed results makes Video Pro X extremely user friendly and efficient.