Why do some videos turn out shaky?
Videos shot freehand without a tripod are often shaky. Every hand movement, every tremor, every jerk is directly transferred to the image. Small and lightweight devices such as smartphones, action cams or camcorders are particularly prone to camera shake. This results in the famous handheld camera effect, which may lend an air of authenticity, but is usually pretty annoying and distracts from the content.
How can you avoid shaky video? Where possible, use a tripod to ensure a steady image during shooting. If you don't have a tripod to hand during the shoot, you can enhance the quality of your videos afterwards on your computer using image stabilizer software.
Using video stabilization software is especially important if you are shooting with a handheld recording device. A tripod can almost always be used for filming a wedding video . But if you are filming from a moving car, airplane or boat using motion tracking, the resulting footage will almost always be shaky. When filming with an action cam or with footage that is shot under unusual conditions, such as 360-degree video or underwater, you can often end up with shaky video. It is even difficult to avoid slight wobbles on hard zooms in or shoots from certain angles.
With high-quality video stabilization software, this does not pose a major problem. This software can be used to convert shaky footage into a smooth, stable video on your PC. How it works: First, the video stabilization function zooms into the video recording. This creates some room at the borders, which is utilized for video stabilization. The movements of the video image are then analyzed by the software and automatically compensated. The zoomed-into video section is shifted in the opposite direction of movement. A stable, professional-looking video image is the end result.
It works effectively, and offers impressive results. Apart from the image borders, where smaller image areas are cut by zooming, there is no loss in quality. For you as a videographer, reliable video stabilization software means you can film freehand, and concentrate fully on getting the best results during filming. Unwanted camera movements can simply be removed later on your PC during post-production.
There are limits to this method too, of course. If the camera accidentally jerks a lot, for example because you bumped into something while filming, even the best video stabilizer software won't be able to fix the clip. This kind of shaky footage either has to stay in the film or be cut it out manually later. Video stabilization is therefore a useful tool for continuous image movements and those minor shakes that typically occur when shooting without a tripod, but not for real mistakes.
Video Stabilization – Tips & Tricks
Video stabilization allows you to concentrate on what you're filming, instead of on the camera. Just focus and shoot, and don't worry about keeping a steady hand.It doesn't matter whether you are filming with a DSLR, a smartphone or an action cam. Nevertheless, there are a few things you should pay attention to during video shooting to avoid shaking. The following tips and tricks should make filming easier:
1. Use tripod for static shots
The easiest way to achieve steady shots is to use a tripod. This guarantees stable video without any shaking or jerks. A decent tripod will also allow for smooth horizontal and vertical panning. It's best to familiarize yourself in advance with the many screws and adjustments on your tripod so that you can loosen the right screw when you want to pan.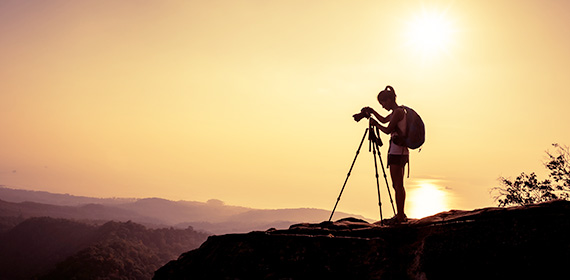 2. Use gimbal for dynamic shots
If you want the camera to move with the object, you can't normally use a tripod. Still, it's worth attaching the camera to a mount at some point. For action cams or drone videos, a gimbal can offer protection from unwanted movement. This involves suspending the camera so that it's automatically in a perpendicular position. This way, the camera does not follow every single object movement and produces more stable images. For tracking shots, use everyday objects such as a skateboard or a rolling walker.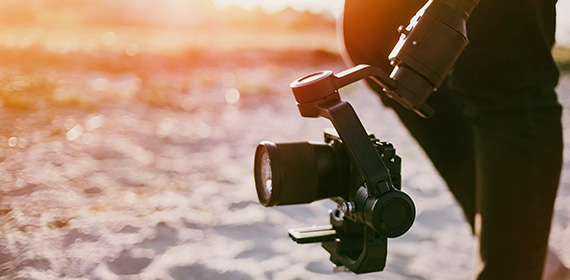 3. Get into the right position
When filming hands-free, make sure that you don't move into an unnatural position when shooting. The resulting lack of balance will almost inevitably cause shaky shots.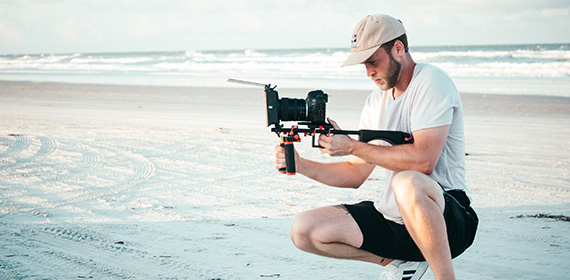 4. Keep the camera close to your body
When filming, hold the camera as close to your body as possible to keep it stable. Video is more likely to be shaky if your arm is outstretched rather than resting on something during filming.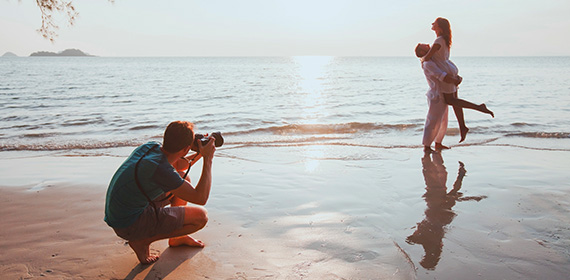 5. Rotate when panning
When panning the camera, move your body too, instead of just your arms.
6. Zoom as little as possible when filming freehand
If possible, don't zoom in or out when shooting freehand. A zoom turns minor jerks in the image into noticeable shaking.
7. Shorter focal length results in wider angles
Make sure you have selected the right lens and the widest possible angle. Angle width can be defined in the settings menu of many cameras. The wider the shooting angle, the less shaking in the video. A wide-angle lens also means that camera shake is reduced and has less of an effect on the footage.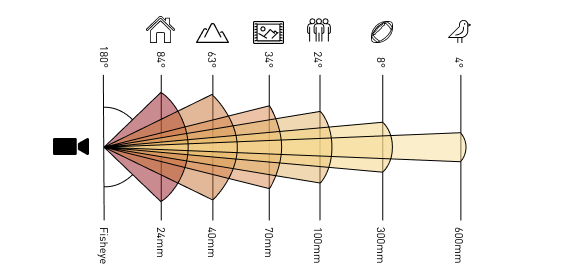 MAGIX Movie Studio is the ideal software when it comes to optimizing the image and sound of home-made videos. Many professional optimization effects are available for editing video image. For example, you can enhance contrast, brightness, sharpness and colors automatically or manually. The quality of the audio track can also be improved with various audio cleaning effects such as DeHisser or DeNoiser, EQ and Compressor.
The Movie Studio Platinum version comes with a particularly powerful tool designed for fixing shaky video clips: the VEGAS Video Stabilization plug-in. This enables you to save seemingly unusable footage and easily transform it into accurately stabilized, high-quality video that's definitely worth watching!
Tip: Even old VHS tapes can be digitized and then stabilized with MAGIX Movie Studio or the specialist program Video Saver!
How to easily stabilize shaky video on your computer
– step by step
With video stabilization software MAGIX Movie Studio, you can easily improve the quality of your videos and then further enhance them by adding the perfect background music as well as impressive special effects. Read on to learn about stabilizing your videos after you've finished filming and get the best results using video stabilizer Movie Studio.
Video editing program Movie Studio Platinum includes a powerful stabilization plug-in, also used in professional software VEGAS, which automatically transforms shaky footage into smooth and steady video with just a few clicks.
Open Movie Studio and create a new project in the start dialog.
Drag & drop your shaky video file from the Media Pool onto any track in the project window.
In the Media Pool, open the "Effects tab", select "VEGAS Video Stabilization" and click "Apply Effect" in the Effects dialog.
Click on "Analyze Motion".
That's it! This function automatically corrects shakiness in the video image.
Getting the perfect shot can be a challenge sometimes. With MAGIX Movie Studio, you don't have to worry if your video footage is shaky. During post-production, you can apply digital video stabilization and smooth out camera movement. Movie Studio offers the right tools for fixing shaky video footage.