Music Mixing Software for your PC
Most DJs today get the dance floor bumping with a laptop and software instead of a record player and an analog mixer.
Music Maker Live Edition from MAGIX offers a wide range of features that not only make it easy to produce and mix your own music, but also allow you to give live performances. Music mixing software Music Maker Live Edition makes it possible for anyone to work with samples and loops to create songs of their own and perform them live. It's the perfect tool for getting the party going with self-produced songs, and it makes getting ready for the next gig easier than ever before. Simply throw your laptop with music mixing software Music Maker Live Edition in your backpack along with a MIDI controller or tablet, and you're ready to go. The program's Live Pad mode offers an innovative solution for aspiring producers and the occasional DJ to throw together short beats in the studio, mix their own music and perform and record complex songs live. A few clicks is all it takes to change the pitch of the pre-produced Live Sets during mixing and create complex song structures both at home and live on stage. This program, created by the German software specialist MAGIX, can turn any PC into a high-end system for music production, working with audio effects, mixing and live performances. See for yourself just how easy it can be to get the party going.
For those who'd rather party than carry boxes of records around. The music mixing software Music Maker Live Edition software offers both beginners and pros everything needed for easy music production: A virtual mixing console, unlimited tracks, a selection of loops and the sensational Live Pad mode. The pre-produced loops automatically match each other in terms of tempo and rhythm. Transitions between individual sound elements in a single song are fluid in Live Pad mode. Live Sets consist of matching loops with melodies, drums, bass and vocals with the same BPM. These can be activated and deactivated at the touch of a button. Live Sets offer a true advantage over using standard DJ systems, apps and other music programs. The sounds are available in 7 pitches, allowing you to add more variety to your songs. Recorded live sessions can be saved, edited, mixed and exported as audio files (e.g. WAV) and added to iTunes playlists or uploaded to SoundCloud. The program also supports a range of hardware controllers and is available as a bundle with a USB pad controller. Music mixing, producing and performing music has never been so easy and intuitive.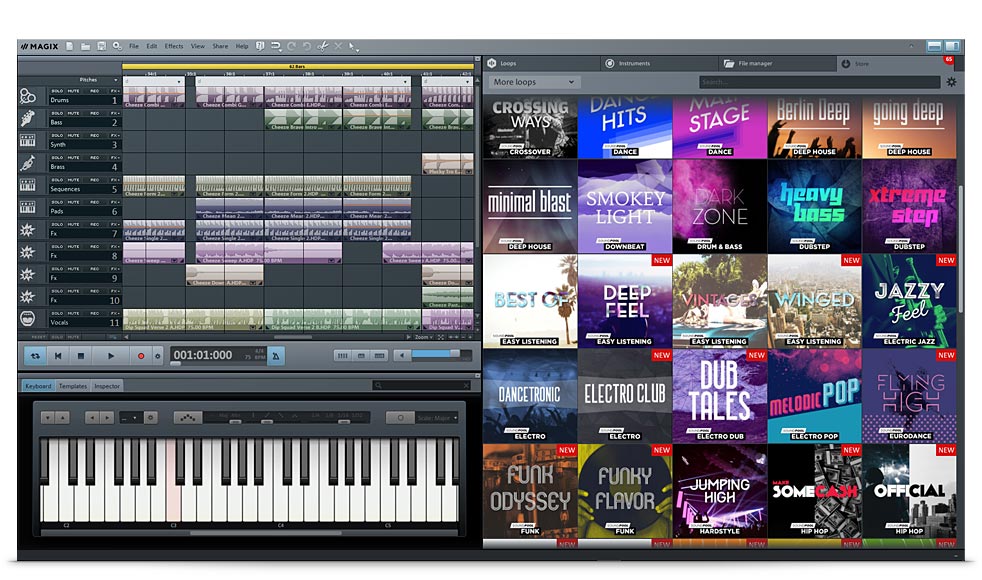 Music Mixing Software for Everyone
Music Maker Live Edition offers much more than most music apps and MP3 Converter, which normally only make it possible to convert MP3s and manage your music collection. This software solution makes it possible for anyone — especially beat producers and aspiring DJs — to create their own songs on their computer and mix music live without having any previous experience or a giant record collection. Music mixing software Music Maker Live Edition – the fun way to perform and mix your own music.