The easiest way to convert WAV to MP3: MP3 deluxe
The software MAGIX MP3 deluxe assists you in converting WAV to MP3.
The software MAGIX MP3 deluxe assists you in converting WAV to MP3. Even other audio formats such as WMA, OGG Vorbis, AAC or FLAC are converted in a snap with this all-around solution. Just drag a WAV file into the program, right-click on the particular audio file and then select "convert". Before converting the WAV file, you can also set the desired export format as well as the bit rate. MP3 codec developed by the Fraunhofer Institute is used to convert WAV to MP3. With this MP3 software you also have the option to select multiple audio files at once and convert them all in one go.
Converting WAV to MP3 from albums or extensive music collections is done in next to no time. MP3 deluxe doesn't just convert the formats WAV, OGG or WMA to MP3. This complete package is also ideal as an audiograbber for creating playlists or for managing music. To download the freeware version of this converter click here - You can test MP3 deluxe for 30 days for free.
By downloading MP3 deluxe you'll receive audio software in its truest sense. Whether you're converting OGG, FLAC, WMA or WAV to MP3, ripping CDs, organizing your digital music collection or performing basic music editing: The program is easy to use and very fast. Convenient and time-saving: Using checkmarks you can set whether the audio level of multiple files should be brought to a common level before converting. Avoid always having to manually adjust the volume of WAV and MP3 files in a player after converting. Compared to the format WAV, MP3 has the advantage that because of its small storage capacity, you can fit many more files on your mobile player. In addition, with this MP3 converter you can also cut music, for example, as WAV files directly in the software and set it to the right length. Afterwards, you can then convert WAV to MP3 or burn everything to a CD. Missing track information can be edited with a mouseover or automatically inserted for entire albums.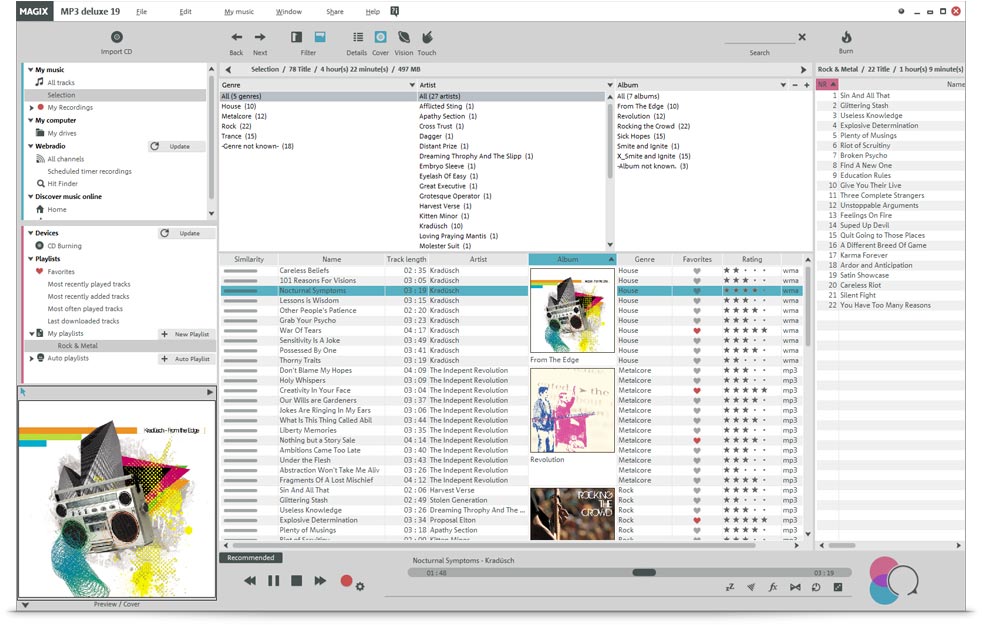 Convert more than just WAV to MP3
This converter supports common audio codecs and current container formats, which is very convenient considering the variety of different download portals for music out there today. MP3 is perfect for anyone, who wants to quickly convert files like OGG, WMA or WAV to MP3.
This software is a real must for lovers of digital music. In addition to being easy to use and optimized for many tasks such as managing your music, diverse audio formats are quickly and efficiently converted such as OGG Vorbis, WMA or WAV to MP3. Test this excellent WAV converter 30 days for free after downloading from the MAGIX Free Download Page.
Supported import formats:
MP3, AAC (+), WAV, CD audio, WMA (incl. DRM), OGG Vorbis, FLAC
Supported export formats:
MP3*, AAC (+) (optional)**, WAV, CD-Audio, WMA, OGG Vorbis, FLAC
*Activate MP3 encoder for free

**Fee-based activation