Virtual instruments in
Samplitude Pro X8
Samplitude Pro X8 includes a huge range of modern and classic software instruments that can be used to add professional touches to your recordings and offer exciting new creative possibilities.
Produce music with groove boxes, synthesizers and authentic sampler instruments from a variety of countries and eras.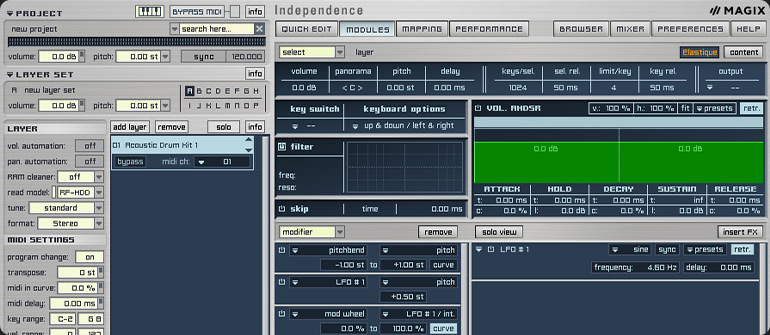 Independence Sampler
A one-of-a-kind sampler workstation with a vast sound library, optimized live performance mode and a virtual effects rack.
Included in Samplitude Pro X8: Independence (12 GB Premium Sound Library)
Included in Samplitude Pro X8 Suite: Independence (70 GB Premium Sound Library)
What is Samplitude Pro X?

Samplitude Pro X is a DAW for audio professionals. The big brother of Samplitude Music Studio, it offers professional tools and a wide range of functions for all stages of audio production. Virtual instruments that inspire new sounds, precise audio engineering tools and indispensable mixing and mastering effects are also included.
Is there a free trial version
of Samplitude?
Yes, free 30-day trial versions of Samplitude products are available. Just go the free-download section and get started.
Are MAGIX MUSIC MAKER and
MAGIX Samplitude compatible?
If you want to take your MUSIC MAKER skills to the next level and are looking for a DAW with higher performance and more functions, Samplitude Music Studio is the right choice! It's fully compatible with MUSIC MAKER and you can easily drag & drop to import MUSIC MAKER project files (.mmm) and save them as a Samplitude file (.vip).