Business card maker for companies, small businesses and groups
Do you want to make business cards that will leave a lasting impression?
Business cards are reminders and advertising all wrapped into one, making it one of the most important pieces of information that you'll ever have. This is why it is so critical for associations and companies to get it right and create the perfect business card. Advertising agencies are normally hired for this which can be too expensive and take up valuable time and effort. But thanks to modern layout programs, that's no longer necessary. You can easily make professional business cards yourself using modern computer software, like with Page & Layout Designer from Xara.
Page & Layout Designer is impressive software with intuitive operation and numerous high-quality templates. Simply select one of the many design templates for business cards, add your logo and contact information and that's it! The templates can be completely customized to fit any business or association by changing the colors or switching around the text and graphic elements. If you want, you can even start with a completely blank page and create your own layout and design. The program is the perfect solution for making business cards for both beginners and advanced users alike. This guarantees that your business card will be unique to you and your business.
The program also features scores of clever tools to support you in making high-quality business cards. For example, the Magic Snap function allows you to align and properly space out all the objects in your design. This immediately gives your layout a considerably cleaner and professional look.
Page & Layout Designer's vector graphic engine allows you to create your own high-quality graphics and images that can be continuously changed without losing any sharpness or sacrificing the quality. In addition to creating your own graphics, you can also use the provided gallery of clip art graphics to design your own logos and more.
The software also supports professional color matching systems, such as Pantone, HSV and CMYK, so that the color of your cards precisely matches your expectations. Page & Layout Designer also supports the data exchange format PDF/X. This way, you're always on the safe side when you send your files to a print shop.
After you have created your business card, you can also design your own homepage online using the MX function. The Xara Web Designer helps transform your business card into your personal business card on the World Wide Web.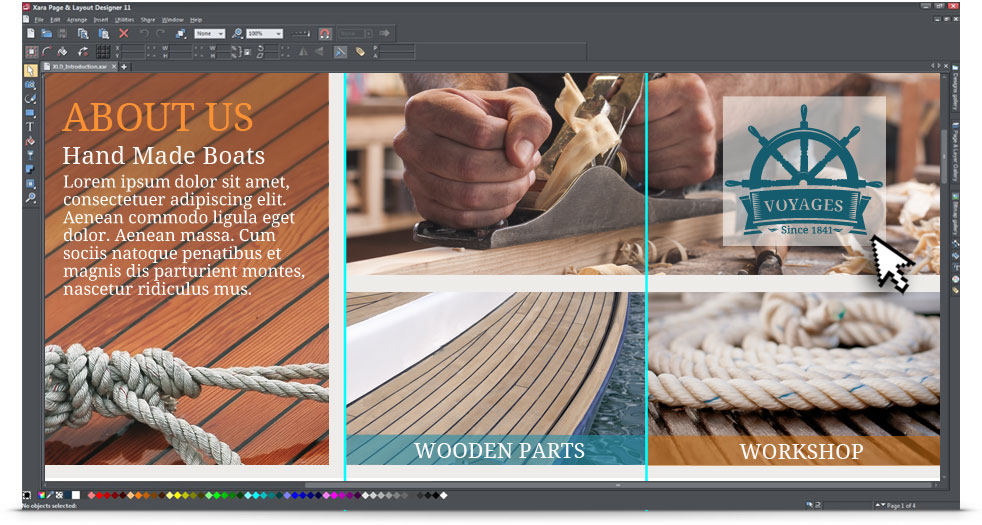 Make business cards the easy way with the Page & Layout Designer from Xara
Start creating you very own business card today. You'll be amazed at how much you save with Xara Page & Layout Designer – you'll save time, effort and money!