Make a Slideshow that Stands Out
To make a slideshow that stands out, you will need helpful and innovative software. Most slideshows end up quite boring, because they lack those finishing touches that make individual photos sparkle and intrigue.
Looking at a series of underexposed, badly centered or generally underwhelming photos is enough to bore most people. However, with Photostory easy, you can be sure that not one of your images will be less than exhilarating. Not only will you be able to make the content gorgeous, but the transitions will also impress your viewers, family and friends and keep them enjoying every moment.
With the help of the picture editor software and a full array of ornaments, you will be able to make your slideshows interesting and fun. With deco elements, you can overlay your pictures with anything from rain to musical notes. If your photo was taken on a really hot day or in the gleaming sun, but your exposure just didn't capture it, Photostory supplies you with an effect that puts a beaming sun right into your photo. Additionally, you can add fog, moving rainbows, pouring rain and more. This clearly laid out interface allows you to enhance your photos, so that each one will make you feel like you are right in the action. Photo editing functions, like cropping and color enhancement, will aid you through the entire process of molding your photos in creative and practical ways. Even if you want to use the special effects and overlays described above, the photo behind it will be beautiful.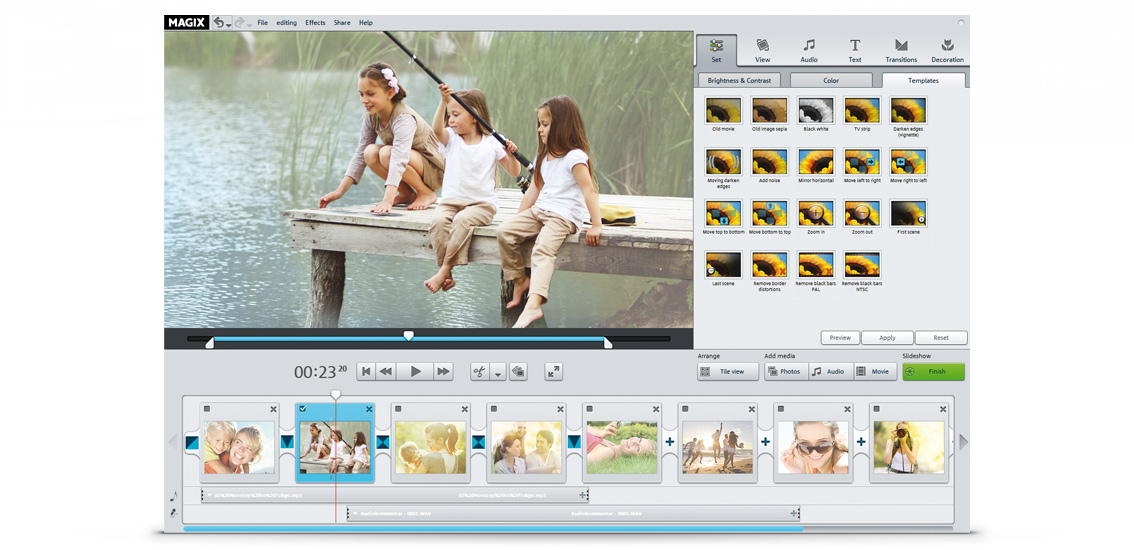 It's Practical to Make a Slideshow
Compiling slideshows is also a wonderful way to manage photos. Create slideshows for each event and you will constantly have a pre-made photo diary to look back on with clip and clarity. By organizing them into different series, you will more easily be able to sort through vacations, holidays and important moments in your life. It's easy to make a slideshow with Photostory, but it's also a useful tool to organize your life's memories.