Making music right from the beginning with MAGIX
MAGIX has been making music production software since the early 1990s with resounding success.
MAGIX's origins began with a joint venture between West and East Germany between Tilman Herberger and Titus Tost who developed the advanced mathematics that drives many of MAGIX's products, specifically the world renowned Samplitude Digital Audio Workstation (DAW), and the marketing and sales gurus Dieter Rein and Jürgen Jaron. The first version of Samplitude was created in 1992 for the Commodore Amiga platform, followed by version 2 in 1993. By 1995, founder's of MAGIX saw that in the future of home computing on the PC platform was going to be Windows OS platforms; exporting the program to Windows 3.1 in 1995.

Through various versions Samplitude, and later Sequoia, MAGIX has become a market leader in the production of professional level DAWs with their patented 100% sound neutrality technology, hybrid audio engines, and object based editing system. Samplitude and Sequoia have become the jewels of the MAGIX professional line. Yet the founders of MAGIX were not content to with only that. Expanding into the consumer market, they leveraged the technology MAGIX had developed for Samplitude and created a consumer level product. The result was the multi-award winning Music Maker. Music Maker was an almost immediate commercial hit, offering the combined power of pro-level mastering tools, with consumer level usability and content. Other products such as the video software Movie Edit Pro or the photo software PhotoStory on CD & DVD followed.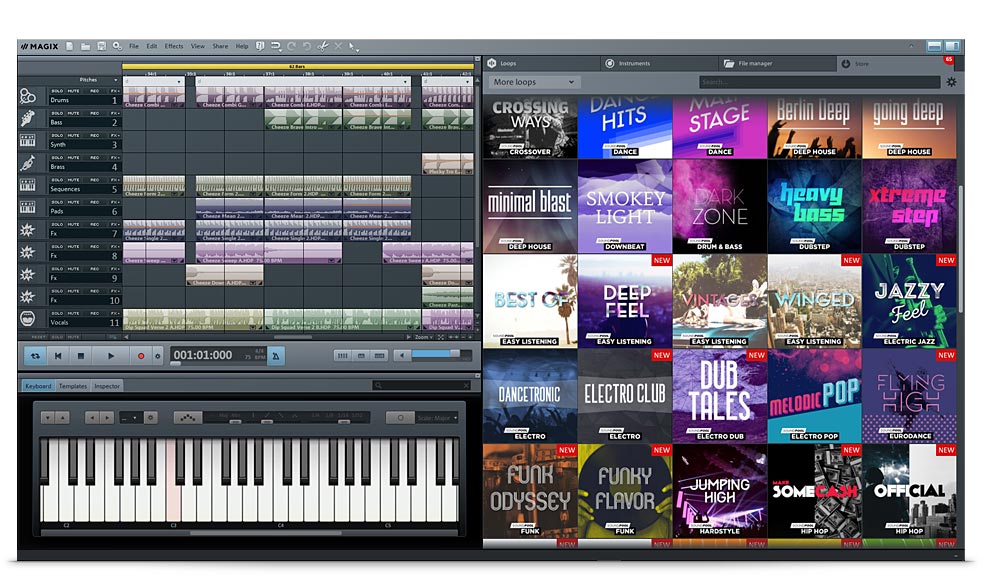 Making Music with MAGIX
Setting it apart from other music making software has always been the tools available and the copy-write free content that comes pre-loaded within the programs discs. MAGIX has been sure to included advanced audio editing tools within all their music creation software, allowing everyone from the hobbyist to the professional to create, share, and produce entire projects from with the program shell. Working with many companies including Dolby, MAGIX has been able to consistently offer more for less, such as a surround 5.1 editor, spectral cleaning, thousands of templates and presets that allow for intelligent workflow for its users.

MUSIC MAKER 2024 FREE
MUSIC MAKER offers a modern, easy-going way of creating music. Now you can produce your own songs — without any experience or watching tutorials for hours. You don't need expensive equipment either. It's fun, intuitive and delivers amazing results in minutes.
Download for free