MAGIX music editing software: a classic
What makes good music editing software? The answer to this question surely depends on what you want to do with it.
A professional sound engineer has different needs than a beginner who just discovered how to make music on a computer himself. The Music Maker, the classic model among music programs, is the main reason why inspired novices can produce their own music without any previous experience. This music editing software helps users create their own songs as early as the introduction phase with video tutorials on the internet, with a clear user interface and helpful tools.
The music editing software also includes simple functions, such as cutting as well as sophisticated steps like mastering songs. You can add relatively simple effects, sounds and loops or even use your own recordings in the program itself. Whoever is looking for good music editing software or even wants to produce his own songs can find more information here.
The Music Maker was the first music editing software designed especially with a simple and easy to understand concept for beginners in the field of audio production. The principle behind it is still simple – and above all ingenious. You can arrange pre-produced music loops and sounds directly in the software using drag and drop and combine them with your own recordings or add effects to them. The program automatically adjusts these loops to the right speed, letting you produce outstanding results in no time at all. You can also easily edit and cut your own guitar or vocal recordings as well as MP3 files.
By combining different virtual instruments and audio loops using this editing software, even inexperienced novices can compose their very first music tracks with a very professional sound. The working principle has proven itself over the years and continues to be the focal point of music software today. User standards as well as the range of editing software functions have increased over the years. This software therefore gives everyone a quick start in the world of PC music.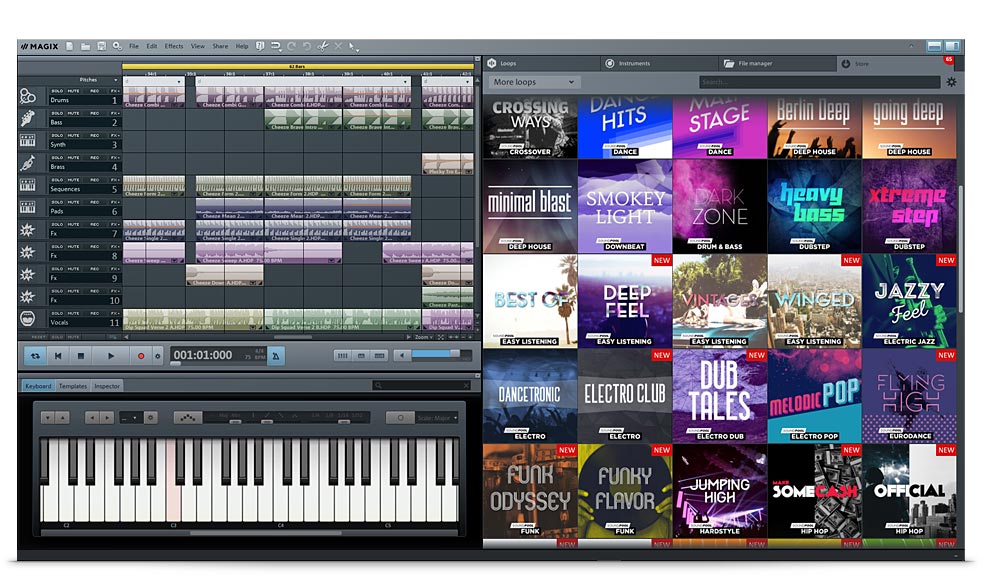 Music Maker – the first music editing software ever
At the same time, the program has developed into a small but powerful music studio for home computers, which even professionals can use to produce, cut and edit excellent music. You can even easily and quickly learn how to install MIDI notes using the keyboard and keypad. It also features various effects that allow you to perfect the sounds of your own music. Once you have finished editing the music, you can upload your own songs directly to the Internet using a separate function integratedin the program. This music editing program features all key functions for producing music and editing imported audio files.
This music editing software enables anyone to get started in the world of making music. The software features a simple and clear user interface with a wide range of functions for editing and cutting audio files. Logical steps and help options provided directly in the program help beginners in every situation. The quality of the virtual instruments, plug-ins and effects even let users realize their musical dreams. It is an excellent program for all musical newcomers and anyone who wants to edit any kind of music.