Recording
High resolution audio
Record up to 32 simultaneous channels of high-resolution audio at 64 bits with sampling rates of 384 kHz. Customizable window layouts give you access to flexible hardware routing and adjustable metering utilities. With SOUND FORGE Pro 12 you can now import and export Direct Stream Digital (DSD) audio files. Set everything up, check your levels and click record. It's that easy.
Professional recording workflow
Thanks to the completely redesigned recording interface, SOUND FORGE Pro 12 makes capturing audio super productive. Adjust and monitor up to 32 channels of incoming audio, then arm, record, and review your work all in a single workspace. The Waveform Overview Bar streamlines your recordings with easy file navigation and scheduled recording for automatic sound capture.
One-touch recording (OTR)
For many veteran users, one-touch recording is a welcomed addition. With this latest version, you push record and stay on the main screen and everything is handled within the same workspace. This is a major time-saver and workflow improvement.
Direct Stream Digital (DSD)
With SOUND FORGE Pro 12, you are now able to import and export Direct Stream Digital (DSD) audio files. This allows you to step into the high-end audiophile market and use compatible equipment like the Tascam DA-3000 or TEAC UD-501. Record and mix in PCM format and export to DSD format for Super Audio CDs (SACD) mastering and high quality archiving.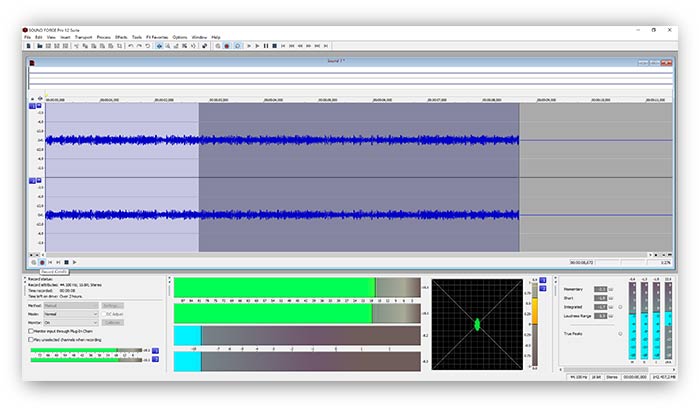 Professional recording workflow, One touch recording
Threshold recording
You can set up recording to begin automatically from the selected input device by detecting when audio exceeds a set threshold. This is an easy way to record yourself without the need of remote controlling the control room while you're in the booth.
MIDI timecode
Just choose Trigger from MIDI Timecode if you want to trigger playback or recording by receiving timecode from another device. When this option is selected, dialogs that specify MIDI triggers will also accept input from the MIDI input port, allowing easy entry of MIDI note and controller values.
Timestamp recording
Set up your recordings to begin automatically from multiple selected input devices using a timer. You can also use the manual record button to begin recording and the automatic settings will then determine when the recording should end.
Input bus effects
Create a vibe for your recorded artist by sweetening your source signal with plug-in effects and creating a pleasing foldback headphone mix for the musician to listen to. For instance, your guitar would be recorded directly (without the plug-in), and the plug-in would be processed each time you play or render your project. This method allows you to adjust the plug-in settings as you work on your project.
Waveform overview bar
This makes it easier to navigate through lengthy recordings. By default, the program now displays a second view of the waveform that's scaled to show the entire file, not just the portion you're editing. It gives you a better sense of where you are in the file. And it isn't just a passive view – you can use it to quickly shift your edit position. It serves as an excellent locator and auditioning tool.
Editing
Precise Audio Editing
SOUND FORGE Pro 12 lets you edit and process audio files, complete audio restoration tasks and design sound. It provides you with the precise audio editing tools to convert regions to events, lock event markers, region markers, envelope points to events, and automatically ripple successive events forward in time while editing.
Edit
You can use the Edit tool to select audio data that you wish to modify, position and move the cursor. With the Edit tool you can also perform basic envelope points editing.
Event
Use the Event tool to edit multiple audio events in a single data window, which can be an easier way to clean up edges and fades, and it simplifies laying out tracks for Disc-at Once CD's.
Magnify
The Magnify tool lets you zoom in to a region and when you drag the mouse over an area, it is magnified when you release the mouse button without losing your edit selection.
Envelope
The Edit tool allows you to add, remove, or adjust envelope points but you have to use the Envelope tool if you want to add, remove, or adjust points on effect automation envelopes.
Pencil
The Pencil tool lets you edit the waveform by drawing on it. For example, if you have a glitch in the audio data, just zoom in to the problem area and smoothly redraw the waveform.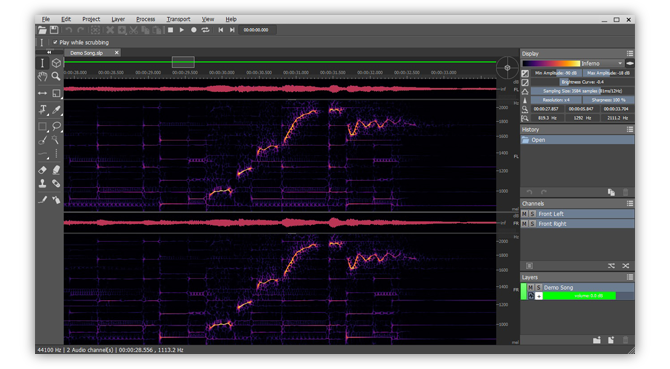 Works seamlessly with SpectraLayers Pro
SOUND FORGE Pro 12 lets you preselect a portion of the audio file before you send it to SpectraLayers Pro 5. You choose Edit in SpectraLayers Pro from the Tools pull-down menu, and any audio you've selected will automatically appear in SpectraLayers Pro 5. Make your changes there, and when you close SpectraLayers, the audio will be placed back into the SOUND FORGE timeline along your spectral edits. SpectraLayers Pro 5 is now included in the SOUND FORGE Pro 12 Suite.
Multichannel file editing and processing
SOUND FORGE Pro 12 can open, edit, convert and save multichannel audio data from different sources, all within a multitrack environment and with sample-accurate precision. This makes it well equipped to take on any surround sound mix or audio-for-video project.
Multitask background rendering
You can multitask by editing a new file while SOUND FORGE Pro 12 processes and renders another one in the background. This is a great timesaver when the pressure is on.
ACID loop creation tools
Create your own music loops for ACID software. Edit wav file properties like tempo, root note, audio clips and shift selections to get the sound you want. The information is embedded in the file, so your loops will change tempo and pitch-shift in your ACID project.
Interface customization
The SOUND FORGE Pro 12 user interface is fully customizable. Waveform and envelope colors, markers, and default window heights can be adjusted and saved to fit your preferences and workflow. Create and save multiple interface layout configurations for single and dual monitor systems.
Customizable layouts
Design your own editing environments to maximize your productivity. SOUND FORGE Pro 12 lets you customize the layout and positioning of the workspace. Dock and group windows within the SOUND FORGE interface, customizing the environment to suit the way you work.
Audio effects & plug-ins
Mastering & Cleaning
Whether it's single or multichannel audio, SOUND FORGE Pro 12 puts the editing tools you need right at your fingertips. The comprehensive Event Tool lets you effortlessly manipulate audio throughout the timeline. SOUND FORGE Pro includes full VST3 effect support for all high-end effects plug-ins to shape your sound any way you want.
SOUND FORGE Pro 12 is the editor's choice for shaping audio in an infinite variety of ways. The latest edition comes prepared to deliver broadcast-ready, master quality finished products right out of the gate, using its own popular built-in signal and effects processing tools, as well as premier contributions from a range of high-end DSP developers.
New processors
SOUND FORGE Pro 12 now features 3 new effects from SEQUOIA: DeHisser, DeClicker/DeCrackler and DeClipper. This is additional to its comprehensive arsenal of native signal and effects processes including normalization, Wave Hammer 2.0 compression and limiting, graphic and multiband dynamics, noise gating, graphic/paragraphic/parametric equalization, envelope generation, phasing, flanging and chorus, reverb, tremolo and vibrato, distortion, pitch modifiers, Acoustic Mirror convolution reverb, the Gapper/Snipper effects processor, and the list goes on.
Wave Hammer 2.0
Wave Hammer 2.0 is the combination of a classic compressor and a volume maximizer making it the perfect audio mastering tool.
The 1st stage is the compressor which allows you to compress and flatten the biggest peaks in your track and create a more average volume level. The 2nd stage is there to maximise and raise the volume of the now flattened track.
Wave Hammer 2.0 lets you make your tracks audibly LOUDER and gives you greater control than simply using Peak Normalization.
DeHisser
DeHisser eliminates regular, low-level "white" noise that is typically produced by microphones, pre-amplifiers, or transformers. Unlike during noise reduction, a sample of the distortion is not required.
DeClicker / DeCrackler
Declicker restores old vinyl and other phonograph recordings that are riddled with individual clicks and pops, and a variety of short impulse noises from other sources like digital errors. Decrackler removes a more continuous stream of irregularities (crackles) in your audio that become blended together at lower amplitude levels.
DeClipper
Declipper repairs digital and analog clipping artifacts that result when A/D converters are pushed too hard or magnetic tape is over-saturated. This can rescue your recordings of live concerts or interviews that cannot be re-recorded.
DeClicker restores old vinyl and other phonograph recordings that are riddled with individual clicks and pops, and a variety of short impulse noises from other sources like digital errors. DeCrackler removes a more continuous stream of irregularities (crackles) in your audio that become blended together at lower amplitude levels. The powerful SpectraLayers Pro 5 is now fully interoperable with SOUND FORGE, so just preselect a portion of the file before you send it to SpectraLayers for frequency-level editing, and then send it back SOUND FORGE.
iZotope RX Elements
iZotope RX Elements includes a standalone audio editor and four real-time plug-ins inside SOUND FORGE Pro 12 to fix most common flaws in typical recordings like clipping, hum, clicks, and other unwanted background noise like amp hiss or air conditioner noise.
iZotope RX 6 Elements is essential for anyone who works with production audio. It will help you deliver better-sounding projects.
De-Clip
Restore digital and analog clipping artifacts to restore distorted audio.
Voice De-Noise
Fine-tuned for vocals, reducing unwanted steady-state or changing background noise like air conditioning, refrigerator hum, and amp hiss.
De-Hum
Easily remove line noise and ground-loop hums.
De-Click
Clean up vinyl clicks and crackles, and soften up clicky bass guitars with the new low latency De-click algorithm.
Mastering
iZotope Ozone 8 Elements
iZotope Ozone Elements has professional presets and precise macro controls to effortlessly achieve a final master with punch and clarity. The new Mastering Wizard analyzes your mix, creates a sonic profile, then suggests the targets, signal chains, and processor settings that make the most sense. From there, you can personalize the sound as much as you'd like. It's never been easier to achieve a quality radio and streaming ready mix.
Highlights:
Over 75 professionally designed presets for genre, delivery formats, and more
Full support for VST, AU, RTAS, and AAX plug-ins
Redesigned interface and simple controls give you with a better workflow to effortlessly deliver high-impact masters.
The perfect application to deliver both radio-ready and streaming-ready masters.

pow-r Dithering Algorithms
POW-r is a set of three commercial dithering and noise shaping algorithms - now in SOUND FORGE Pro 12. Each is respectively optimized for simple recordings such as spoken word, limited dynamic range recordings like rock music, and wide dynamic range recordings such as orchestral music.Just choose the noise shaping type that adds the least amount of coloration to the audio.
Type 1
Has the flattest frequency spectrum in the audible range of frequencies. Recommended for less stereophonically complex material such as solo instruments and voice.
Type 2
Has a psychoacoustically optimized low order noise shaping curve. Recommended for material of greater stereophonic complexity.
Type 3
Has a psychoacoustically optimized high order noise shaping curve. Recommended for full-spectrum, wide-stereo field material.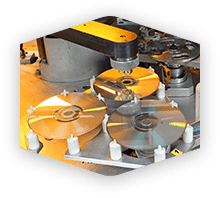 DDP export
Export the Disc Description Protocol Master and get ready to press your discs. The DDP master is resistant to generation loss thanks to duplication and can be easily archived. The digital data is provided with a checksum that is sent to the pressing plant, ensuring an audio CD production that is absolutely free of errors.
Visualizations
SOUND FORGE Pro 12 offers various tools for sound analysis.
Voice activity detection using artificial intelligence
The "sensAI SINGING VAD" from audEERING is a modern tool which uses artificial intelligence technology to detect lead vocals and choruses in music pieces, marking the passages containing vocal lines. This provides you with a quick overview of complex mixing projects.
Phase scope and mono-compatibility metering
SOUND FORGE Pro 12 has Phase Scope and mono compatibility meters added to the main meters window. The Phase Scope helps you to find phase cancellation among the channels in an audio file. The mono compatibility meter helps detect correlations or differences between the channels that can cause phase cancellation when downmixing to mono.
CALM-targeted metering
CALM-targeted metering provides super-accurate loudness metering. It allows you to get a good clear visual indication of the dynamic range of your audio. The Commercial Advertisement Loudness Mitigation Act (CALM) regulates the overall volume during commercial breaks. It is comparable to EBU loudness recommendation R128. This is great when you get to the mastering stage and want to have accurate meters on your audio's perceived levels.

Multichannel-capable spectrum analysis
Multichannel-capable spectrum analysis shows multiple graphs depicting fundamental frequencies and overtones in your recordings depending on how many channels are selected. Monitor audio and effects changes, take multiple snapshots, and overlay views to compare and match frequencies.
Acoustic Mirror™ software plug-in
Acoustic Mirror effect is a powerful digital signal processing tool that allows you to add environmental coloration to your existing recordings. Its advanced reverb technology incorporates the acoustical responses of a given environment or venue into your audio files. Taking this concept even further, this effect allows you to simulate the signal responses of vintage audio equipment.
Disc-at-Once CD Burning
Disc-at-Once burning is the most common burning method used in the music industry. This writing mode is used when creating a master disc to be sent to a disc manufacturer for mass replication. Multiple tracks of audio are written to the CD, or add track markers to a single-file recording of a live set and burn a gapless, disc-at-once, Redbook standard audio CD.
Channel converter
Channel Converter tool supports multichannel formats. Change the number of channels in an audio file, reverse the channels of a stereo file or inter-mix the channels of a multichannel file to create panning scenarios.
Clipped peak detection and marking
Clipped peak detection and marking automatically scans files and marks clipped peaks. This gives you an idea of where the most noticeable and dangerous clipping points are to clean up and restore.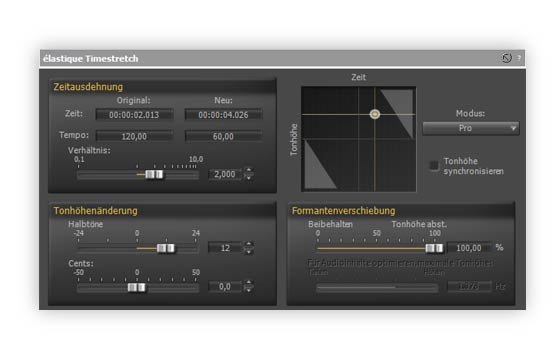 Zplane élastique Time-stretching Algorithmus
Zplane élastique is an amazing time-stretching and pitch shifting plug-in that makes artifacts obsolete.
Based on state-of-the-art psychoacoustic models and signal processing theory, the result is stable timing, inter-channel phase coherence, and sample-accurate stretching without audio deterioration.
Exclusive in SOUND FORGE Pro 12 Suite
SOUND FORGE Pro Suite contains all the applications you need to record, edit, repair and master audio to the highest possible quality. It begins with the all new SOUND FORGE Pro 12 which features 64-bit processing, VST3 support, plug-ins from the advanced SEQUOIA system and many renowned audio editing tools and plug-in effects. Add SpectraLayers Pro 5 and its high-resolution visual Spectrograms of your audio that make precision-editing and sound design possible, and you have the complete set of tools for the audio professional.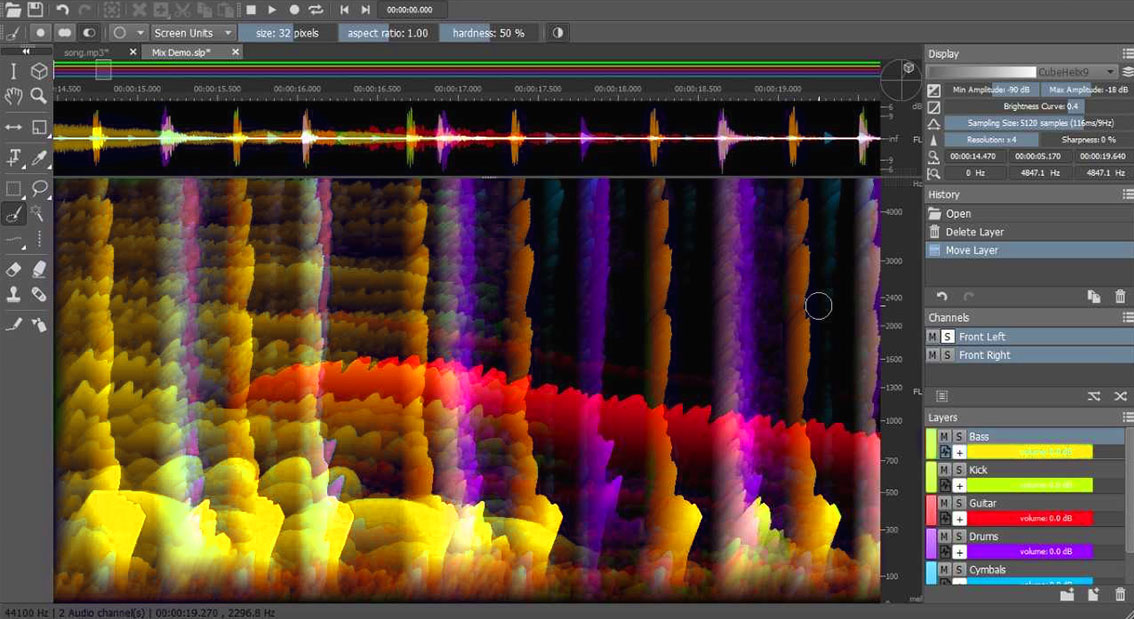 SpectraLayers Pro 5
SpectraLayers Pro transforms sound into a unique visual world of multidimensional audio data.
Outstanding program design, a high performance audio engine and seamless integration with other DAWs make SpectraLayers Pro one of the world's most revolutionary spectral editing platforms.
essentialFX Suite
The new essentialFX Suite is a collection of 11 first-class effects plug-ins suited for all everyday studio applications. It uses high quality algorithms and features, clearly laid out individual parameters and efficient operation. Uniform controls, combined with low resource consumption and high-quality output, making it the perfect audio studio tool.

eFX Gate
A flexible effect similar to a classic analog gate with soft knee and sidechain filter function for fast and accurate ducking.

eFX Vocal Strip
A channel strip with compressor, deEsser, gate, highpass filter and tone shaping in one special tool which is ideal for speech or vocal tracks.

eFX Compressor
A classic compressor with a comparatively soft curve and an adaptable regulation process, it therefore compresses completely musically.

eFX Tremolo Pan
A tremolo effect with rate, shape, tremolo and panorama for rhythmic stereo effects with auto panning textures for synths or vintage guitars.

eFX Chorus Flanger
A traditional chorus/flanger effect with rate, depth, feedback and mix settings giving sounds more space by modulating or delaying the pitch.

eFX deEsser
A dynamic filter which constantly input signal peaks high above average frequency ranges for reducing unwanted sibilance in speech and vocals.

eFX Phaser
A classic phaser effect with adjustable rate, depth, feedback and mix settings for enduring signals like synth washes to create atmosphere.

eFX Tubestage
An authentic analog tube amplifier simulation with an oversampling mode to get a compact and more vivid sound picture with more dynamics.

eFX Limiter
A dynamic tool for increasing the loudness of the audio signal and to limit the level of a signal to a certain threshold to safeguard against clipping.

eFX Reverb
A completely algorithmic reverb for creating versatile reverb effects to produce thick and transparent reverberation for all kinds of signals.

eFX Stereo Delay
A stereo delay with individually adjustable settings for both channels, as well as tempo sync which can add stereo width to vocals or instruments.
eFX Gate
eFX Vocal Strip
eFX Compressor
eFX Tremolo Pan
eFX Chorus Flanger
eFX deEsser
eFX Phaser
eFX Tubestage
eFX Limiter
eFX Reverb
eFX Stereo Delay
Analogue Modelling Suite
4 analog audio tools which simply can't be left out of any mastering process.

AM|MUNITION, AM|PULSE, AM|TRACK, AM|PHIBIA
AM|MUNITION
AM|MUNITION is a compressor/limiter for spicing up your mix and giving it more kick. This dynamic mastering tool makes your mix louder and adds definition, and can also be used as a limiter. Transients are conserved and a compact, loud signal is delivered. With its combination of available steps, modes and parameters, the plug-in is a powerful tool offering you great creative flexibility.
AM|PULSE
AM|PULSE is a transient modeller, which is a creative tool developed specifically for detailed envelope (attack and sustain) editing – most commonly used on percussive or dynamic sounds – and it can be used for reducing background noise. It also provides you with saturation control and mix functions within its harmonic control mode.
AM|TRACK
AM|TRACK is a combination of an analog compressor and a tape simulator in a single device. The plug-in was developed specifically for editing and enhancing your input signals. You can improve and liven up the audio signal with a combination of compression and tape saturation, each with its own independent controls and sound characteristics
AM|PHIBIA
AM|PHIBIA is a tube amplifier/channel strip combining an optical compressor with a pre and post filter unit. You can choose the suitable setting from the filter presets depending on the input signal. The compressor section can be used as a vocals pre-amp, tube guitar amp or simply for creating a warm sound when mixing or mastering.
Vintage Effects Suite
Authentically reproduce the natural, full sound of analog tools.
ECOX
Ecox is an inspiring plugin for emulating realistic tape echo sounds. You can authentically reproduce the sound when different tape speeds were used to change the delay, with tracking fluctuations and the loss of highs during each tape feedback.
FILTOX
This filter is designed to control the frequency response of a modulation source. You can now create the characteristic analog sound and internal over-modulation. The interaction between the cut-off frequency and resonance makes your synthesizer sweeps or creative drum loop distortions sound un-digital.
CORVEX
Corvex produces an elegant tapestry of variations between analog-style chorus and flanger effects that goes beyond standard concepts. Add amazing acoustic depth to your instruments, make them sound fuller or create the illusion that a sound is multi-layered.
Sound design for drums, vocals and guitars
With VARIVERB II you get more depth and sound textures with numerous presets for drums, vocals and guitars that are based on a variety of algorithms that can be used for making vast spatial improvements and as the starting point for complex, customizable sound design.
Precisely calculated reflection pattern
With VARIVERB II you create reverb not based on impulse responses, but on complex reflection patterns and different software models. Easy to use, these calculations are based on mathematical models of rooms, halls, reverb plates, spring reverbs and so-called non-linear effects, which you can extensively edit, making it a great audio enhancement tool.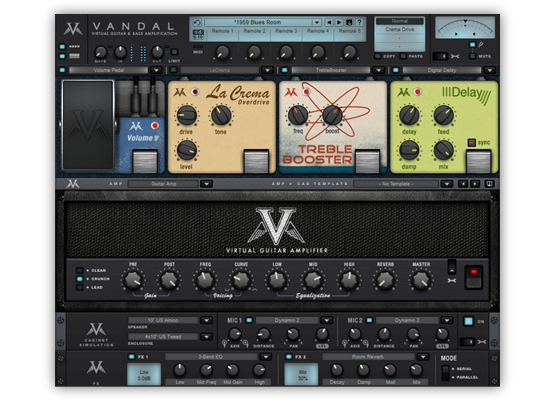 Vandal
Customizable virtual guitar & bass amplification
Vandal is unique. It is a complete simulation suite for guitarists and bassists from the tubes to the speaker coils, and a comprehensive effects rack at the end of the signal path. This is the only virtual guitar and bass amplifier that gives you the characteristic sound and feel of real hardware with the flexibility and creative control of software.
Scripting helps you automate repetitive tasks and implement customized features. The Batch Converter, for example, was created using scripting. SOUND FORGE Pro 12 includes a number of scripts that you can use or modify as needed. The latest scripts available are the Mastering Wizard which applies mastering effects, and the Cleaning Wizard for applying cleaning effects, and then it gives you the choice to save in any format. You can use the Script Editor window to open, create, edit, or run scripts, or write your own in C#, JScript or VBScript.
Batch processing
The Batch Converter lets you apply the same effects and processes to multiple files, saving hours of editing and conversion time. You simply add a group of files to the Batch Converter interface, select an effect or process and run the script. You can also save and easily recall your most frequently used batch scripts for a productive workflow.
Mastering Wizard
Mastering Wizard enables quick and easy masters of your audio to be created to give it a professional edge. The software guides you through a typical mastering process and the different effects used each time. It even includes different presets that you can try out, or simply use your own settings to change levels, compress or EQ for perfect results.
Cleaning Wizard
Cleaning Wizard is an indispensable tool to help you remove noise and other artefacts from your audio. It guides you through a typical cleaning process and the tools used so that you can quickly and easily reduce hum, pops and crackles. It is a one-stop utility for cleaner audio and an ideal tool to help you get pristine-quality audio.