SOUND FORGE Pro has numbered among the most renowned audio editing software for more than three decades making it the editor of choice for many producers and sound engineers worldwide. SOUND FORGE Pro stands for recording, editing and mastering at the highest level.

Audio editing
Precise audio editing
The core competencies of SOUND FORGE Pro are editing and cutting audio files. Use a wide range of tools for fast, high-precision results.

Edit tool
Use the edit tool to change, position, and move audio files as well as edit simple envelope points.

Magnify tool
Use the Magnify tool to zoom in on a region for an in-depth look at individual elements. If you let go of the mouse button, the area selected will not be lost.

Pencil tool
Use the Pencil tool to edit waveforms by drawing on them. This way, undesired noises such as peaks and missing zero crossings can be easily removed.

Event tool
Use the event tool to edit several audio events in a single data window. This shows you simple methods for smoothing transitions and makes creating track for Disc-At-Once CDs easier.

Envelope tool
You can add, remove, or adjust envelope points using the Envelope tool. Breathe new life into your projects and create complex automation for parameters in no time.
Time stretching & pitch-Shifting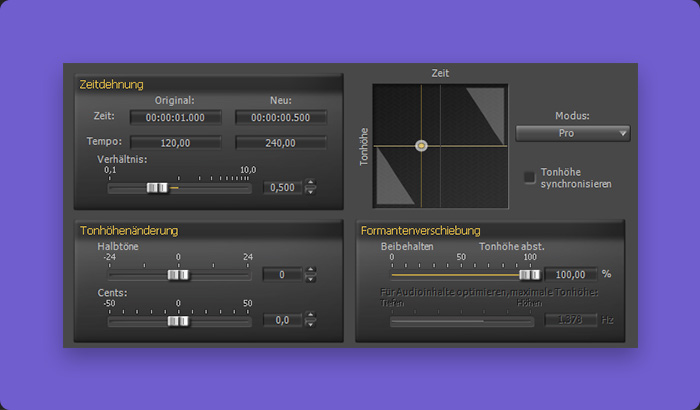 Timestretching with
zplane élastique Pro v3 Engine
Experience artifact-free time-stretching and pitch-shifting from the market leader.
Based on modern psychoacoustic models, zplane élastique delivers stable timing, cross-channel phase coherence, and sample accurate stretching without degrading sound quality.
Workflow features
Maximize efficiency and work fast
The user interface in SOUND FORGE Pro can be fully customized. Personalize your workflow by modifying waveform and envelope color, markers, and window height to suit your preferences. Design and save multiple interface layout configurations, whether in single or dual monitor setup.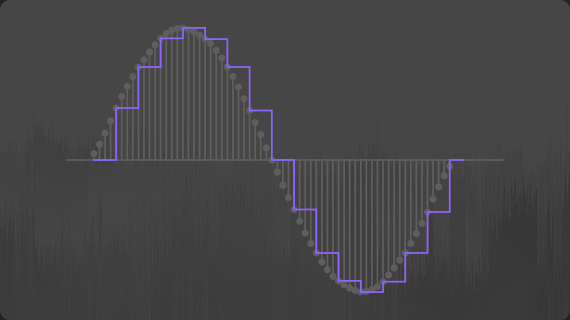 Powerful resampling engine
Thanks to the powerful internal resampling engine, you can work with any sample rate in your project without prior conversion. The program is fast, supports more formats, and provides optimal output quality. The customizable engine ensures that you always output the highest quality and achieve maximum results from your media in real time without prior conversion.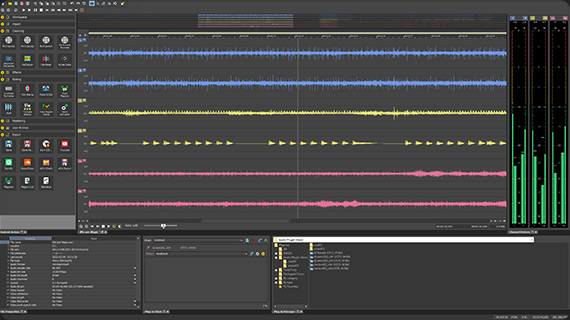 Comprehensive Multichannel support
Support for multichannel audio files allows you to create, load, and save new files with any configuration. 

This provides feedback the selected setup all the time and lets you benefit from the ability to import, convert, and export different formats containing up to 32 channels.
Instant Action
Instant Action allows you to access frequently used features with just one click – plus, you can add custom actions. All essential tools and features are now clearly displayed as easily identifiable icons in one window. Organized into clear categories such as Effects, Mastering, Import, and Export, Instant Action helps you save precious time.
Customizable Windows context menus
Perform a variety of actions from the Windows context menu with a single right-click on a file or folder – all without having to open the program. This way, can assign tasks instantly, which significantly accelerates your workflow and lets you achieve the results you need even faster.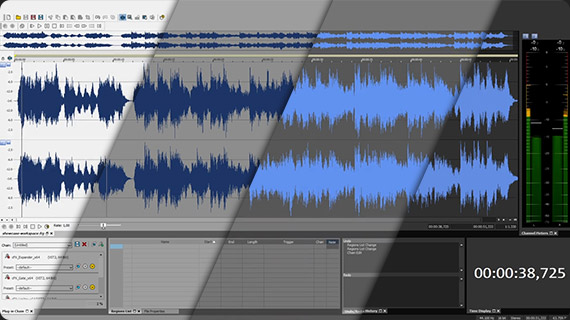 Customizable user interface
The user interface in four different, selectable shade settings. Adjust it to your personal needs and the lighting conditions of your work environment, so you can fully focus on your project.
Intuitive icons
Cleverly designed icons make it easier to find program features. Enjoy an well-organized user interface and intuitively see where you start recording, edit audio, and save projects.

Expert multitasking
You can edit a new file while SOUND FORGE Pro edits and renders an additional file in the background.

ACID loop creation
Create loops for ACID and edit WAV file properties. This information is embedded in the file and can be modified in ACID at any time.

Channel converter
The Channel Converter allows you to change channel configuration – from the number in an audio file to inverting a stereo file to mixing a multichannel file.

Mastering & cleaning
Sophisticated plug-ins. Excellent sound quality.
SOUND FORGE Pro contains a whole range of effects and plug-ins for cleaning and mastering audio files. These are based on advanced DSP algorithms that are designed to offer the highest precision for post-production.
Loudness normalization
Loudness normalization enables you to control the loudness and dynamics in your productions in accordance with the broadcasting standards EBU R128 and ITU BS.1770-4. This allows you to perfectly achieve results and optimally tailor your productions for the targeted market.
Mastering effects
coreFX Suite
The coreFX Suite is the ultimate effect bundle with all the essential tools for professional sound design: It includes rhythm effects for contemporary productions, plug-ins for precise dynamic control, as well as modulation effects for creating richness and space. All dynamic plug-ins display the dry and processed waveform in real time.

coreFX Utility
Streamline your editing process with our sleek and modern plug-in that enables essential editing tasks with the ability to automate parameters. Benefit from the massive collection of essential high-quality tools for professional editing.

coreFX 2-Point Compressor
This versatile compressor offers two input stages that compress level peaks to different degrees depending on the setting. It allows users to adjust particularly loud sections effectively, while only moderately attenuating the rest of the signal. As a result, the audio signal is more assertive in the mix but retains more of its dynamics.

coreFX Limiter
The essence of the mastering tool: The coreFX Limiter sets a maximum output level for an audio signal that cannot be exceeded. This makes it easy to drastically reduce level peaks and increase loudness.

coreFX VolumeFormer
A pump effect without complicated sidechain routing that is created by rhythmically reducing and increasing the volume. The shape of the envelope – i.e. cut and boost – as well as the modulation frequency can be set freely, e.g. to match the beat. This creates a gate or sidechain effect, which is frequently found in house and EDM as well as in rock and pop.

coreFX Expander
The coreFX Expander works as a companion to a compressor and lets you achieve a particularly natural sound. Louder impulses can be further amplified and soft ones made even quieter. Users can extend the dynamic range of an audio signal and modify the envelope and tonal character of the signal.

coreFX Compressor
Use this effect to compress the dynamic range of an audio signal and eliminate volume differences between soft and loud passages. The filters applied to the audio and sidechain inputs allow precise control over the response. This allows both subtle and pronounced effects to be created.

coreFX Gate
The coreFX Gate suppresses background noise such as static or cross talk – for uninterrupted acoustic enjoyment. The gate can also operate more discretely with precise threshold and decay time settings.

coreFX Delay
From subtle to wild and clean to dub echo: Simulate both vintage and modern echo devices with coreFX Delay.
coreFX Chorus
Create fuller, warmer vocals, guitar, and synth sounds: Explore classic and modern chorus effects – whether for guitar-heavy ballads or futuristic, alienated vocals.

coreFX Flanger
Modulated copies of the audio signal are mixed together with the input signal to create metallic sonorous textures for thrilling breaks and captivating leads.

iZotope Ozone 11 Elements
iZotope Ozone Elements contains a wide range of presets and macro controls that allow you to perform the mastering process with ease.
The Mastering Wizard analyzes your mix, creates an audio profile and suggests signal chains and parameter settings.
Customize the sound you want – from podcasts to pop songs – and get results easily and in next to no time.

Presets
More than 75 professionally designed presets for various genres, formats etc.

Plug-in support
Full support is included for VST, AU, RTAS, AAX and ARA2 plug-ins.

Intuitive interface
Intuitive control elements enhance and support your workflow, letting you produce impressive masters seamlessly.

Broadcasting
The perfect application for creating masters ready for both radio or streaming.
DeHisser
The DeHisser allows noise – often present in recordings due to microphone, pre-amps or transformers – to be removed evenly from the recording. Unlike noise reduction, it's unnecessary to select a noise level.
DeClicker/DeCrackler
The DeClicker removes individual peaks in signals, while the DeCrackler removes clicks and pops in your files produced by old records.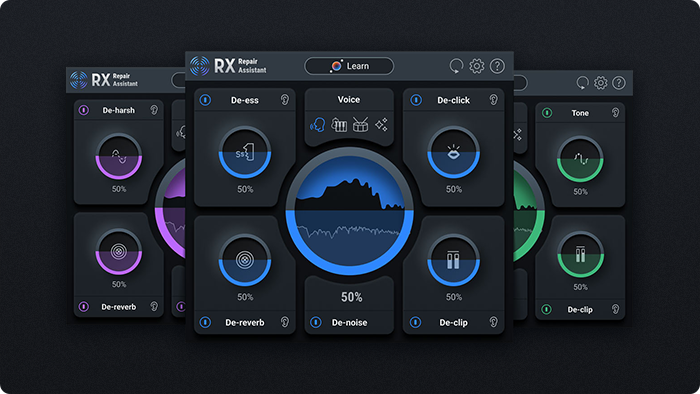 iZotope RX 10 Elements
RX 10 Elements from iZotope is the ideal tool for quickly and easily removing unwanted noise, "s" sounds, clicks, and other elements from your audio files.
This powerful cleaning & restoration tool includes a brand-new restoration plug-in featuring six outstanding modules for achieving ultra-clean sound: De-hum, De-click, De-clip, Voice De-noise, and De-reverb.
Whether you're editing a podcast, recording a full band, or working on a feature film, RX 10 helps you captivate your audience by bringing out the best in your audio.

De-clip
Remove digital and analog clipping artifacts to restore distorted audio files.

Voice De-noise
Reduce undesired background noise such as amplifier hiss, air conditioners, or refrigerator hum.

De-hum
De-cum instantly removes any kind of hum or interference without compromising audio quality.

De-click
De-click automatically identifies and removes clicks, cracks, and digital impulse noise, which can negatively impact your listening experience.

De-reverb
Control the spaciousness of a recording: Apply the ambience of a large cathedrals or a small hall, or make voices sound as if they were professionally recorded in a studio.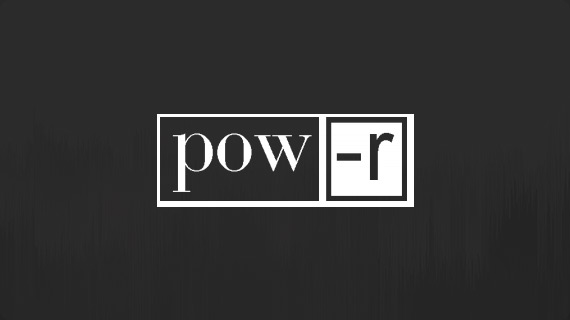 POW-R dithering algorithms
POW-r Dithering consists of a set of three dithering and noise-shaping algorithms. Each of which is designed for a specific type of audio recording: Speech, music with a limited and greater dynamic range.
Type 1 has the flattest frequency spectrum in the audible frequency range and is optimized for low dynamic range recordings – ideal for highly compressed pop music.
Type 2 has a low-order noise-shaping curve that is psychoacoustically optimized for less complex recordings – perfect for spoken word.
Type 3 has a high-order noise-shaping curve that is psychoacoustically optimized for complex, high dynamic range recordings – ideal for orchestral concerts.
ARA2 support
Expansion of ARA2 support allows compatible plug-ins to share complete audio files, as well as song structure information, with the host program. This offers several advantages to streamline your workflow: Edits are retained, changes made when copying the project are saved, and audio doesn't have to be tediously rerecorded with the plug-in.
Automatic export workflow


Customizable export functions help you work more effectively and efficiently. Save your favorite export presets (including post production effects) and use them for future tasks. This frees up significant amounts of valuable time for your productions.
ACX: Export podcasts & e-books
for Audible, iTunes & more
Easily export audio files compatible for streaming services like Audible, Spotify, or iTunes. The ACX Export Wizard lets you create industry-standard podcasts and audiobooks so you only have to focus on one thing – your story.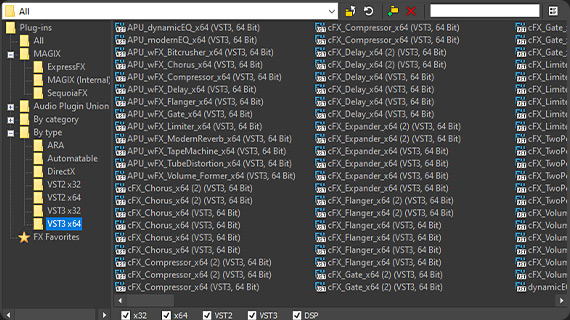 Powerful Plug-in manager
In the Plug-in manager, all your plug-ins are arranged in clear categories and sorted.

 Thanks to the practical filter options and the integrated search field, you can sort and access your plug-ins in no time – simply enter a search, apply the right effect, and mark your favorites for future projects.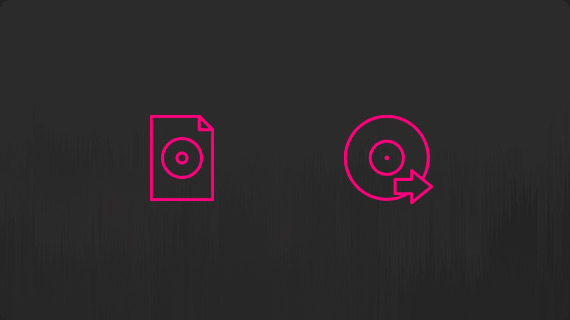 DDP Export & Disc-At-Once CD burning
Prepare your data for the pressing plant and export Disc Description Protocol masters. DDP masters allow you to specify all the parameters for the CD to be able to reproduce it industrially in large quantities. Everything is compatible with the Redbook standard, of course.
For the creation of CDs with the burner for home use, the Disc-At-Once and Track-At-Once methods are supported. For this purpose, track markers and track names can be conveniently specified directly from the program.
Recording
High-resolution audio recordings
SOUND FOR Pro lets you record ultra-clear, multichannel sound with up to 64-bit/7682 kHz audio. Apply effects during recording and monitor your recordings on a fully customizable interface.
Hi-res audio recording
Create ultra-clear recordings in a resolution of up to 64-bit and sample rates of up to 768 kHz.
Professional recording workflow
Edit files with up to 32 audio channels and monitor everything within a customizable working environment. Simplified file navigation and a huge range of additional options for recording refine the program's recording workflow further.
Remote Recording
The sleek, floating window provides maximum ease of use for recording control – place it anywhere in any running application & keep all essential recording options at your fingertips. This means you can keep your voiceover texts for audiobooks and podcasts in the desired position and start recording right away.
One touch recording (OTR)
Start recording with a single click or per MIDI while keeping the main program interface and your project area open simultaneously. OTR lets you spare heaps of time and enable you to fully concentrate on recording.
Direct Stream Digital (DSD)
Load and save your data in DSD format for Super Audio CD (SACD) mastering or top-quality archiving. Additionally, record and mix your files in PCM format.
Automatic recording
Configure your recordings so that they automatically start and stop via a timer or reaching a predefined volume. This is an easy way to record without the need for remote controls while you're in the booth.
Input bus effects
Define your effects chain before recording and optimize your input signal for headphone mixes and subsequent editing.

Visualizations
Audio analysis in SOUND FORGE Pro
Analyze sound in SOUND FORGE Pro with sophisticated audio visualization tools. Music, vocals, and noise are dynamically displayed in vibrant colors.
WaveColor
WaveColor adds a new dimension to your waveform display through the use of succinct colors, giving you an overview of what your project sounds like. Enjoy a clearer overview of your project thanks to clear colorization of waveforms. Pitches and sound characteristics are assigned different colors and saturation levels, which make it easy to see all the important parts of your project at a glance.
Spectroscope
The Spectroscope offers precise and detailed real-time frequency analysis. Display the relationship of volume to frequency in a graph accurately and quickly. Advanced FFT algorithms allow visualization of what otherwise can't be heard.
Peak meter
Measure the peak levels of your audio signal precisely and reliably – Peak meter offers an extensively configurable visual display of the levels in real time, support for multichannel, and convenient peak hold. A wide range of scales are included, making the meter compliant with all common standards.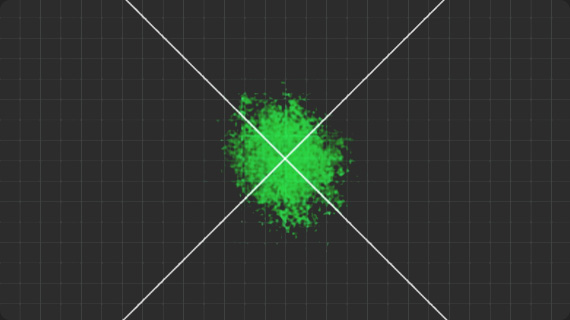 Phase scope and mono compatibility measurement
The phase scope helps you find phase cancellation between channels in the audio file. You can use the correlation meter to identify and fix limitations to mono compatibility between channels.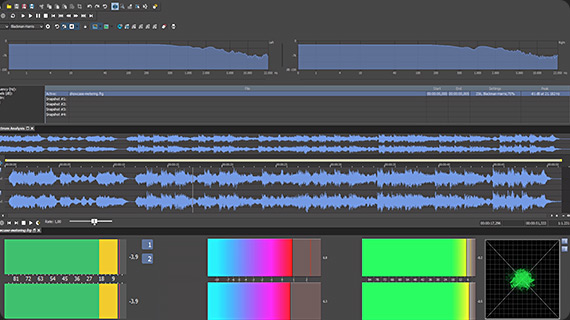 CALM-targeted metering
Commercial Advertisement Loudness Mitigation Act (CALM) regulates overall loudness during ad breaks. CALM standard metering provides ultra-precise loudness measuring and displays an audio signal's dynamic range in visual form, ensuring full compliance with standards.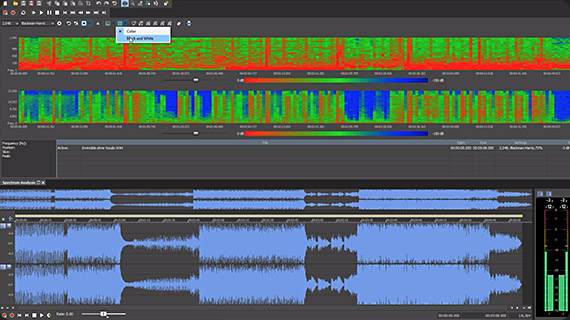 Multichannel-capable spectrum analysis
Monitor the ratio of fundamentals and harmonics in multichannel files using clear, customizable color schemes. Quickly and easily create snapshots and overlays in order to compare and adjust frequencies.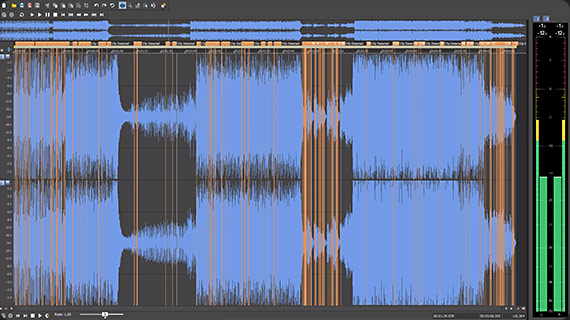 Clipping identification and selection
The tool for identifying and selecting clipped peaks automatically scans audio files to locate instances of clipping, allowing you to see them at a glance.

Scripting
Automation using scripts
Scripting helps automate personalized workflows, allowing you to complete repetitive tasks faster.

Script-based editing
Use the in-app Script Editor to create, edit, and debug scripts in C#, JScript, and VBScript.
With finished batch scripts, you can save a ton of time on editing and conversion by applying the same effects and processes to multiple files.
All your scripts are collected in the onboard script library and always at hand for use.

Batch Converter
The batch converter makes it possible to easily create scripts even without prior programming knowledge.
Easily add a group of files to the batch converter interface, select an effect or process and then start processing.
Naturally, you can also save batch scripts that you frequently use for quick access anytime.
Onboard script library
SOUND FORGE Pro includes a variety of ready-to-use scripts that allow you to perform a remarkable amount of daily operations. These guide you through typical processes and the necessary tools, so you can achieve professional results quick and easy.
Some of the most popular scripts include the Cleaning Wizard script, an indispensable tool for removing noise and other artifacts, and the Mastering Wizard script, which helps you create professional masters conveniently.
What is SOUND FORGE?

SOUND FORGE is a digital audio editing suite by MAGIX aimed at both professional and semi-professional users. It has been the audio editing standard software for artists, producers and sound mastering engineers for over 20 years. The SOUND FORGE family includes SOUND FORGE Audio Studio, Audio Cleaning Lab, as well as SOUND FORGE Pro and SOUND FORGE Pro Suite.
What is SOUND FORGE
Audio Studio?
What is SOUND FORGE Pro Suite?

What is SOUND FORGE
Cleaning Lab?
Are there free trial versions of
SOUND FORGE available?
Yes, free 30-day trial versions of SOUND FORGE family products are available. Just go to the free-download section and get started.
Is SOUND FORGE Audio Studio
a 32 bit software?
You need a 64-bit version of one of the following operating systems: Windows 11 | Windows 10. Further information on the system requirements can be found under technical specifications.