The new version of XARA Designer Pro X offers all the tools you need to create impressive designs & easily. Set your creativity free with the new workflow improvements.
Improved performance
Full power for your ideas
Discover the razor-sharp HiDPI workspace for pixel-exact designs and PDF Editor 4.0.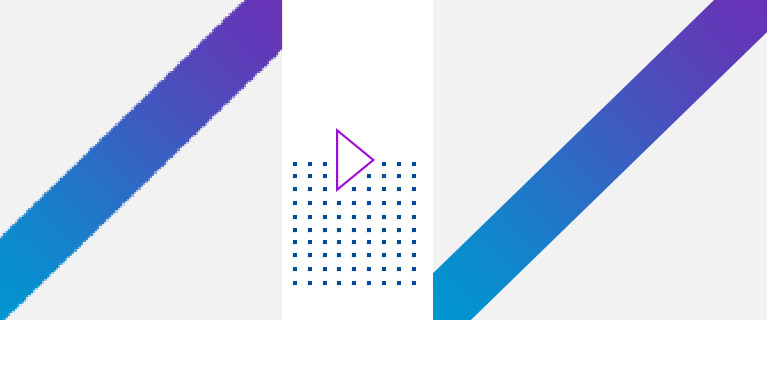 Adjust your designs in a razor-sharp program interface with pixel accuracy.
Together with your 4K screen, the new HiDPI workspace provides even more precision in your creative process.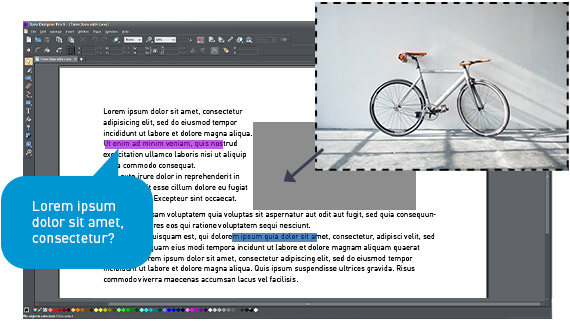 Edit texts, replace images and fill out forms directly in PDF documents. PDF Editor 4.0 helps you achieve even better results by importing even more accurately and displaying fonts embedded in the document.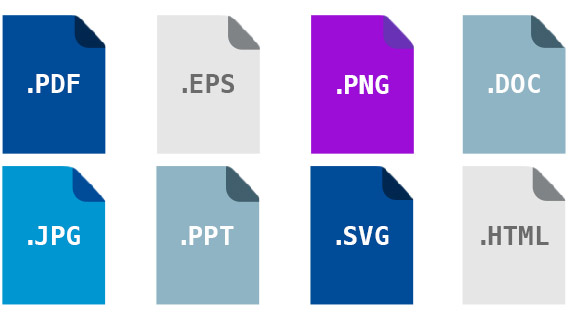 One workspace. Countless formats.
Complete format freedom is here! Import & export more than 70 file formations using Xara Designer Pro. Most recently, even from InDesign (.indd). Furthermore, HTML export and SVG import has been improved.
Intuitive and easy-to-use – using the new, large handles for SmartShapes, the selection tool, as well as the QuickShape and shape tools, you can quickly modify an object's size and angle of rotation.
Design
Easily create impressive designs
Good designs can take time. These new design tools accelerate the process, so that you have time to try out different options. That guarantees a draft that is sure to impress.
Create vertical & horizontal patterns from objects and elements with just one click using Smart Duplication. You don't need to worry about the spacing between the objects. These are identical and can be adjusted simultaneously, so the result is always perfectly symmetrical.
Angles and inclinations exactly to your needs – using the improved workflow, easily rotate multiple objects around a single point. Simply activate Rotate mode and place a point anywhere in the document.
Perfectly placed images liven up drab texts. Thanks to the custom object embedding tool, simply drag & drop an object and the text will automatically flow around it to fit.
Desktop publishing
Put your texts in the spotlight
Showcase your ideas to make them stand out online and in print. The footer, header and paragraph designer provide impressive, professional layouts. Customized fonts emphasize your project's uniqueness.
Header & footer designs for professional layout
Achieve professional results easily – choose a design and it automatically is placed at the top or bottom of the page where it matches the format of your document. Once added, you can easily switch between different designs. Try various combinations in peace and find the best one for your project.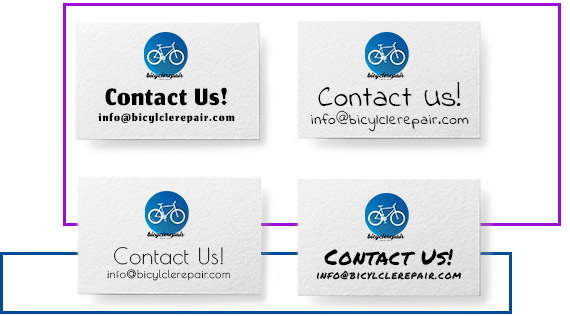 Add unique accents with one of over a thousand Google fonts that are as unique as your project. Simply activate them for free and start using the latest typography trends in your designs.
Web design
Make a great first impression
Now publish your own professional websites and documents even faster thanks to the new publishing workflow. Use the new search engine optimization tools to ensure that your site is well visited.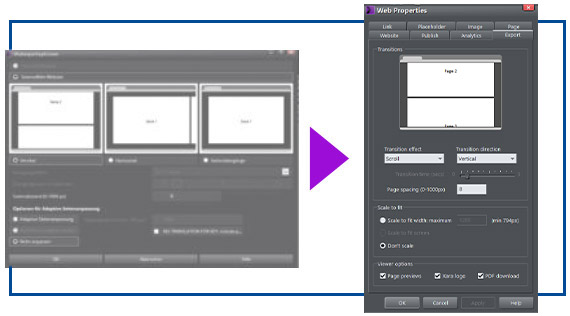 Get your ideas and projects online quickly and easily: Publish websites and documents in one convenient window for web export.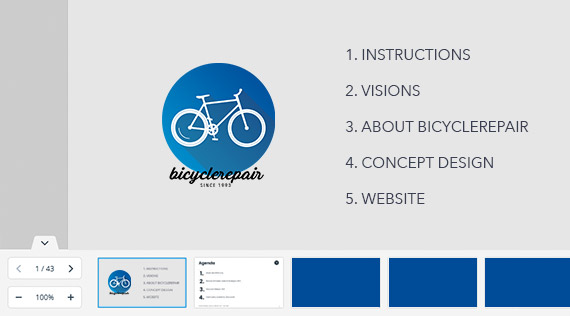 Publish documents, brochures, forms and flyers online on your domain. Using the new preview with intuitive navigation, frame them in a modern way and make them available for download.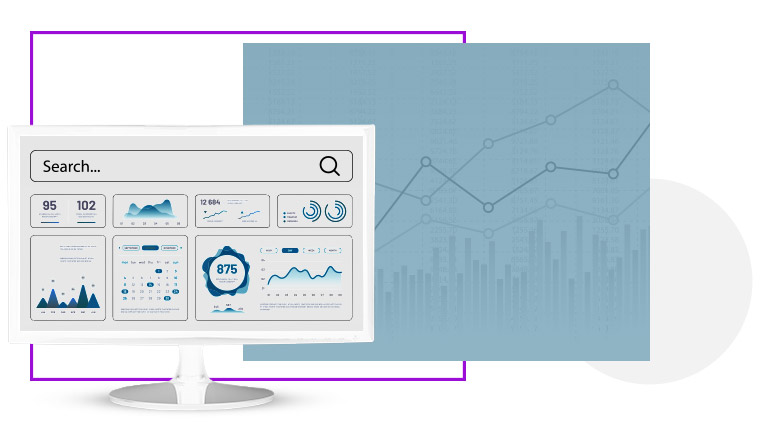 Search engine optimization
Add names, keywords and alt text to pictures and graphics. This provides search engines with more information about the content of your website. This makes it easier for them to identify your website content so that they can evaluate the relevance of your site for users more accurately.
By using nofollow links, you can show search engines which links are relevant to your website and offer trustworthy content. This helps organically improve your Google ranking.
Online Content Catalog*
Get inspired!
Many new templates and design elements are available in the Online Content Catalog*, just waiting for you to transform them into unique designs.
Headers and footers give your e-books, brochures & presentations that professional final touch. The new designs are automatically placed at the beginning and end of a document and follow your existing design.
Put your project in the best light – in the Online-Content-Catalog* you can now find more than 125 presentations, which can be used to present your ideas professionally.
Photos grab people's attention – choose from over 65 different photo panels to make your brochures, websites & flyers truly eye-catching.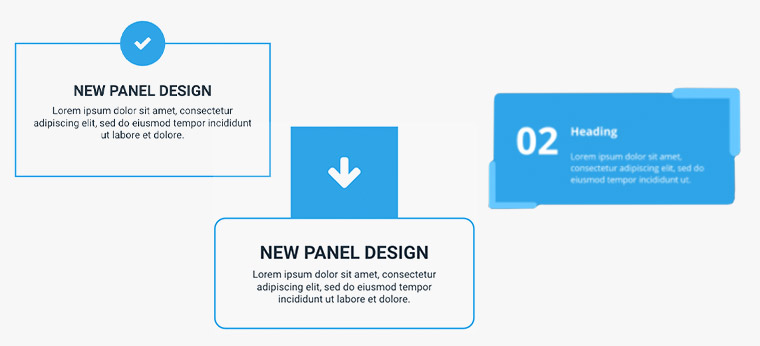 Over 105 Text Panels
New since March 2021
Create brochures, websites and flyers – the new Text Panels enable you to make important text or quotations pop. These adjust to perfectly fit the length of your text.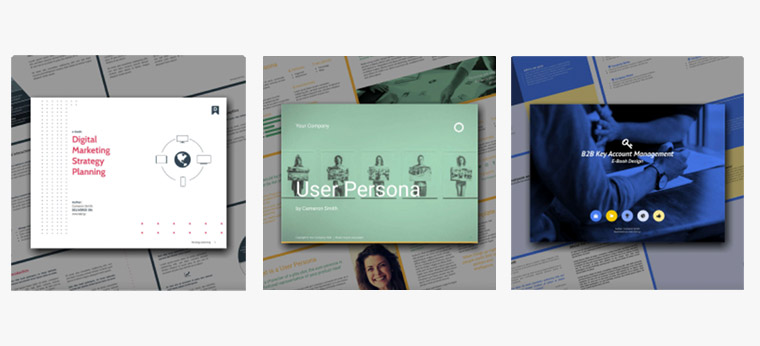 Ten templates for e-books
New since March 2020
The Online-Content-Catalog now features ten templates for modern e-books. Combine text, pictures and graphics to create useful e-books for customers and readers.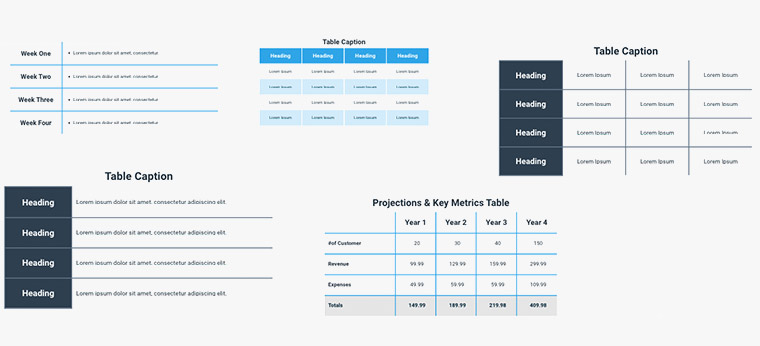 20+ tables
New since March 2021
Organized & clearly arranged – summarize numbers, data & bullet points in an appealing manner with one of the more than 20 table templates.
155+ Facebook posts
New since March 2021
The right post for every occasion – choose from over 155 facebook post templates in the Online-Content-Catalog*.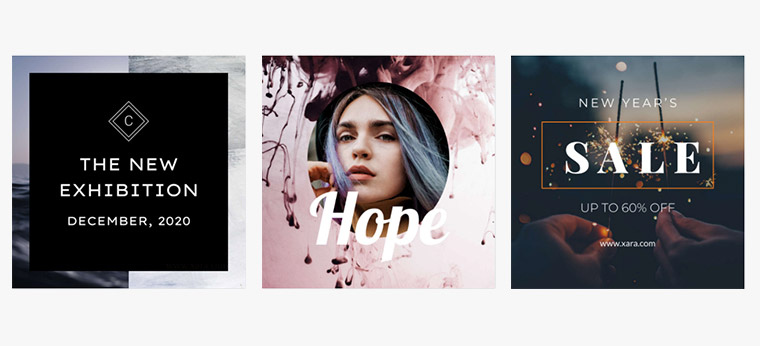 95+ Instagram posts
New since March 2021
On social media, the first impression is key – with over 95 modern Instagram posts, you are sure to grab your community's attention!
Ten templates for e-books
Update Service
Every day. Today, tomorrow and for the next 365 days, your website will always have the latest look! Our Update Service is included for free and offers you one full year of automatic software updates with brand new features.**
Xara Designer Pro X
The design suite for bringing your ideas to life
Upgrade: Xara Designer Pro X
Xara Designer Pro X
The design suite for bringing your ideas to life
$199.00
Regularly $299.00
Desktop publishing
Precise image editing
Vector-based graphic design
Web design
Valid until June 30, 2021
33% discount on the new version
Only now for free in this offer:
✔ X Builder ($79 value)
Desktop publishing
Precise image editing
Vector-based graphic design
Web design
Valid until July 1, 2021
66% discount
Only now for free in this offer:
✔ X Builder ($79 value)
✔ XARA All Web Templates ($195 value)
* One full year of access to the Online Content Catalog.
** With the Update Service you will receive one full year of new features and updates for free, which can be used indefinitely. If you reinstall the program after one year, you will have access to the basic version without Update Service. After the one-year Update Service has expired you can extend it for a discounted price.