Xara: Make a collage with ease
With its Xara Photo & Graphic Designer, Xara offers incredibly flexible software for virtually every aspect of photo editing: making a collage is just as easy as optimizing pictures, editing photos or creating a logo.
This is made possible by this impressive graphic software with its range of functions for editing, enhancing and distorting images. The mixture consists of excellent photo editing software with a vector graphic engine. This software lets you make the perfect collages. Optimize your photos, cut them out and paste them into the graphics that you made yourself. The program doesn't take long to learn at all, and you'll get the results you want quickly.
You don't have to be a photo editing expert to make a collage. And you also don't have to spend a lot of money on expensive photo editing software. You only need a good idea and the right software. Xara Photo & Graphic Designer costs comparatively little, offers a great deal and even helps complete beginners quickly achieve impressive results. Ideally, you should start with a sketch on a sheet of paper. Then you should find the necessary photos or take more pictures if necessary. Then first make your selection in the pictures, cut the individual picture elements on the computer and then paste them together into a new composition. With the intuitive tools, you can do this in no time at all. To make sure that everything fits together well, you can add shadows and adjust the brightness, contrast as well as the colors. You can easily compile several entire pictures together and give them any frame you like. You can thus design wonderful memories of your last vacation and then decorate your living room with developed pictures or hang them on the wall of yourliving room. Individual photo collages can often better express your experiences together in a photo album than a single snap shot. With the panorama tool, you can also automatically create real panorama shots out of several individual pictures. This lets you give your friends and acquaintances an even better visual impression of a landscape, for example.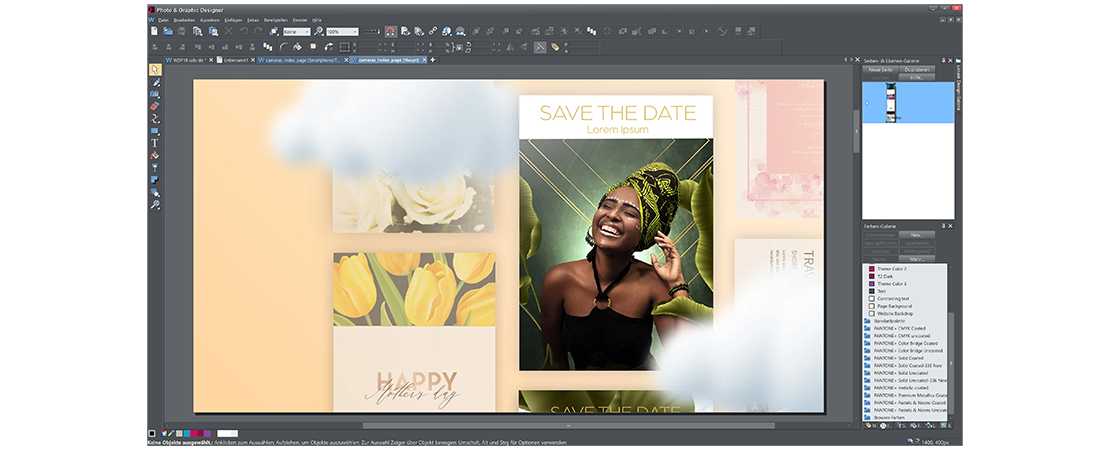 It's the fun way to create collages!
The software helps every user get the best out of his photos. The creative compilation of photo collages lets you give more detailed accounts about your experiences – regardless of whether you put them in a photo album or hang posters on thewand. Simply optimize your photos or completely edit them – the Xara photo editing software is an effective tool that can be used at every level and by everybody. Try out the free trial version now and make your own collages in no time at all.
* With the update service you will receive a full year of free new features and updates, which can be used indefinitely. If you reinstall the program after one year, you will have access to the basic version. After the one-year update service has expired, you can extend it for a discounted price.