More than just photo editing software
Basically photo editing software is used to improve the quality of photos on a PC.
Some applications also functions as photo managers and help with the archiving of images. There are all kinds of programs available ranging from simple freeware with limited design options on through to professional solutions costing thousands. The problem with a lot of photo editing software is that it is very complicated to use and takes a long time to learn.
The photo program Xara Photo & Graphic Designer makes it possible for anyone to edit photos without having to spend hours reading the manual. It's a program that encompasses everything for photo editing and can help users to optimize and retouch their pictures quickly and easily. Now everyone has the chance to present their photos in the best possible light. Correct the brightness, contrast and colors of your photos with just a few clicks. Make use of the powerful editing tools to get the absolute most out of your photos.
With the Contour Tool you can add frame to your images and the tool for intelligent scaling makes it possible to adjust the height and width of your photos without distorting important content. You can also correct diverging lines using perspective correction and create panoramas from several images fully automatically. With this photo editing software you can remove red eyes and draw real vector graphics. These special graphics are infinitely scalable. You can draw freehand shapes and lines or use the premade shapes for a head start.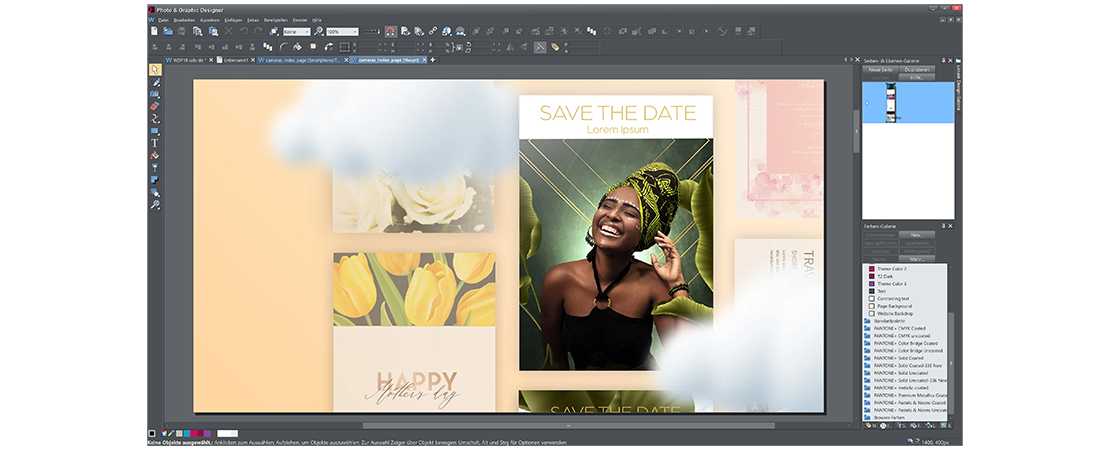 The photo editing software from MAGIX
If after optimization users still are not satisfied with their photos, this is usually due to unwanted elements in the picture. The good news is that Xara Photo & Graphic Designer has the perfect solution for this problem: the Magic Erase function. This can be used to remove unwanted shadows or even entire landscapes. You can even move image elements to other positions in the picture. It's a fun way to get creative with your photo composition. And why stop at photos? You can also create one-sided flyers with this photo program from MAGIX. Unwanted objects automatically disappear from the picture as soon as they're marked with the Clone Tool. With this photo editing software from MAGIX there's no limit to your creativity. Even simple collages with your photos are easy to create with this photo editing software from MAGIX. In the Design Gallery there are also numerous graphic elements that can be used to add some decoration to your images.
Whether for simple and fast corrections or complete photo collages – Xara Photo & Graphic Designer offers you total creative freedom in a top-qulaity graphics program.

* With the update service you will receive a full year of free new features and updates, which can be used indefinitely. If you reinstall the program after one year, you will have access to the basic version. After the one-year update service has expired, you can extend it for a discounted price.