Create Slideshow with your Memories
Your memories are scattered across various media in your house. They may be physically printed pictures, photos snapped on digital cameras, or stored on memory cards and CDs.
They are all important to you and hold the key to reliving the most important and enjoyable moments. Last Christmas or Thanksgiving just wouldn't be as fresh in your mind if it weren't for those family photos. So, what should you do with all of them? It's best to create slideshows using slideshow software like MAGIX's PhotoStory. That way you can assemble all of the widely strewn memories into a tidy and exciting presentation that you can watch and share over and over again for years to come.
Not only is creating a slideshow with MAGIX PhotoStory easy, what's even more impressive is it's wide-ranging abilities to add music to your slideshows. You can use CD tracks, MP3 songs, or recordings from the web to color your presentations with even more emotion.
In a few years it may be difficult to remember the song you, your family and friends were listening to while laughing and enjoying the holidays so, instead of losing that essential piece, just simply put it as the background music to your pictures and keep it with you permanently. PhotoStory assures that even with no previous experience, you will be able to make slideshows worthy of a great night with loved ones.
You can even upload your newly created slideshow easily to your social media platforms, such as YouTube, directly from the program. In addition, the program helps you ensure that everything is as beautiful as possible by providing you access to some of the best photo editing software available. Photo editing is essential to recovering old photographs that have become tarnished or faded. With these tools at hand, you will be able to act like a professional picture editor from the comfort of your personal computer.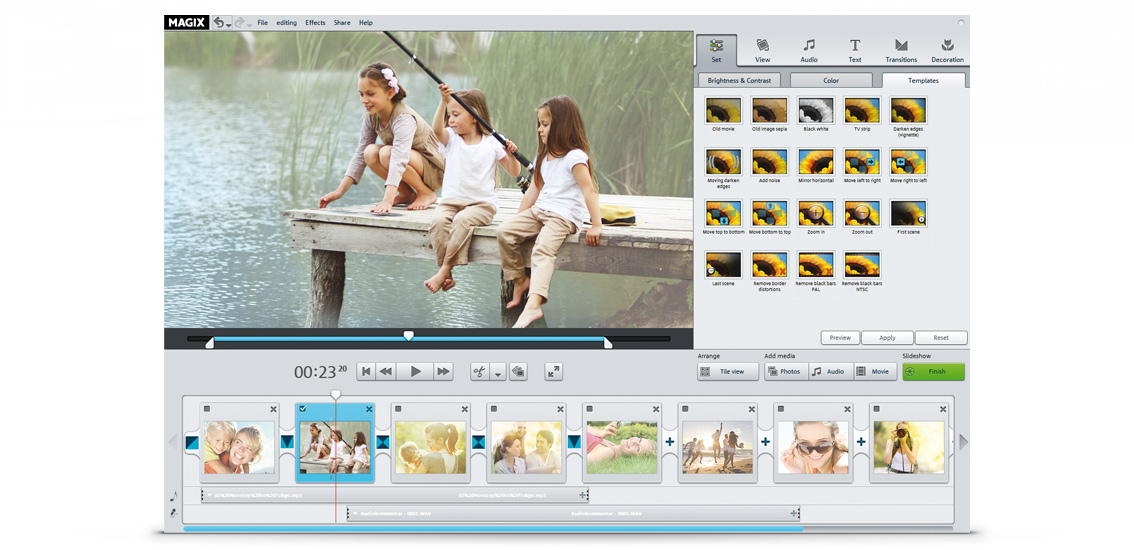 Create Slideshow to make the most of your memories
MAGIX Photostory is designed to make it as quick and as easy as possible to use. The logically designed interface shows you all the tools you need to create a stunning slideshow at once without overcrowding screen. There is no need to click in and out of separate windows, everything is neatly arranged in one window. This is the absolute perfect program to create slideshows that will preserve your memories for years to come.