Digitize your videos with MAGIX
Are you part of the crowd that thinks it takes time to digitize video, since transferring from VHS to DVD is only possible by playing back the entire cassette? If you are, this is not true and with MAGIX, there's an easy and convenient solution available.
Plenty of analog film material simply gets stored in basements, attics, or on the shelf in the living room. But time is running out and they should be transferred to a digital format, since the continuous development of technology has already made it difficult to purchase a new VCR. Many users are holding back from recovering their old film treasures and transferring them to a digital format, because they think the process is too complicated.
Videotapes are exposed to all kinds of danger. Simply just by playing them back, you could end up with horrid "tape salad" –when the tape gets stuck in the VCR and you have no other choice but to pull out of the cassette, causing irreparable damage. Even kids and house pets are a constant source of danger as they couldyou're your VHS as their new toy. Videotapes are generally neglected at home. Incorrect storage in moist or warm places can lead to damage that makes the video material permanently useless.
MAGIX Rescue your Videotapes! offers a USB video converter that features a SCART adapter, and the software MAGIX Video easy as the complete package which guarantees the user easy transferring of your analog material onto your PC. In addition to VHS cassettes, other formats may be transferred to the PC, too. The only requirement for this is a SCART connection on the analog playback device.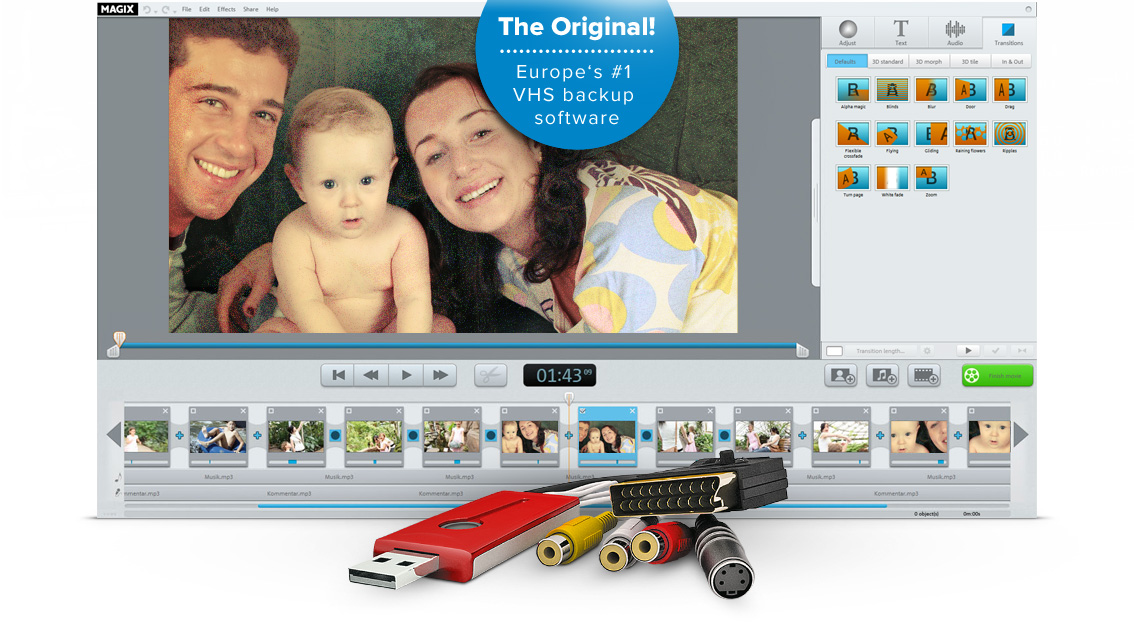 Digitize video from VHS to DVD for a more secure storage medium
But digitizing isn't difficult if it's done with the right tools. That's why MAGIX offers its package Rescue your Videotapes, providing the user with easy to use PC software and the hardware required for connecting the computer to an analog playback device. So, why not digitize video your analog video collection and edit it with convenient software to keep your old treasures alive.