All Features in
Video Sound Cleaning Lab
The fully automated Video Sound Optimizer
An expert in all fields
Sound distortion due to room acoustics, speech that's difficult to understand or annoying background noise – the Video Sound Optimizer can find the solution to all sound issues.
Perfect sound with just a click
A process that normally requires years of audio mixing experience can now be achieved easily thanks to the program's professional algorithms.
Optimize speech automatically
The Video Sound Optimizer helps you find exactly the right sound fully automatically, so you can make speech recordings sound their best.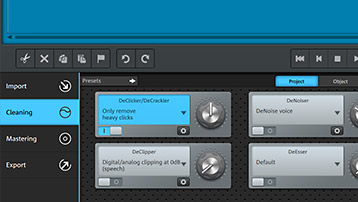 Tons of presets
You don't have to be an expert to optimize the sound in your videos! The program contains a huge range of presets for editing and optimizing video sound in no time at all.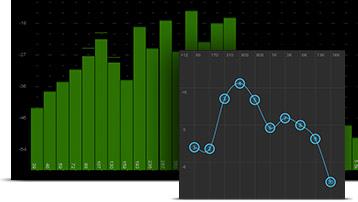 Crystal clear sound
A wide range of professional tools such as the Limiter and DeClipper enable you to control volume fluctuations, remove or prevent clipping and enjoy your videos in superior quality.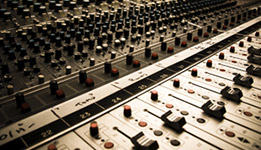 Optimize speech sound easily
With the right tools you can optimize speech in a matter of minutes and bring the quality of your videos to a whole new level.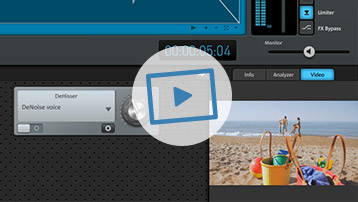 Remove camera noise
Access specially developed tools and presets that make it easy to remove camera noise and restore the audio tracks in your videos.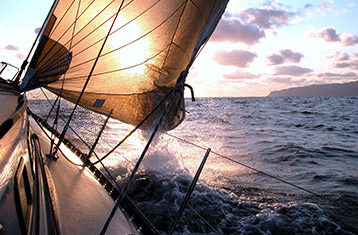 Stop the wind with a click
Save the time and the hassle of dealing with special equipment to remove wind noise from your videos. The program's special algorithms can remove the wind with a simple click.
Remove mains hum
Mains or electric hum is a sound that you'll usually only notice when you play audio through your TV speakers. This can be removed in just a few steps.
Professional effects & tools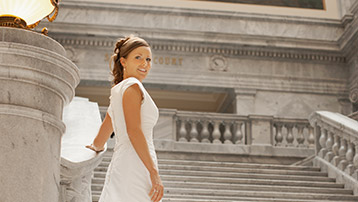 Reverb and other fantastic effects
The bride says "I do" and everyone watching your video says "Wow!". Use the various reverb effects to simulate different rooms, for instance make that exchange of vows even more romantic by applying the reverb from an Italian cathedral.
There are tons of audio effects for adding a new dimension to your home movies. Give it a try – you'll be impressed by the results!
Preview monitor
The preview monitor is detachable and can even be resized. This means you can can work on two monitors simultaneously and check all of the added effects and commentary down to the finest detail.
Overview track
The overview track is very helpful. It makes it easy to navigate through long audio tracks and to jump to different positions in the project without losing track of where you are.
Visualizations
These redesigned displays are based on ProAudio Technology, which is used in professional studio software. Video Sound Cleaning Lab includes a spectroscope, a peak meter and a spectrogram.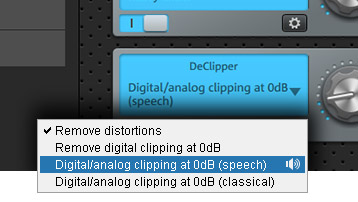 Preview feature
With the handy preview feature you can check which effects are best for dealing with sound issues.
Discover just how easy it is to optimize your audio.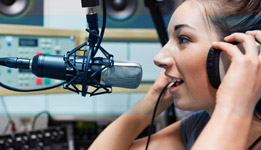 Audio commentary
Connect a microphone or use your smartphone to record commentary. Then easily add it to your video afterwards.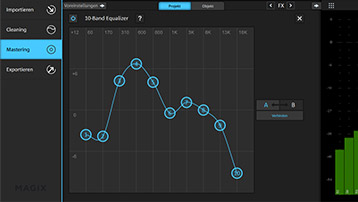 Crystal clear speech
With the right presets and tools such as the Equalizer, DeEsser or StereoFX, you can improve the clarity of speech in your videos with just a few clicks.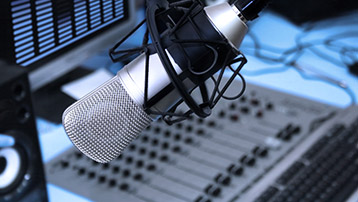 Sound & presence
The DeEsser effect can make voices sound warmer and more pleasant by removing sharp hissing and heavy sibilants.
Simply export & use further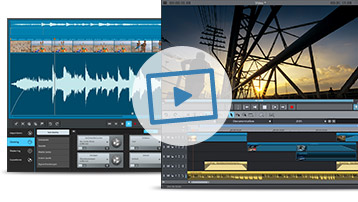 The export expert
Easily transfer projects from other MAGIX programs such as Movie Edit Pro to Video Sound Cleaning Lab for further editing.
MAGIX Video Sound Cleaning Lab supports all standard audio and video formats and lets you export new video sound tracks in the highest possible quality – fast.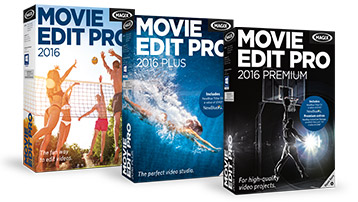 Compatible with various video editing programs
Transfer your results from MAGIX Video Sound Cleaning Lab as an audio track into any other video editing software.
All standard audio and video formats are fully supported, so you can get the best from all of your video projects.
Your direct connection to the experts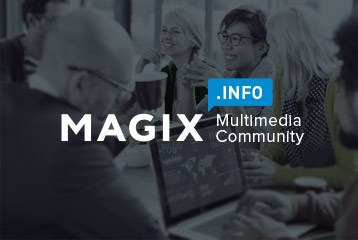 Multimedia Community
The direct connection to the magix.info Multimedia Community makes it easy to find detailed information on how to solve any problems you might have.
Using your free online account you can upload your projects directly to magix.info and discuss production tips & tricks.
MAGIX Video Sound Cleaning Lab
New soundscapes for your videos
MAGIX Video Sound Cleaning Lab
New soundscapes for your videos
Optimize vocals and melodies to create audio that will affect your viewers. Video Sound Cleaning Lab lets you create fantastic sound for your videos. Select from a huge range of options for optimizing video sound with the Auto Cleaning feature.