Full track handling
Tracks can now be reordered, deleted and copied – even retroactively. Using the active target track, you can import media such as video or music with absolute precision to the position you want on the timeline. New track and object color schemes provide a clearer overview of items.
J and L cuts
Audio and video can be independently trimmed using shortcuts. Documentaries and interviews are now easier than ever before to edit thanks to a fluid workflow and overlapping objects.
Find and close gaps
The new split and trim tool locates all gaps on the timeline – you can then simply close them with a single click. All clips merge correctly without leaving any black frames.
"Move object content" mouse mode
Video object contents can now be easily selected in a way that maintains the editing rhythm.
Multi-track & multi-format timeline
The multi-track & multi-format timeline enables you to import and edit different video formats in SD, HD and UHD resolution without having to convert files into a proprietary intermediate format.
Precision editing with three- and four-point cuts
Precisely inserting video clips into the timeline using the three and four-point editing features is easy. You can define start and end positions by placing in and out points in the video monitor and timeline.
Time stretching
In MAGIX Video Pro X, you can change the length of your video and audio objects simply by stretching and contracting the object in the timeline. Audio objects maintain their original pitch.
Beat-based editing
Using the new snap markers, you can now cut music to perfectly fit the scenes in your movie.
Advanced search for gaps
MAGIX Video Pro X features a special tool that searches for any unwanted black areas between clips. Simply start a search and the program will list all gaps in the arrangement. These can then be individually selected and edited if necessary.
Nested sequences
Save time so you can focus on what matters most. With nested sequences, you can add finished sequences to your movie as entire objects. Effects are then applied to the entire object and no longer need to be carried over to each scene in the sequence.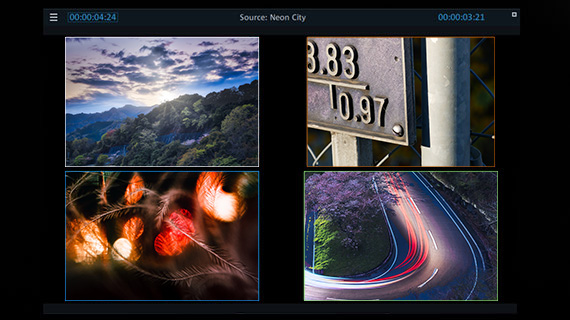 Multicam editing
Multicam mode allows image control in real time on up to nine tracks, depending on system performance. Clicking on the preview videos let you change perspective live and mark all edits precisely and organically. By analyzing the audio material, multicam recordings can be automatically synchronized and added before editing.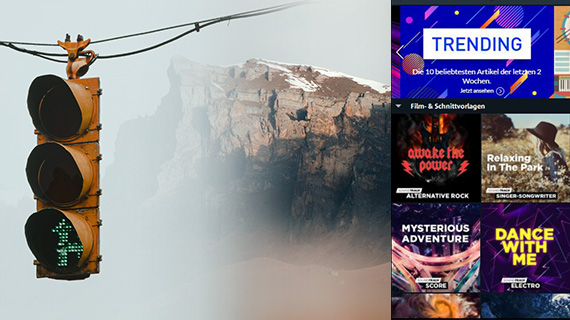 Action templates
Discover a large selection of movie and editing templates in Video Pro X. Templates are an efficient way to create great movies in just a short space of time and without too much effort.

Complete package for 360° video
With its new, fully automatic 360 image stabilization feature, special 360 transitions and integrated stitching, Video Pro X is your all-in-one solution for 360 editing. Video Pro X can handle 360 videos from all standard 360 cameras in up to 4K quality.

Workflow and user interface


HiDPI interface
Experience the Video Pro X interface: Razor-sharp, sleek and intuitive – even on 4K monitors.
Redesigned start dialog
The new start dialog offers significantly improved overview and orientation. Project templates are organized into various categories with clear names. The range of special templates for upright videos and social media platforms has been expanded. Simply pick a template to get started on your project even faster.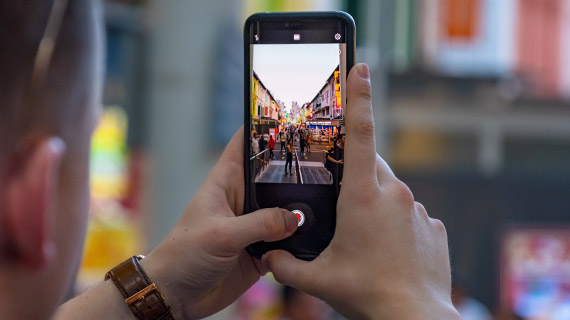 Vertical videos
Video Pro X offers vertical project and export templates, which are especially useful for smartphone recordings and social media posts. Videos filmed in portrait mode are automatically recognized and adjusted in Video Pro X.
Color picker
Pick the perfect color nuance with a single click. The color picker contains a wide spectrum of colors and works in realtime, so finding the exact shade you need is a cinch. You can now also use it for color design directly within the OFX effect plug-ins and title editor. It's easy and saves a ton of time.
Chapter export
Chapters can now be exported individually using batch conversion instead of having to export the entire film, as was previously the case.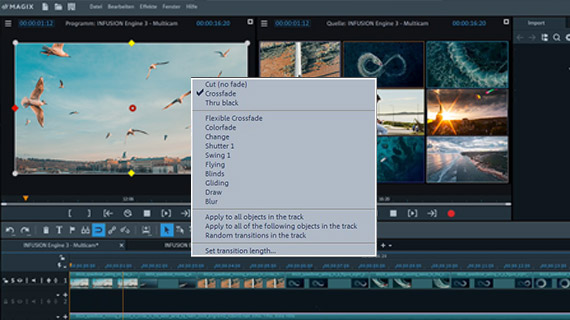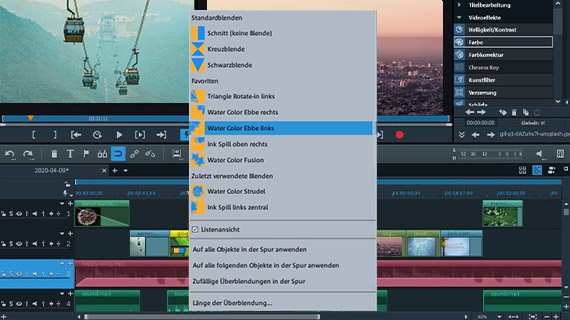 Redesigned transition menu
Click the transition symbol on the arranger to open an object and to display the transition symbols from the "Templates" area. The menu changes dynamically as you use the transitions, saving transitions you've applied or marked as favorites to the list. This way, you can easily find your preferred transitions the next time you use the program.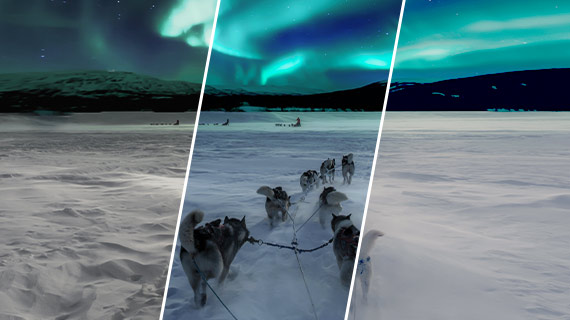 Integrate your own camera and effect LUTs
Video Pro X enables you to integrate your own lookup table collections into the effects area, so they can be used just as easily as the LUTs supplied by the program.
Modernized effects pool & workflow
The Media Pool from previous versions has been modernized and customized for the workflow. The plug-in dialogs have also been updated using the latest GUI technology.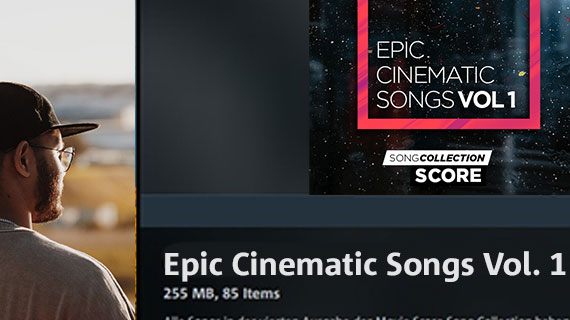 Individual content purchase in the in-app Store
Purchase only the specific content you need, rather than an entire pack, in the program's in-app Store.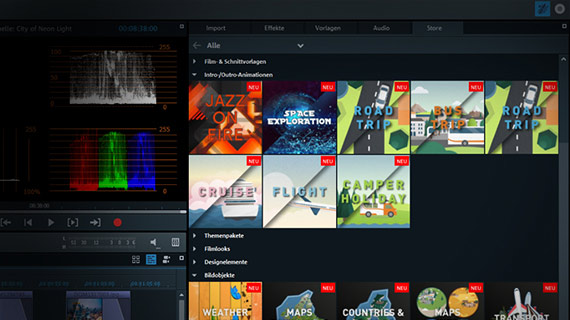 New Media Pool and in-app store
The latest in effects versatility from Video Pro X. Effects purchased for MAGIX Movie Edit Pro can also be used in Video Pro X.
Lookup tables
Lookup table handling is now available in Video Pro X! Import camera LUTs, create a particular look with predefined LUTs or design and save your own LUTs using the shot match feature.
Snap markers
The new snap markers let you mark special points in video objects. Snap markers can be applied to playback and stop positions, to object edges and to each other. This is useful when trimming, moving and synchronizing objects.
UX optimizations
Custom program window arrangements can now be saved. The "Speed" effect is now located under movement effects to optimize the workflow.

8K Ultra HD support for AVC and HEVC videos
Video Pro X offers full 8K support. AVC or HEVC videos can be played back in realtime using INTEL, NVIDIA and AMD graphics cards.* This spares you the time-consuming task of converting recordings to proxy files. For images even higher in resolution.
* Dependent on the graphics card used. For more information, contact the card manufacturer.
Broadcast-ready color effects
More vibrant. More powerful. More intense. In one word: brilliant. Optimize the colors in your movie with our new color value correction tool, broadcast coloring and LAB color space coloring.
Achieve maximally sharp edges and lines with the high-quality "unsharp mask" feature and get a retro film look with the grain effect.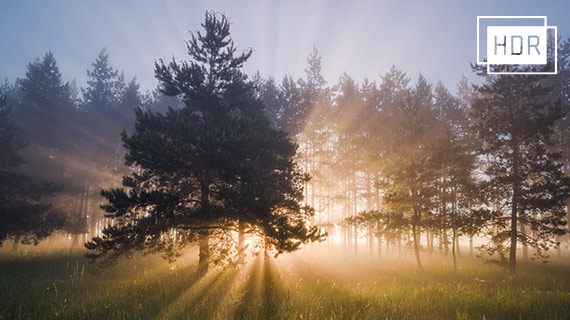 HDR support
With HDR10, Video Pro X supports the latest standards and color gamut BT.2020 and 10-bit color depth in HEVC codec. HDR maintains natural contrasts and accurately reproduces the original variations in brightness, even for very bright or dark footage. Impressive color extraction lets you make every detail shine and create a lasting impression.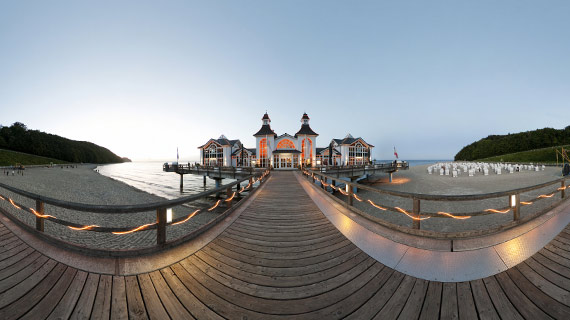 360  image stabilization
Shaky 360 footage can be corrected fully automatically. You can also apply 360 stabilization to stereoscopic videos.
360° transitions
Experience specially designed 360 transition effects that completely surround the viewer.
360° editing
With the addition of two new features, our 360 editing package is now complete: take advantage of 360 image stabilization, plus a set of breathtaking 360 transitions. And now even stereoscopic videos can be processed by Video Pro X. Don't own a 360° camera? You don't know what you're missing!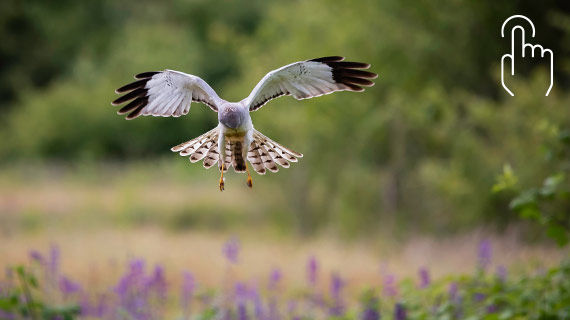 1-click video stabilization
For stabilizing your videos automatically, Video Pro X contains 1-click editing functions. This lets you fix choppy footage quickly and with precision.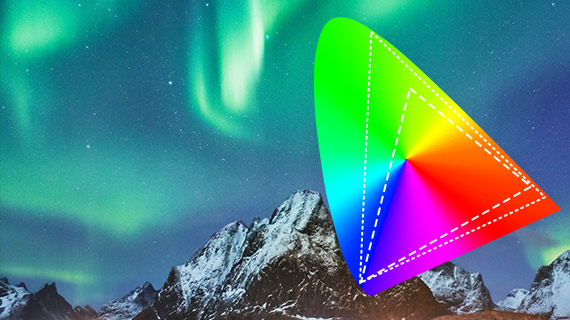 HDR preview and color space handling
You can now select a specific color space that works with your project and source material. Video Pro X supports all standards such as BT.601 (SD), BT.709 and BT.2020 (HD/UHD) as well as the professional standard DCI P3. This allows for greater visual control and precision in your color correction workflow.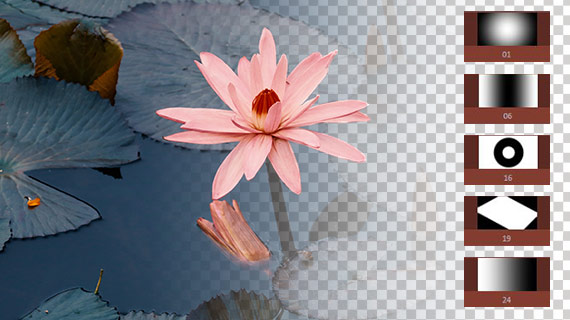 Layer masks
Mask video and title objects in no time at all. A wide range of alpha masks are available for you to use in the templates area. Have video borders gradually fade out to transparent, or title objects appear in a specific way.
Precise color grading with 16-bit deep color
For the first time, important internal color grading workflow processes have been switched from 8-bit to 16-bit deep color. 16-bit deep color processing allows for detailed color grading and even more freedom for correcting color.
Effect masks
Simply select parts of the image using alpha masks, then apply the desired effect to these areas. This tool makes it possible to use more detailed effect editing and selective blurring.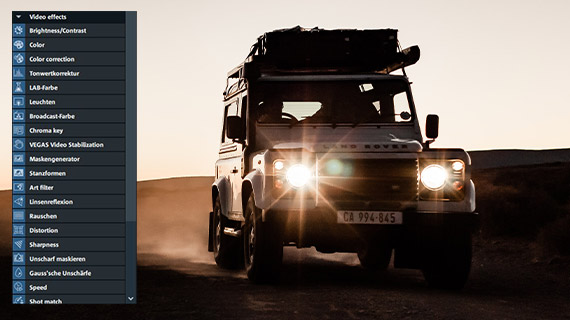 OFX: Plug-in performance
The enhanced performance of the OFX interface allows for multiple video effects to be played in realtime. Thanks to optimization, more computing power is now assigned to each individual video effect, with smoother playback the result.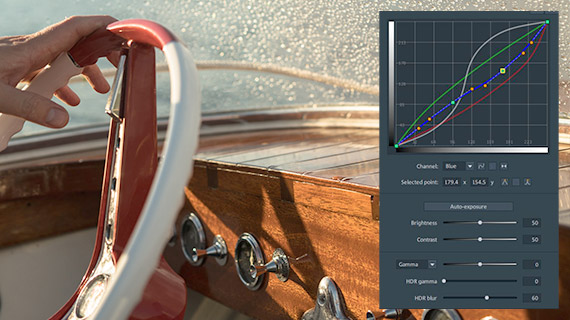 Advanced exposure features with curves
Detailed color and tonal value correction enables you to edit luminance and individual RGB channels precisely with Bézier curves. Contrasts can be adjusted with non-linear editing and flat or log profiles can be used manually to achieve the final look for your video.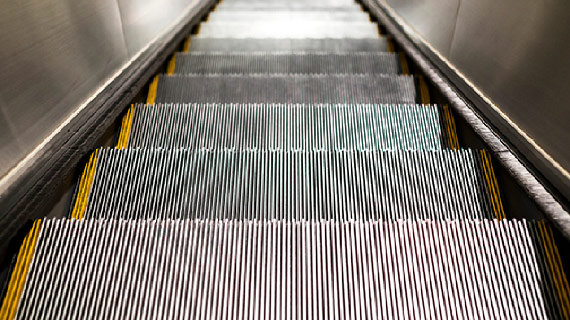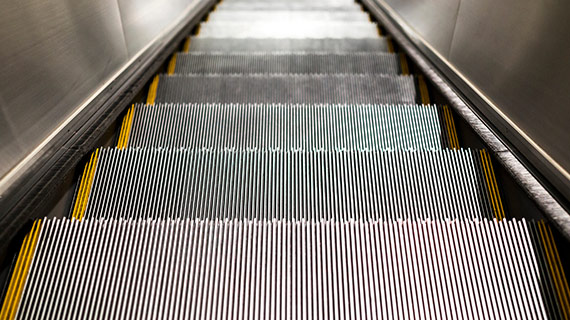 Reduced Moiré effects in Full HD output
Visibly reduced sparkle and fewer Moiré patterns in exported Full HD videos.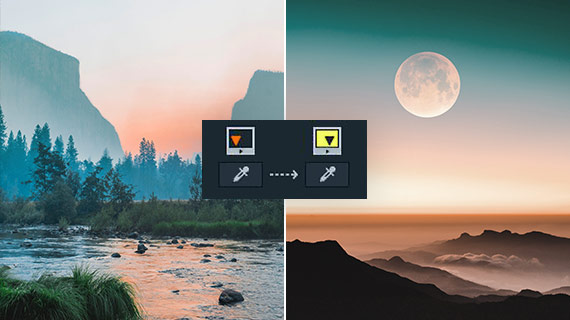 Shot match
You can now apply the look of a video to other footage. The program matches the colors and tonal values of two separate videos fully automatically.
Image border effects
You can now use portrait format recordings from your smartphone without compromising your video's look. The new image border effects ensure perfect integration.
LUT: The chameleon effect
Your movies can now take on any desired appearance. Lookup tables (LUTs) simulate color temperature, gamma, brightness & contrast from famous films or other footage. Video Pro X includes several LUTs. Additional tables are available for free online, and you can create and save your own.
Fast and efficient editing – even on demanding projects.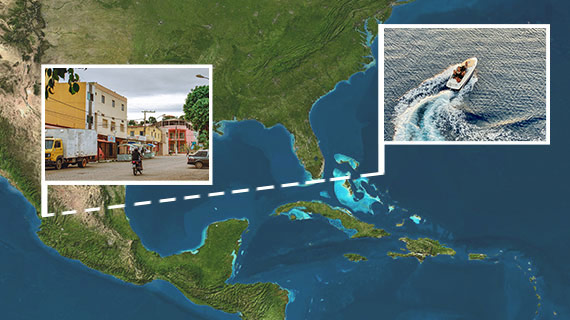 MAGIX Travel Maps
The MAGIX Travel Maps module offers a wide range of creative options for displaying your travel routes as a captivating animation. Import your own maps and choose from the huge array of waypoints and vehicles included to show the different stages of your trip.
Little slideshows can also be created within the route animation by simply placing photos on the travel path.
New fonts and title templates
Title templates can be combined with brand new titles and fonts to create captivating visual effects. The new standard title presets also offer a clear overview and access to all the new fonts.
Have individual letters or words appear anywhere onscreen to add a special touch to opening and closing credits. For impressive videos from start to finish.
Object tracking
Video Pro X includes a professional object tracking feature which you can use to track titles, text and graphics. You can pin elements to moving people or objects in a film.
If you are concerned about privacy issues, you can also pixelate faces or license plates so that they are unrecognizable.
Dynamic slow motion effects
The slow motion feature allows you to create slow motion with smooth transitions and control speed precisely using keyframes. And frame interpolation provides the best image quality.
4K/Section animation
For high-quality editing of picture sections in 4K movies. For instance, you can switch between different zoom levels in a 4K recording to make the final result even more dynamic.
This is also ideal for correcting picture sections which don't turn out 100% due to quick movements (e.g. sports videos or theatrical performances).
Cinematic intros and outros
With new templates for intros and outros, you can create the perfect start and end for your film in no time at all.
Get creative and captivate your audience right from the start!
Redesigned chroma key effect
Equipped with antispill and an improved extraction algorithm, the green/blue screen preset delivers high-quality results.
True color space handling for professional results
The new true color space handling in Video Pro X guarantees color-true processing of your material from preview to export and in all important professional formats including HEVC, AVC and MPEG-2.

INFUSION Engine 3
INFUSION Engine 3 now lets users experience a seamless GPU workflow for all current graphics cards by Intel, NVIDIA and AMD. In addition to high-performance playback even of complex projects with 8K material, it also now delivers accelerated export form AVC and HEVC formats.

8K support
The film, project & export presets now include special templates for 8K video. And dedicated import support for the GH5 camera is also available.

10/12-bit support for professional formats
Video Pro X also supports output for professional formats like HEVC and AVC with 10 and 12-bit color depth. Thanks to higher color depth, your video material can now benefit from more variation in light and shadow areas and colors that are rich in contrast.
New image format HEIF
Apple's latest image format HEIF can now be imported into Video Pro X. Together with HEVC import, Video Pro X provides comprehensive support for media from Apple's iPhone 8.
AVX-optimized algorithms
Video Pro X's AVX optimizations for internal image processing and 3-way color correction make image processing much faster, deliver much more precise output quality on color conversions and free up resources for the use of additional effects.
OFX interface multithreading support
The OFX plug-in interface supports plug-ins requiring the use of more than one processor core.
Disc authoring
Create your own DVDs and Blu-ray Discs with professional authoring functions. Select from a range of animated templates for menus or create your own custom template.
Store templates you've created for future projects or use them for further editing in other programs such as Xara Designer Pro X.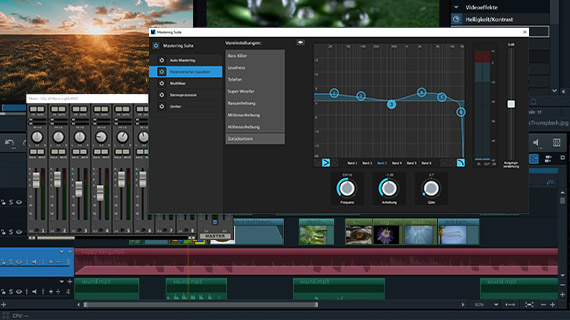 Broadcast-ready quality
Crystal clear sound and clean frequencies — made possible by smart automated features and high-quality audio cleaning tools. Easily apply high-end audio effects at channel level via the integrated effects track. Includes EBU R 128 standard loudness normalization for television.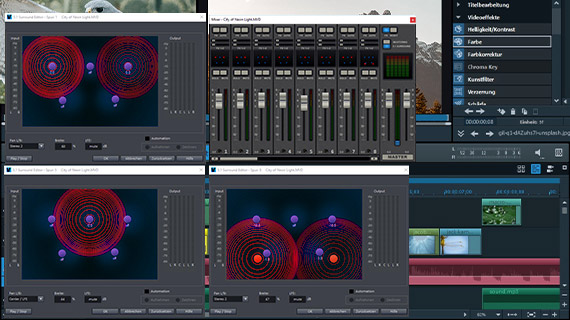 5.1 Surround Sound
The 5.1 Surround Sound Creator allows you to produce real Surround Sound that can then be mixed in real time using the audio mixer, complete with full channel control.

Real-time audio mixer
In addition to effect editing for individual audio objects in real time, every channel strip can be equipped with separate track effects such as equalizer, compressor, and delay.

VST2 interface
Use third-party provider audio plug-ins with VST standard for mixing, mastering and audio restoration. You can expand your plug-in library at any time.

Integrated audio cleaning
Precisely remove hissing, crackling and wind noise with only a few clicks.
Noise reduction
Compressor
Equalizer
StereoFX

Highlights in Video Pro X:
Intuitive video production. Redefined.
Time-saving professional editing tools including 3-point edits
Multi-track & multi-format timeline, including nested sequences
Professional color grading with 3-way color correction, HDR color spaces, LUTs & curves
1,500 creative content, HDR/blur, and shot match
Multicam editing for up to 9 cameras including direction monitor
HiDPI supported user interface for 4k displays
8K UHD-2 workflow with 360 degree editing
VEGAS video stabilization
INFUSION Engine 3: Hardware support for the latest GPUs by Intel, NVIDIA and AMD
Multi-GPU support: Use multiple graphics cards simultaneously
Optimized Intel® Hyper Encode technology
MAGIX Travel Maps: Create custom travel route animations
High-speed timeline offers the perfect setup for large-scale video projects
MAGIX Video Pro X15
Intuitive video editing for advanced users
MAGIX Video Pro X15
Intuitive video editing for advanced users
A$319.00
Regularly A$1,407.00
Available until 9 January 2024
Only now for free in this offer:
✔ NewBlue Filters 5 Ultimate (A$499 value)
✔ NewBlue Essentials 5 Ultimate (A$499 value)
MAGIX Video Pro X 365
MAGIX Video Pro X 12 month subscription
MAGIX Video Pro X 365
MAGIX Video Pro X 1 month subscription
Upgrade: MAGIX Video Pro X15
Intuitive video editing for advanced users
A$239.00
Regularly A$1,407.00
Available until 19 December 2023
Only now for free in this offer:
✔ NewBlue Filters 5 Ultimate (A$499 value)
✔ NewBlue Essentials 5 Ultimate (A$499 value)
What is MAGIX Video Pro X?
Is MAGIX Video Pro X free to use?
MAGIX offers a free 30-day trial version of Video Pro X. The trial version only lets you create videos up to three minutes in length, but this is more than enough to try out all the features. Click here to download the trial version.
Who can upgrade to
MAGIX Video Pro X?
If you already own an older licensed version of MAGIX Video Pro X, you can upgrade to the latest version here.