Video Easy – Just Click and Create
Easy video editing is especially important for beginners. When you are just starting out, you may become unsure of what choices to make and spend a lot of money on technologically savvy camcorders, not realizing that most movie projects require some form of post-production on a PC to achieve the desired final result. Digital post production is just as important for amateur movie makers as it is for video pros. Post-production editing polishes up a movie by optimizing sound, correcting color or adding special effects. It turns your movie into something that will captivate your audience. Unfortunately, beginners have traditionally shied away from editing their video recordings, considering it too difficult a task. Here's where software specialists MAGIX have found the perfect solution: MAGIX Video Easy, a software program specifically designed for easy video editing.
Guides inexperienced users step-by-step
This software program guides users through all the steps needed to create a perfect movie, helping them exploit the full potential of their recordings in the easiest way possible. In a deliberate attempt to keep things as simple as possible, the program interface is clearly laid-out and omits buttons that would only confuse users. All steps from importing the raw footage to exporting the finished movie to DVD are explained in easy-to-understand tutorial videos.
The first step of transferring the recorded video material to your PC is easily explained and the program can directly import footage from even high-resolution HD cameras. This first step might pose a challenge for beginners and for this reason, Video Easy features an integrated wizard that guides inexperienced users step-by-step through every problem on the way. After you've imported the material, you can start removing individual scenes and editing the image and sound. The program makes a point of not overwhelming users with functions and design elements and only the editing steps necessary for achieving perfect results are presented.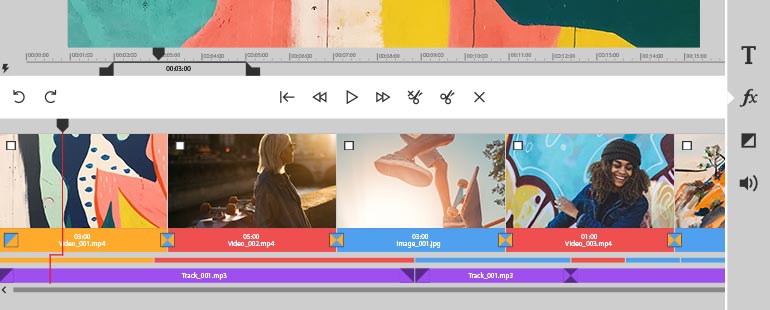 So fresh, so clean – the new design
We've reduced the new interface right down to the essentials. This way you only work with the tools you actually need. Plus, keeping track of everything is easy!
Showcase your best moments – it's easy!
You decide where your video starts and stops. Sharing great moments with your community using a clip is uncomplicated and super easy.
The right look & feel for every video
If the lighting is wrong or there are issues with white balance, brightness or color, no worries. Our automatic color correction tool fixes this for you in seconds.
Speed it up or slow it down
Set the pace – it's up to you. Use Video easy to create impressive time lapse and slow-mo effects in your video with a few simple clicks.
Create & share on social media
Publish your content on YouTube and Vimeo right away with a few easy clicks – no need to worry about codecs or file formats.
Video Easy – The Easiest Way To Make a Movie
Easy video editing is the guiding principle of Video Easy, which lets users obtain impressive results by means of small and simple changes. Once you have modified your movie with video editing and it has the desired sequence of scenes and atmosphere, you can export it to DVD with a simple mouse-click and enjoy it at home with friends. Alternatively, you can save your movie as a file in the desired codec on your PC. This is how easy video editing with MAGIX not only lets you make creative movies but also offers just the right output option for everyone.

Sold out
Sold out
Sold out
Video Easy
Video Easy 12 month subscription
Video Easy
Video Easy 12 month subscription
Video Easy
Video Easy 12 month subscription
1 x C$37.99 € = 12 x C$3.17 €
12 x C$4.49 = 1 x C$53.88