It's Black Friday at MAGIX. Get the best deals of the year now – with unbeatable savings and exclusive add-ons.
Music Maker Equipment Deals

Focusrite Scarlett HP60 MkIII padded headphones
Professional closed-back headphones for precise audio playback and the highest audio quality when mixing and listening
For optimum wearing comfort during long studio sessions
Focusrite Scarlett Solo with mic preamp
USB 2.0 audio interface with powerful 24-bit/192 kHz A/D converter and ultra-low latency for the highest sound quality
Microphone preamp with phantom power and air mode for full, rich vocal recordings
Focusrite Scarlett CM25 MkIII large diaphragm condenser microphone
Studio condenser mic with a particularly natural sound
The cardioid characteristic of the condenser mic offers crystal-clear recording results in studio quality
Samplitude Music Studio 2021
Everything a musician needs.
An impressive range of features for high-quality music production
Professional multi-track recording in 24 bit/96 kHz quality
Object-oriented workflow for detailed and focused editing
Virtual music production featuring a wide range of instruments and professional sounds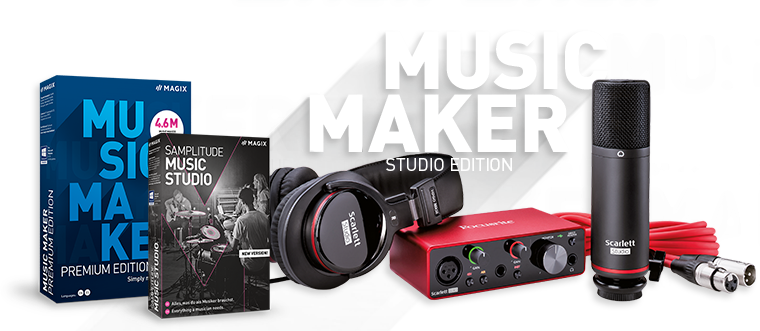 Chord mode + arpeggiator
Produce captivating chords using one-finger chord automation
Create new melodies, rhythms and sounds automatically
MIDI Out + MIDI recording
Switch quickly between MIDI and hardware synths
Connect keyboards via MIDI
Record and play a MIDI clip
8 knob controllers + 16 multicolored pads
For optimum control of your sound: Tempo, swing, gate, mutate, deviate etc.
Add drum beats and start clips
The new Novation Launchkey Mini Mk3 includes
16 velocity-sensitive pads,
8 controllers and
a 25-key piano keyboard
– combining all essential studio equipment in a single compact MIDI controller.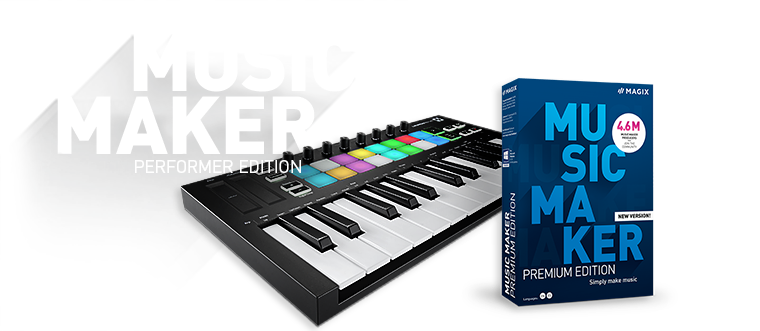 Music Maker 2021 Studio Edition
Everything you need to produce your own hits at home:
Music Maker Premium Edition (value: £109.00)
plus Samplitude Music Studio 2021 (value: £79.99),
Focusrite Scarlett Solo Studio (value: £199.99)
including
Focusrite Scarlett Solo audio interface,
Focusrite Scarlett CM25 MkIII microphone,
Focusrite Scarlett HP60 MkIII headphones
Valid until November 29, 2020
Regularly £269.00
£224.00
Buy now

Music Maker 2021 Performer Edition
The audio bundle that fits all backpacks and genres.
Music Maker Premium Edition (value: £109.00)
plus Novation Launchkey Mini Mk3 MIDI controller (value: £99.99)
Seamless plug & play Music Maker integration
25 keys
Octave switch
16 multicolored pads
8 control knobs
Valid until November 29, 2020
Buy now
Easy & fast video editing with real-time preview & premium effects
Valid until November 29, 2020
Included as part of this offer:
proDAD ReSpeedr (£85 value)
HitFilm Cinema Style Pack (£42 value)
Learn more
Buy now
Create animated slideshows from photos & videos
Easy video editing
Stunning effects such as collages, transitions & zooms
Travel route animation with MAGIX Travel Maps
Valid until November 29, 2020
Learn more
Buy now
More sounds. More possibilities. More music.
Valid until November 29, 2020
Included as part of this offer:
NEW! wizardFX Suite (£30.99 value)
Learn more
Buy now
Speed up your mix
Valid until November 29, 2020
NEW! Save 25 % at launch price
Learn more
Buy now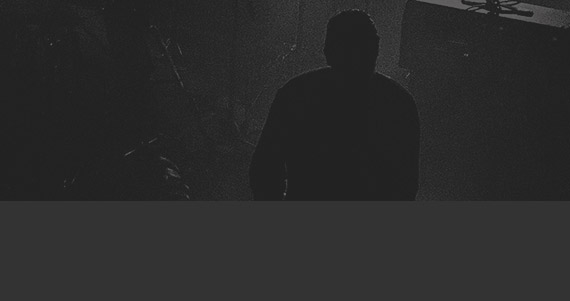 Samplitude Pro X5
The Master of Pro Audio
Valid until November 29, 2020
Regularly £299.00
£179.00
Buy now
Simply better images
Valid until November 29, 2020
Included as part of this offer:
PanoramaStudio 3.4 (£27.95 value)
PC Check Tuning 2021 (£24.99 value)
Learn more
Buy now
Create your own professional websites
Valid until November 29, 2020
Included as part of this offer:
NEW! X Builder (£59.99 value)
Learn more
Buy now
The only software you need for professional web & graphic design
Valid until November 29, 2020
Included as part of this offer:
NEW! X Builder (£59.99 value)
Learn more
Regularly £199.00
£129.00
Buy now
KEEP PRECIOUS MEMORIES SAFE
The professional solution for cleaning and restoration
Valid until November 29, 2020
Included as part of this offer:
USB Phono Pre Amp 2.0 (£59.99 value)
Learn more
Buy now