Convert WMA to MP3 - The full package with MP3 deluxe
Easily and quickly convert audio files to other formats with MAGIX MP3 deluxe.
Convert OGG Vorbis, WAV, AAC or WMA to MP3: Thanks to the intuitive and easy-to-operate user interface, it's a cinch. The
MP3 software overall is quite impressive, effective and free from errors. Converting files in this program is done in a snap, as well as ripping music or rather importing from audio CDs, managing and playing audio files. The converter is based on MP3 codec developed by the Frauenhofer Institute - this reduces the amount of space needed to save audio content while hardly compromising the listening experience.
MP3 deluxe is your complete audio solution - The software combines audio converting with features of music management.
More information on MAGIX MP3 deluxe
Test the converter capabilities of MAGIX MP3 deluxe for free - directly after downloading.
Always nice and tidy: MP3 deluxe keeps your music collection in order and assists you in converting WMA or OGG. After converting you can find and remove duplicate files from the program on your Windows PC. This will save you time and disk space - Space that you can then fill with new music, interesting audio books or movies. Music CDs and other music files: MP3 deluxe converts your music lighting-fast to MP3s. In general, MP3 has become one of the most popular standard formats in the audio field and is compatible with most players - This, however, isn't necessarily the same for WMA files. The format WMA is not supported by all MP3 players. Therefore, MP3 deluxe allows you to convert WMA to MP3 with just a few clicks and enjoy your music on the go. Moreover, you can add missing track information from your music with a mouseover. Track information can also be edited after converting formats such as FLAC, AAC, or WMA to MP3.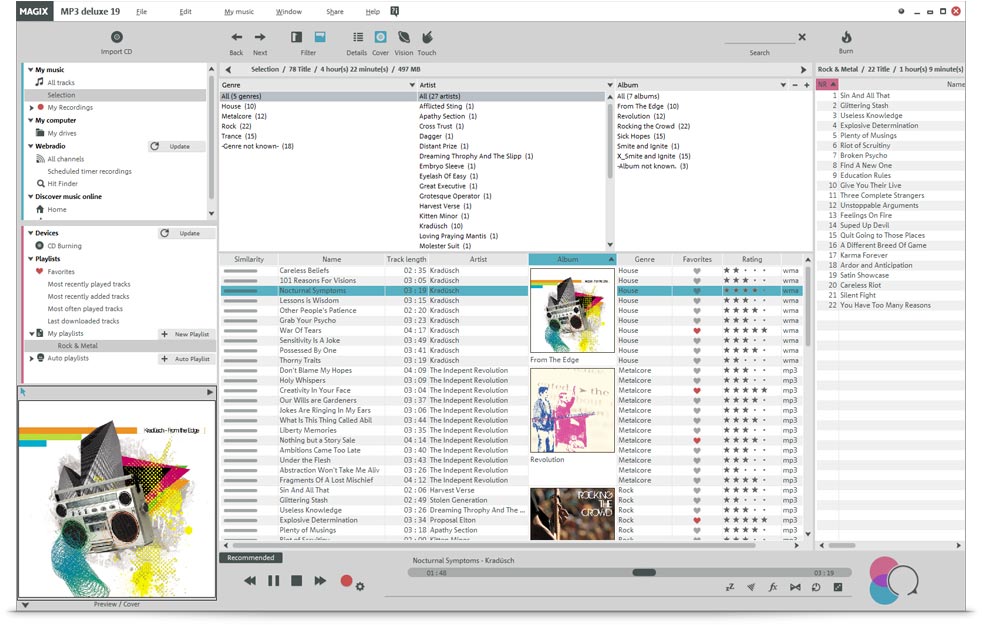 The Converter: OGG, WAV or WMA to MP3
MP3 deluxe can do much more than just convert WMA or OGG. The best part is its organizing capabilities that you can see immediately at work: The filter and search function for songs, albums, and artists are expertly programmed and display results even in real time. You can even sort your music archive according to audio characteristics, create playlists or design CD covers. If you just want to keep track of what's being played, you can conveniently switch to the mini-player view. All of the important features such as pause, volume or skip are quickly within reach, even if your are working on something else. MP3 deluxe is a perfect solution for digital music collections and ideally suited as an
MP3 converter and as software to listen to, burn to CD and archive digital music files.
MP3 deluxe is based on ProAudio Technology and benefits from MAGIX years of experience in the field of professional audio software. Anyone who wants to convert WMA to MP3 and, moreover, is looking for a program to play, manage and sort their audio files, is at the right address with this software. If you would first just like to test this WMA converter, then visit the Free Download Page from MAGIX. There you can test MP3 deluxe for 30 days for free after downloading.