Record every sound easily with MAGIX
An audio recorder does exactly what its name implies, it records sounds. But a good audio recorder can do so much more.
Obviously, you want the ability to record audio but what about editing audio, optimizing audio, exporting in various digital formats, or organizing all your audio files? A great audio recorder should be able to help you do all of these things and ensure that you're getting the most out of both your audio and music files. Find out how easy and fun audio software editing and recording can be with MAGIX – the solution for all your audio recording needs.
MAGIX MP3 deluxe is a reliable recording tool. CDs, audiobooks, and any music file can be imported into the program with just one easy click. MP3 Deluxe will automatically organize all your music - track, artist and album names all appear automatically when importing CDs. MAGIX MP3 Deluxe also allows you to edit your music so you can get the most out of your audio files. Tracks can but cut, rearranged and optimized. Annoying background noise and scratches can also be easily repaired. The software also includes a powerful sorting technology which understands and can categorizes and organize songs based upon genre and mood. One of the most important and useful features of MAGIX MP3 deluxe is its MP3 Converter. It can both import and export in all the common digital audio formats, from MP3 to WAV. If you're looking to make the most out of your music, MAGIX MP3 Deluxe is the perfect solution.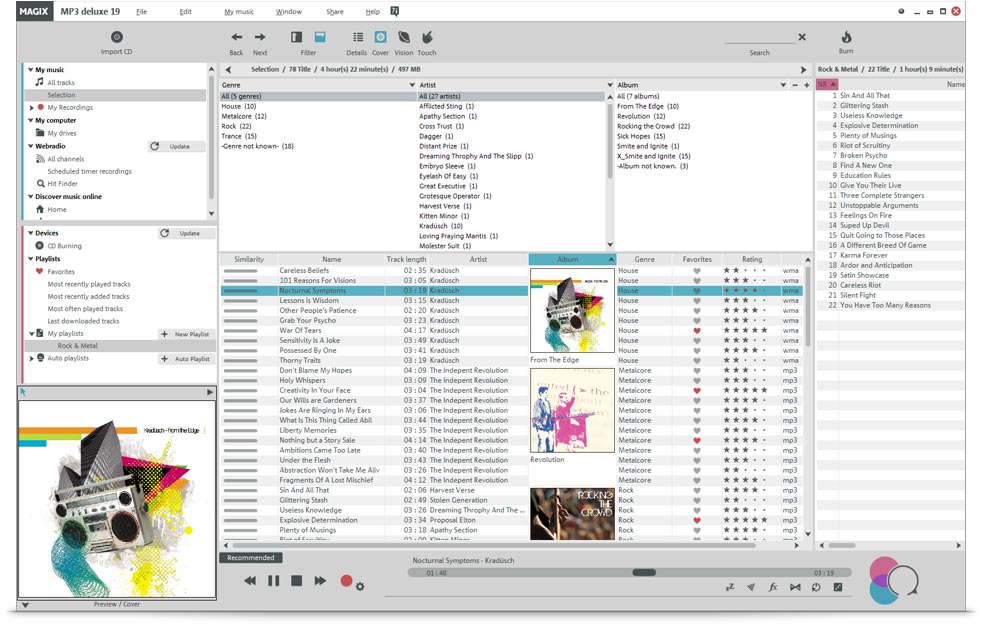 Much more than just an audio recorder.
You no longer need an expert to make the most out of your music and audio collection. You can easily optimize sound, easily manage your library, and edit tracks yourself with MAGIX MP3 Deluxe. The perfect tool for all your audio recording needs.