Converting audio files in MP4 and M4A format
– here's how it's done.
Do you want to learn how to convert audio files in MP4 and M4A format to MP3?Keep reading to find out how.
Install SOUND FORGE Audio Cleaning Lab and start the program.
Import all the files from the File Explorer that you would like to convert. All imported songs will be displayed consecutively in the track window.
On the left, switch to the "Export" view. To export the songs you've imported individually, first click "Settings" and the "Each track as a single file" option. Next, click "Export".
SOUND FORGE Audio Cleaning Lab 4
Cleaning and editing recordings – now easier than ever
Remove noise from audio files and optimize the sound of recordings and video audio.
Digitize old recordings and enhance the sound of your vintage LPs, CDs, and cassettes.
Edit and combine your media individually.
SOUND FORGE Audio Cleaning Lab: The latest generation of this all-around tool delivers cutting-edge workflows, innovative effect presets, as well as powerful cleaning and mastering plug-ins from iZotope.
Start your free trial now
What are MP4 and M4A files?
MP4 is a multimedia container format based on the Apple QuickTime file format.The container is used to store audio, video, subtitles, as well as 2D and 3D graphics.However, MP4 file containers can also contain audio-only data, in which case the files are usually given a M4A file extension. In other words, MP4 and M4A are two names for the same type of file. The audio data is either encoded with the AAC codec (Advanced Audio Coding) or the Apple Lossless Audio Codec (ALAC).
Why convert MP4 and M4A files to MP3?
MP4 or M4A files cannot be played on several devices because the player doesn't support the format. Consequently, this format is more or less only usable on computers and smartphones.
The solution: Simply convert your MP4 or M4A files to the standard MP3 format. MP3 remains the most widely used compressed format for music in the world. It is supported by virtually every playback device. With MP3, you are on the safe side – this format is "understood" by nearly every player.
The best conversion software for MP4 & M4A to MP3
To convert MP4 or M4A files to MP3, you need the appropriate software. Instead of small, specialized freeware tools, we recommend a proper audio program – SOUND FORGE Audio Cleaning Lab. This software can convert MP4 and M4A files to MP3 and much more: For example, remove noise from audio files, enhance the sound of audio recordings and video sound, or digitize records and cassettes, and restore their sound to original quality.
In short, SOUND FORGE Audio Cleaning Lab is somewhat like a Swiss army knife for audio.This software can also help you convert a wide variety of audio files to MP3 format. Converting OGG Vorbis, FLAC, WMA, and even MP4 and M4A to MP3 is quick and easy with this program. A clearly laid-out program interface, its ease of use as well as various support features make converting, cutting and editing audio files a breeze.
If you want to convert MP4 and M4A files and/or other file formats to MP3 with SOUND FORGE Audio Cleaning Lab, follow these steps: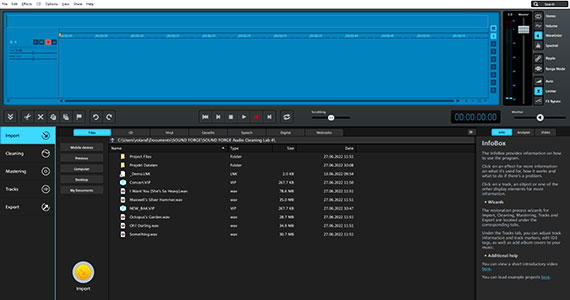 Step 1: Start the program
Start SOUND FORGE Audio Cleaning Lab.
After you start the program, it will be in the "Import" view. This is indicated by the bright blue "Import" button on the left.
Using this view, you are able to load your audio files in a wide range of formats into the program.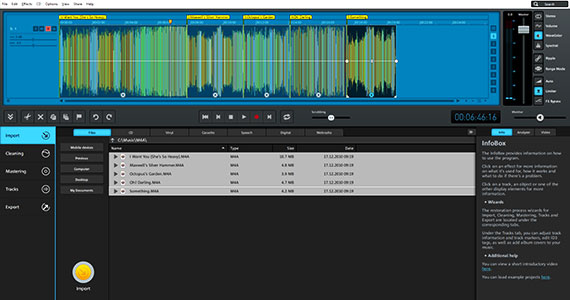 Step 2: Load audio files as M4A or MP4 formats
At the bottom of the program window, you can access all the folders and drives on your computer to load audio files into the program. This area works similarly to Windows Explorer, except that only files that can be imported are displayed.
In the top row, you can navigate to other sound sources: CDs, records, cassettes, voice, as well as digital and web radio.
Let's assume that you have M4A or MP4 format audio files stored in a folder on your hard disk that you want to convert to MP3.
First, select the folder with the files.
Click on the M4A or MP4 files that you want to convert to MP3. You can select multiple files by holding down the Ctrl key.
Click the yellow "Import" button.
This will add the selected files to the track window. This is where the audio files are shown in a waveform display.
Alternatively, you can simply drag & drop your audio files directly from Windows Explorer into the project window.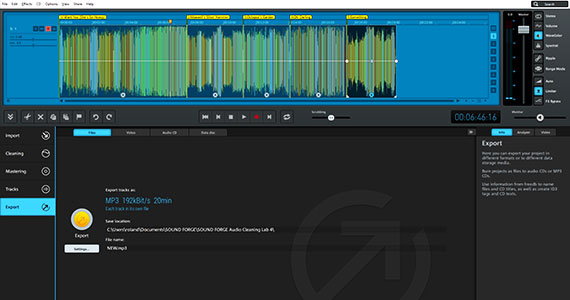 Step 3: Convert M4A or MP4 files to MP3
If you want to convert the files directly to MP3 without any additional editing, proceed as follows:
Click the "Export" button on the left.
This opens the export view. Exporting to MP3 is the default.
In most cases, you will want to export each song individually.
To do this, click the "Settings" button.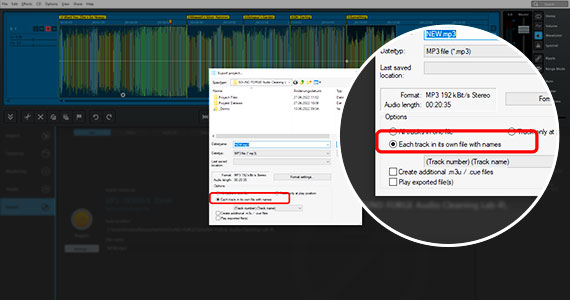 Now, the export dialog will open, where you can specify that each song should be exported to a separate file, among other things.
When all the settings are correct, click on "Export".
In a few moments, your newly created MP3 songs can be found in the export folder.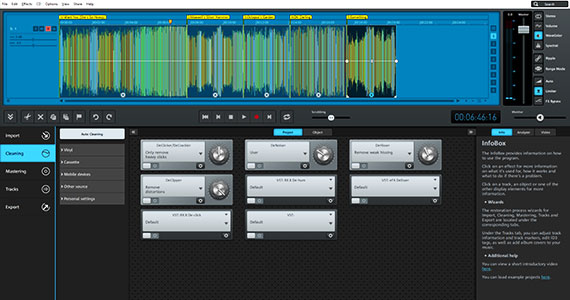 Optional: Edit M4A or MP4 files before the export
Using the same procedure as above, you can convert all your audio files – and not just M4A and MP4 files – to MP3 quickly and easily. But it might be worth making a few tweaks before exporting. Perhaps the sound could also use some enhancement? Or there are irritating noises or passages that need to be removed?
This is where the sound specialist SOUND FORGE Audio Cleaning Lab offers a whole range of professional features that are very easy-to-use:
On the left, open the "Cleaning" and "Mastering" categories and browse which effect modules are available for editing sounds.
The Cleaning effects include special tools like DeClicker, DeNoiser, and DeHisser to filter out tape hiss or other common noise.
Read the short description in the info box on the right to get an idea of how each module works.
There is a scissors icon in the toolbar for cutting. Use it to cut at the position of the playback marker in the waveform display and quickly delete unnecessary passages from the audio file.
Finally, when you are finished making optimizations and the media sounds perfect when you play it back, open the "Export" section as described above and choose the desired export format.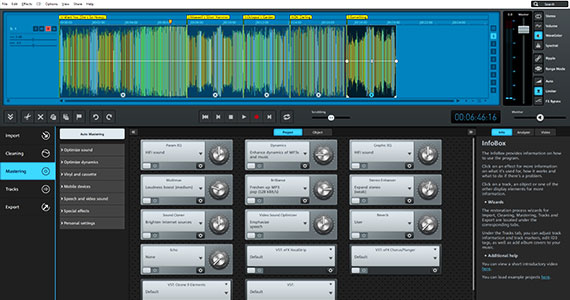 The all-rounder for audio files
With SOUND FORGE Audio Cleaning Lab, you can quickly convert your songs – not just MP4 and M4A to MP3 – but virtually all conceivable audio formats to MP3, WAV, OGG, AIFF, M4A, AAC, and FLAC.
On the other hand, you can easily find specialized professional solutions for all your sound issues, e.g. digital clipping, crackling, hiss, muffled sound, as well as for recordings, web radio broadcasts, CD ripping, and more, in the program's easy-to-use user interface.
With SOUND FORGE Audio Cleaning Lab, you no longer need separate, specialized tools, but instead have access to all the essential editing tools with all the necessary information about how to use them in one easy-to-use program.
SOUND FORGE Audio Cleaning Lab 4
Digitization, cleaning & restoration
Cut, combine & join
8 audio tracks for more convenient edits
Start your free trial now