The new benchmark in audio
Record, edit and master – SOUND FORGE Pro 14 is the ideal software for each and every step of the audio production workflow. New features such as Instant Action, WaveColor, Windows context menu and the new spectroscope provide the most efficient workflow of any audio editor.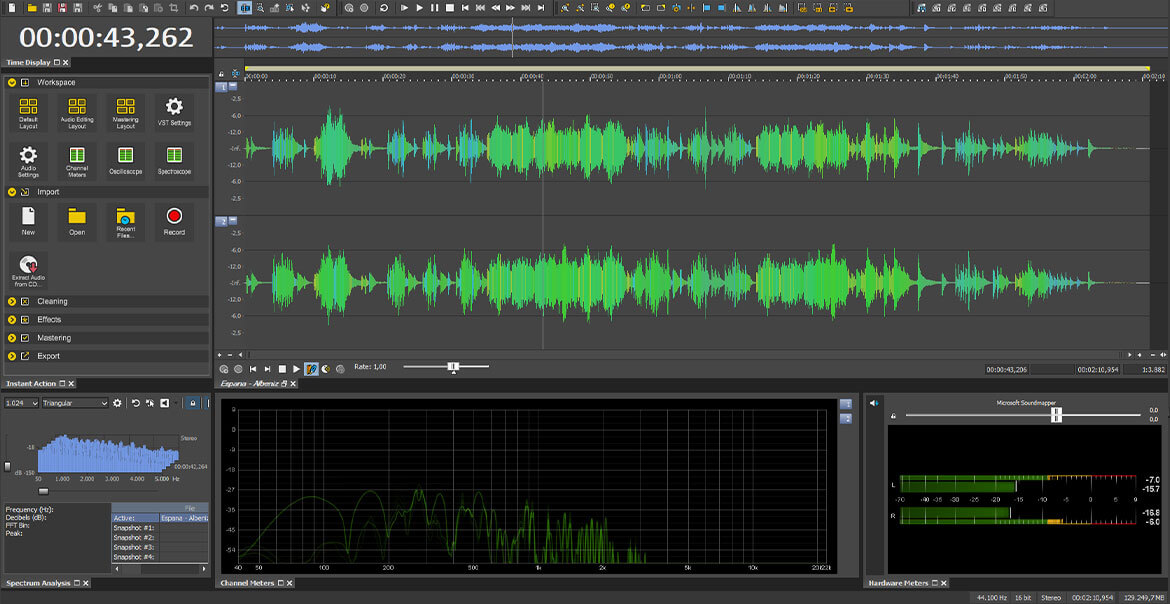 NEW! Instant Action
Immediate access to essential tasks
NEW! WaveColor
Visualize pitch or sound character with waveform coloring.
NEW! Spectroscope
Real-time analysis of frequency curves with state of the art FFT technology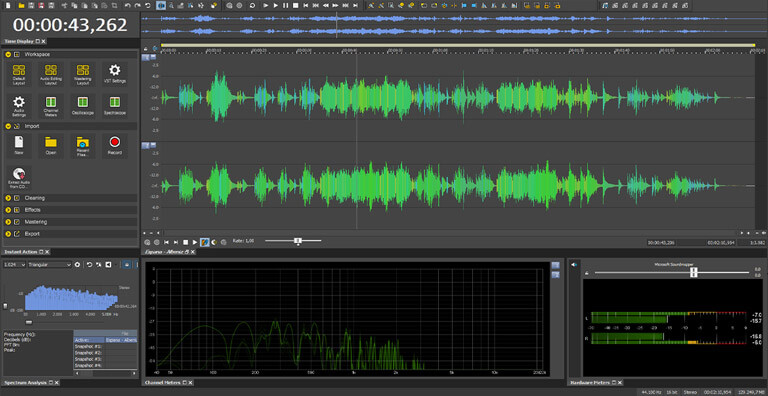 Workflow
Focus 100% on your creativity and make the most of new, dynamic functions designed to streamline your project workflow. SOUND FORGE Pro 14 now offers new functions that significantly optimize your workflow and lets you get tasks done faster. Complete projects in record time.
Instant Action
Action window for essential tools
The new Instant Action window allows for split-second access to commonly used tasks. Get a clearer overview of all essential tools and functions. Areas of the program are clearly divided into Workspace Actions, Effects, Mastering, Export and Import Action, allowing for faster orientation and faster end results.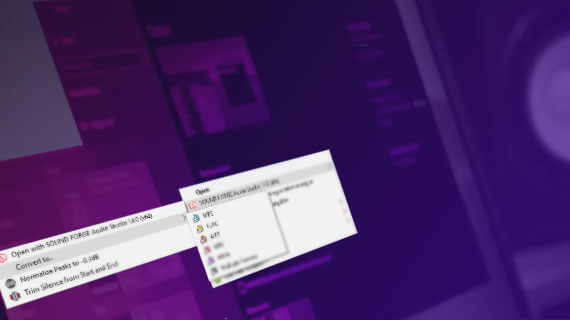 Windows context menu
Quick task assignment
Perform basic tasks such as converting or normalizing an audio file by right-clicking directly within the Windows context menu. This is now integrated in the Windows context menu, so you don't even have to open the program to search for functions.
Visualization
SOUND FORGE Pro 14 now contains a new range of precision meters and analyzers for optimal support during audio editing and the mastering process.
The new WaveColor
Sound into color
The innovative WaveColor tool enables you to colorize a waveform to make it more visible. Identify unwanted frequencies at a glance. With WaveColor, pitches and sound characteristics in your audio files are assigned different colors and saturation levels to make it easy to see what's happening in the waveform.
New spectroscope
Monitor and analyze
The new spectroscope is powered by the latest FFT technology and offers precise and detailed real-time frequency analysis. It offers active support as part of your audio editing workflow as well as the mastering process.
Advanced stability and efficiency
Redesigned VST engine and ARA2 support
SOUND FORGE Pro 14 comes with a redeveloped VST Engine and additional ARA2 support – for even more stability, speed, efficiency and plug-in options.
New! ARA2 support
The new ARA2 interface extension allows for more efficient information exchange between SOUND FORGE Pro and its plug-ins. ARA2-compatible plug-ins process audio data in real time and without noticeable latency.
From simultaneous editing of several tracks to seamless clip borders – ARA2 offers even more editing options.
Highlights
32 channel audio recording, editing and processing
NEW! Instant Action window for faster workflow
NEW! Windows context menu for easy task assignment
NEW! WaveColor and spectroscope visualization
Mastering and restoration with iZotope plug-ins: Ozone 8 Elements and RX 7 Elements
VST Engine & ARA2 support
Record at 64-bit/768 kHz
Numerous audio effects and plug-ins
zplane élastique Timestretch with the new élastiquePro v3 Engine