The Complexity and Possibilities of a Recording Studio on Your Computer
A full recording studio can handle almost any group, large or small, and squeeze the best and most beautiful music out of any recording, but it's often hard to have access to one.
The money and scarcity are prohibitive. So, as a formidable solution to this problem, MAGIX created Samplitude Music Studio. It is the state of the art in music production software and brings all of the knobs, switches, bells and whistles of an entire studio to your personal computer. MAGIX has been recognized in the music community for designing some of the best music software and has cut no corners in programming Samplitude Music Studio.

All of the options in a conventional studio are programmed into the software, but MAGIX recognizes that many users will not understand how to use them all. So, there are options to get help along the way. The software guides you through each step of the process with videos and tutorials that will help both beginner and advanced user alike. Before composing software was developed, it was not a simple task to be musically creative. You had to assemble an entire band to play together, each person with his own skills and his own instrument. However, making music is now much easier. You can stretch your musical talents as far as you would like with software that programs even large instruments, like a piano, onto a digital interface. The embedded, digital instruments allow you to play a variety of instruments without prior training and experiment at your own convenience. Everything from pianos to drums to saxophones are available with a simple mouse-click.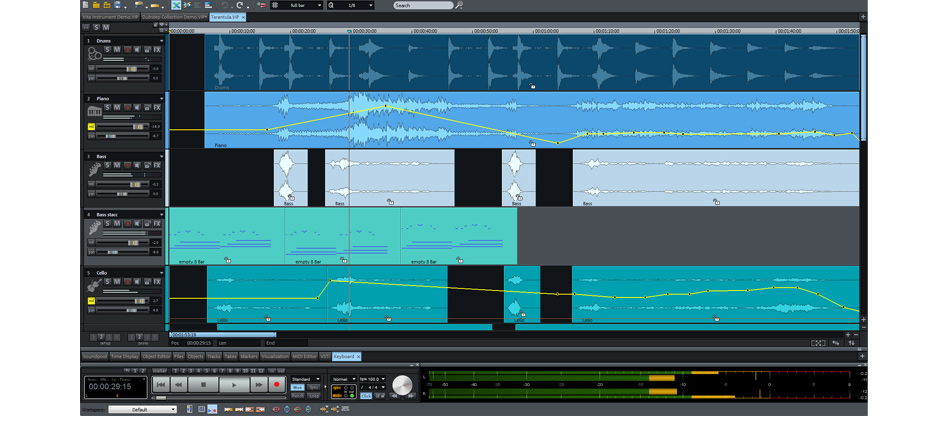 A Digital Recording Studio with It's Own Instruments
What would be controlled with complex finger, arm, mouth and hang motions is made more logical and understandable in each digital instrument's interface. Additionally, there are pre-designed accompaniments to help you test out ideas or improve your own skills in any music style. Each one can also be altered and tweaked for a more personalized experience, so they are perfect for your final recordings, as well. Who needs to waste the space on a recording studio when you can have it all and more on your computer screen?