Want to make your own music, but have no experience with production?
With Music Maker, you don't have to be a pro to make exciting music. Thanks to its easy-to-use interface, intuitive tools and the brand-new Song Maker AI, you'll be producing your own songs in no time. Explore a vast selection of sounds and loops for creating your own music – no previous experience required. And all that for free with Music Maker Free Edition.
Start producing today and become part of our global community.
Step 1: Arrange loops
Let yourself be inspired by the countless loops and samples and use your favorite sounds to easily create mixes using drag and drop.
Step 2: Record your own tracks
Whether drums, synthesizers, or traditional instruments: Music Maker is a fully equipped music studio with everything you need to create your sound.
Step 3: Mixing & effects
Unleash the full potential of your tracks with the high-end mixer and effects that add professional studio sound to each and every song.
Your first ideas: Loops & samples
Experience the countless sounds, loops and song parts produced by renowned artists in professional studio quality available in the Music Maker in-app Store.
Arrange your favorite sounds easily per drag & drop, and pitch and tempo automatically. This allows you to effortlessly shape tracks that exactly to fit your creative visions.

Want even more sounds? Then, Loops Unlimited is exactly what you need.
Gain unlimited access to all the sounds in the Music Maker Store with a flat-rate, month-to-month subscription plan. Over 500 Soundpools – that's 260,000 samples: It's everything you need for the track you're working on right now and endless inspiration for your next project!
Your beats: Handmade
The first step is the rhythm. A sample. A melody. No matter what inspires you or your approach to production, enjoy an unrestrained workflow while making beats flow thanks to new tools with seamless hardware integration. Song Maker AI helps you find the perfect idea using artificial intelligence. Make custom beats and share them in the Producer Base Community.
Discover the latest features today
Your style: Without compromise
Perfect instrumentation:
Bring your musical vision to life
The new Music Maker has the sounds your heart desires: Drums, synths, basses, guitars, string ensembles, and more. All recorded by professional musicians in legendary studios. This means your songs and arrangements always sound authentic and exactly the way you imagined.
For unforgettable sessions:
Record your instrumental performances
Music Maker lets you combine your talent with technology and makes home recording easier than ever. Play guitar or keyboard? Connect instruments to your computer and record your individual sound to make your music even more unique.
Only you can:
Give your tracks a voice
With the help of a microphone and audio interface, it's possible to get started and turn your instrumentals into complete songs. So singing isn't your thing? Then, simply use the supplied vocal samples, which you can use for your tracks royalty-free.
Music Maker Editions:
The choice is yours.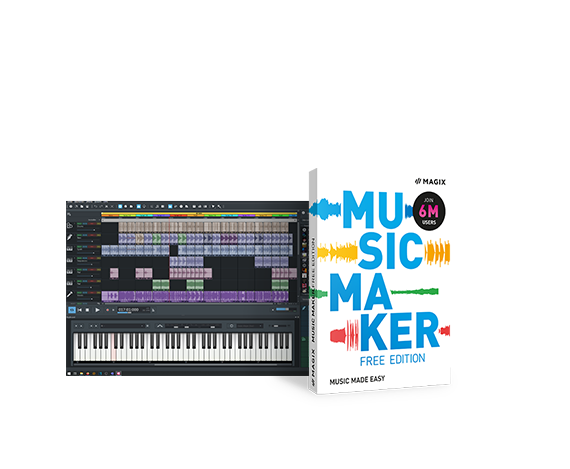 Music Maker Free Edition
Music Maker Free Edition is the perfect introduction to the world of music production. Experience working with the numerous tools, sounds and effects in Music Maker completely free of charge!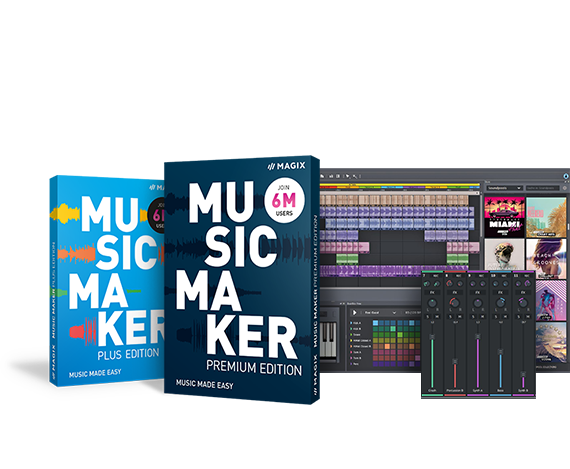 Music Maker Plus & Premium Edition
More beats, more sounds & more tools! Get access to even more Soundpools, Beatbox Pro and Song Maker AI with the Plus or Premium Edition.
Music Maker Hardware Editions:
Creativity at your fingertips.