Rip CDs: Convert CDA to MP3.
Without the right audio software like MAGIX Audio Cleaning Lab, importing the format CDA from music CDs to Windows as well as playing and converting it is not simple.
CDAs are not files in the traditional sense, but rather indicators on a CD where each track starts and stops. In order to transfer music from a CD to your computer, you will need, for example, Audio Cleaning Lab, the audiograbber from MAGIX, This high-quality software helps you to extract the sound from audio CDs and then convert the file from CDA to MP3, WAV or FLAC.
To convert a CDA to MP3 format in MAGIX Audio Cleaning Lab, simply select "Import" and then click "CD" in Audio Cleaning Lab. You can then either then start converting your files or first, conveniently update the CD information before you convert. The CD information can automatically be retrieved from a databank and then automatically updated before converting and ripping your files from a CD. Not only can you convert CDA to MP3 but you can also convert to other formats such as WAV, AIFF, OGG Vorbis or FLAC files with this audiograbber.Audio Cleaning Lab doesn't just deliver great results when converting CDA to various audio formats such as MP3 but it also offers various settings options and quality levels. Bit rates up to 320 kBits/s are readily available for MP3s. Moreover, the audiograbber is also great for optimizing your audio files. If your audio CDs obtained, for example, minor scratches over time, unfortunately this damage can even be present after converting CDA to MP3 and ruin the quality of your audio files. Luckily, Audio Cleaning Lab offers various presets to remove noise, such as crackling or distortion, in audio tracks. You can then conveniently edit the sound after importing and easily convert to any file format that you want.Tip: If you want to transfer your entire music collection from your audio CDs to your computer, then a program for music management such as MAGIX MP3 deluxe can also be very helpful for ripping your music from CDs.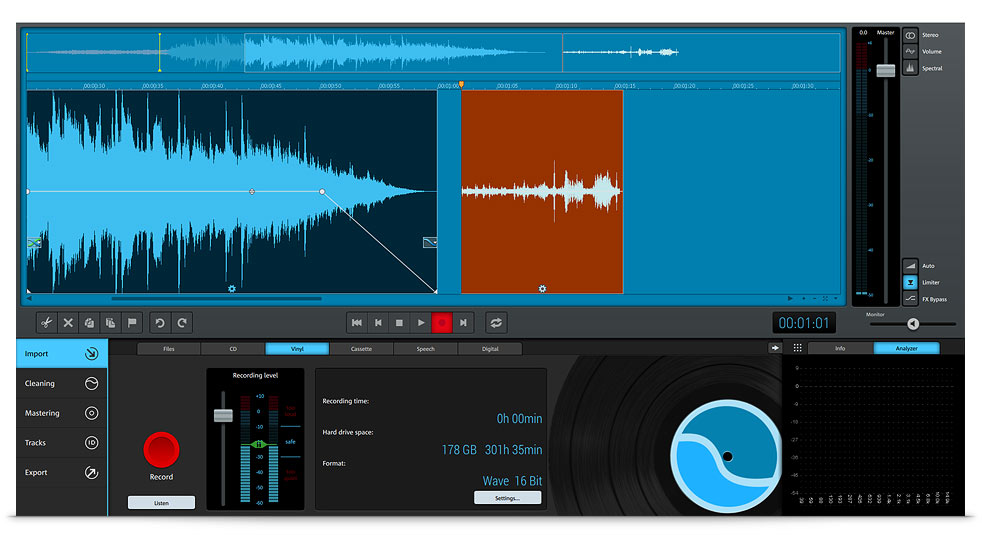 The most convenient way to convert CDA to MP3.
Audio Cleaning Lab assists is an audiograbber that helps you convert CDA to MP3 and other various file formats and also offers other great solutions when it comes to recording, removing noise and adding finishing touches (mastering) to your audio files. Converting CDA to MP3, OGG Vorbis, FLAC or WAV is done in next to no time – literally with just a click of a button! The tidied-up user interface, various presets for different applications and ease of use make Audio Cleaning Lab a must-have in for audio editing.