Make your own music - with Music Maker
Music Maker offers novice music producers and beginners easy-to-use audio software to create their own songs, beats & sounds. It's basically a small, home virtual music studio for anyone who want to make their own music.
Get started quickly and easily. All loops and sounds are professionally produced and are a great basis for creating hit music. Easily arrange samples with the simple drag & drop feature in the program's interface. The main focus of Music Maker has always been to make music as easy as possible and for anyone of any skill level. This principle also applies to all the steps of producing music - from the first recording, to arranging, all the way to mastering your own songs. Virtual instruments, spectacular effects and Soundpools from popular music genres are available in the program. That way you can always create the sound you always wanted.
Give Music Maker a shot by testing out the program yourself by downloading the trial version for free.
For anyone who wants to make their own music, Music Maker is the perfect solution. It is software that records guitars, bass, vocals or keyboard - and can even take care of the rest. The recording feature is intuitively designed so that you can save your ideas to your hard drive in next to no time. Tools such as Vocal Tune or the Pitch Wizard assist you with pitch correction and creating harmonies, even for those who don't know how to read music. With the integrated MIDI Editor you can design your own melodies and chords and play them with various virtual instruments. Thanks to VST support you can integrate additional virtual instruments and effects - the limits of your creativity are endless. You can, of course, expand the sound archive available in the program with additional loops & sounds. For example, from the Online Content Library Catooh or with the Soundpools from MAGIX. For anyone who wants to cut or edit music, various helpful tools and studio-quality effects are available. Once you are finished mixing your music, you can then publish your song directly from the program to various platforms or social networks online. Making your own music has never been so easy or so much fun.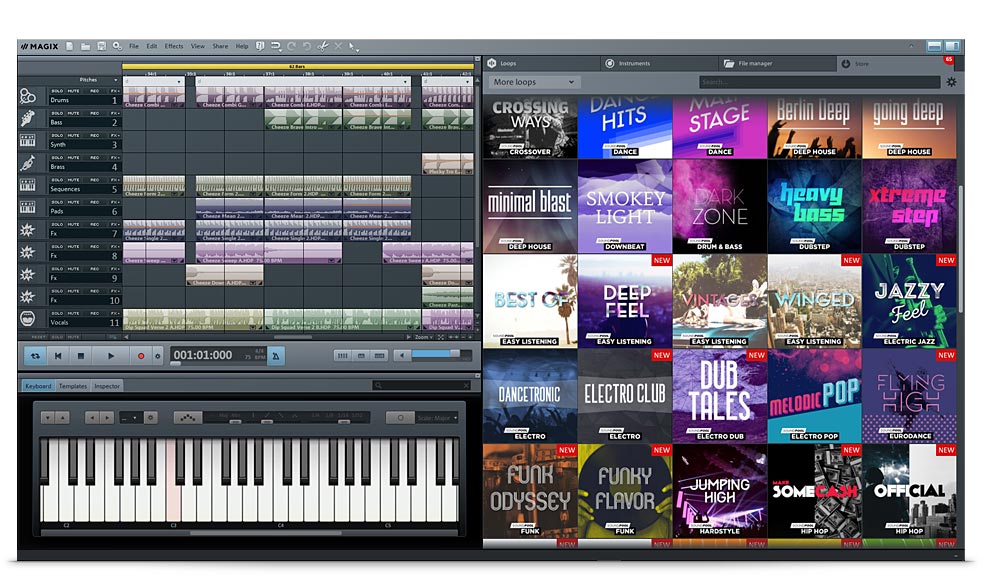 Pitch, bass and beats: Finally make your own music
Take your music up a notch! With MAGIX Music Maker, create your first musical experience by creating beats and producing songs that get you pumped. Unleash your musical ideas the easy way - even without any prior knowledge. Producing music with this audio software from MAGIX not only gives you results that sound good, but you'll have fun doing it. Test Music Maker after downloading for 30 days for free and see for yourself: Producing music has never been easier.