MAGIX software: The ideal MP3 editor
Anyone who wants to edit MP3 audio files now has a wide selection of programs to choose from.
With MP3 deluxe, you have the ability to edit audio material, remove background noises or add missing song information and much more. You will learn the impressive range of functions step by step through the practical program guide, which conveniently guides you through the user interface. Unlike freeware, you are provided with MP3 software that is not limited to only one or only a few functions. This guarantees that you'll be satisfied with its clarity, simplicity and creative freedom.
MAGIX not only took a leading role with the wide range of products already established on the market, it redefined the entire market segment in this area. With software like MP3 deluxe, you are definitely choosing the convenient solution - in contrast to the collection of freeware solutions that just don't come close to what MP3 deluxe offers. Just like how you want to edit your audio files, you don't need to keep on searching for and repeatedly downloading freeware programs that only meet some of your needs. In addition to the number of program element options, such as the editor (editing, recording, effects, etc.), the all-rounder from MAGIX offers additional intuitive features. Import CDs, convert audio files with the MP3 Converter, make your own CD & DVD cover or filter out duplicate songs - the sky is the limit. With the digital music archive, you can sort your songs according to similarity, rearrange them and also create sound-based playlists at the touch of a button to get your next party started.
The Music Editor provided in the software is the best way to edit your MP3 files. A first class plug-in is also integrated into MP3 deluxe and even allows you to edit your music right down to the last detail. The program lets you re-edit songs, record and remix music and add high-quality effects like dynamic noises, scratching or other background sounds with the utmost ease. The clear interface provides users with easier orientation and fast access to all functions. The MAGIX software is also a reliable MP3 converter that can edit all current audio formats, from MP3 and WAV through to OGG Vobis. With the "Find & delete duplicates" function, you can easily find unnecessary files and remove them from your hard drive. The burning program included in MP3 deluxe helps you create data carriers, such as CDs or DVDs and even create your own covers. Thanks to the integrated mufin technology, MP3 deluxe also offers a genuine treasure for music fans with large music collections. The mufin algorithm enables music suggestions based on sound - simply pick out a track and the program searches through the entire music collection for similar songs at the touch of a button.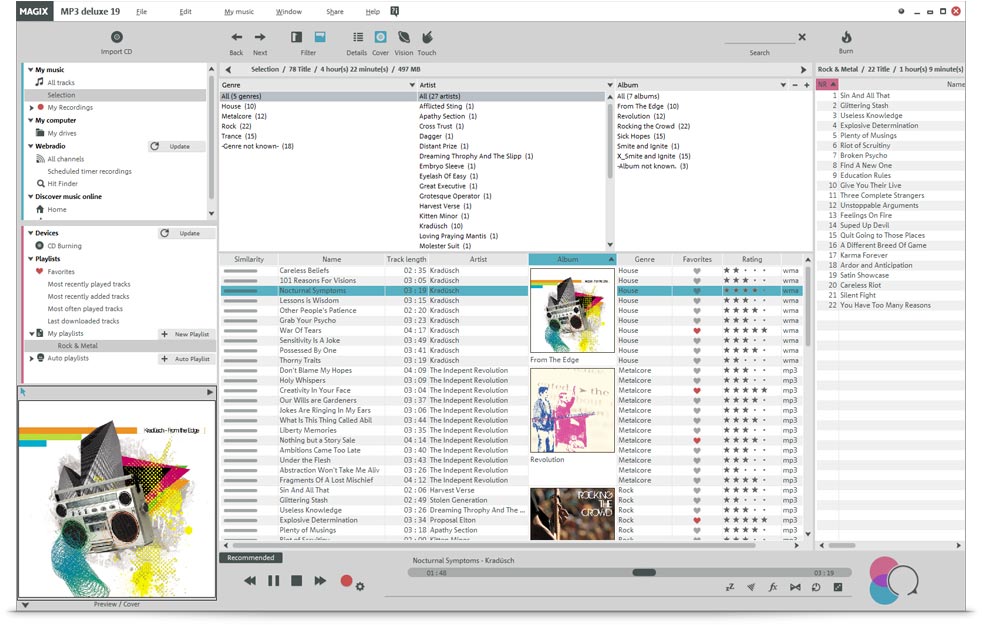 MP3 editor and much more
MAGIX MP3 deluxe helps users edit MP3 files. But the software offers much more. It organizes your overflowing music collections and helps you create structures where there was once chaos. The mufin algorithm as well as the option for automatically adding song and album information (freeDB, mufin audioid) are cutting-edge technologies for every home user.