The best MP3 software for cutting and editing music
Good MP3 software should be capable of more than just converting songs to the widely used MP3 format. It should be able to edit track information, remove noise such as hissing and clicking, adjust volume, and enhance the sound to make it more clear and intelligible. And if it's particularly good, you won't waste any time with lengthy tutorials and be able to get started right away. We recommend SOUND FORGE Audio Cleaning Lab. It allows you to convert your music and all your audio recordings to MP3, as well as professionally restore and optimize the audio beforehand if necessary – whether on hard disk, vinyl, cassette tape, or video sound, or microphone recording.
SOUND FORGE Audio Cleaning Lab is your all-around, digital tool featuring cutting-edge workflows, innovative effect presets, as well as powerful cleaning and mastering plug-ins from iZotope.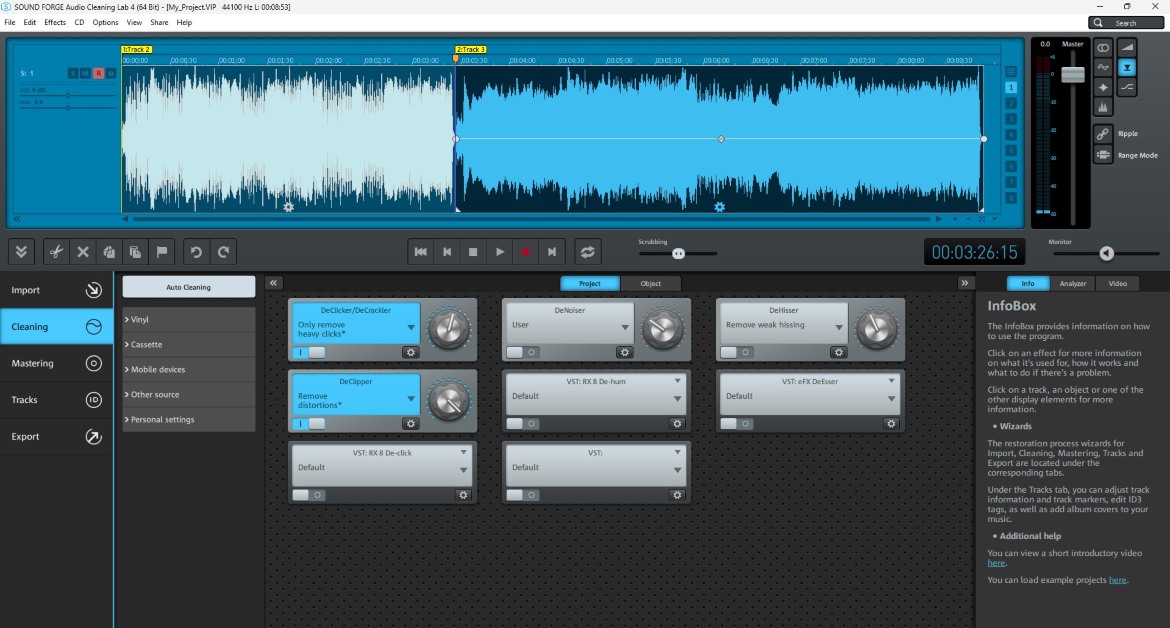 SOUND FORGE Audio Cleaning Lab helps you transfer music from your stereo, smartphone, and other audio sources to your computer. Convert various formats of audio files to MP3, AAC, FLAC or OGG – either one song at a time or all in one go using batch processing.
Before that, you can also edit each audio file with professional cleaning and mastering features. Remove noise like hissing and popping, enhance the sound, and compile the songs into coordinated playlists. By adding missing information about album, artist, title, and genre, you can organize your collection of music on a network or mobile device. This information will then be displayed on your player after exporting.
Sound optimization for music, voice recordings, and video sound
SOUND FORGE Audio Cleaning Lab includes hundreds of time-tested presets to clean up and optimize the sound of your audio. Each tool features a knob that lets you quickly adjust the intensity of the effect. By clicking on the gear icon, you can access all the effect parameters for more advanced editing. These options are designed for advanced users. The auto-cleaning feature performs an analysis of the audio material and recommends various settings for optimization, which can be selected with a single click. The spectral display visualizes frequencies. This allows you to identify noise at a glance and effortlessly remove it. SOUND FORGE Audio Cleaning Lab is also ideal for optimizing video sound. Improve voice recordings and make them more understandable as well as reduce background noise, wind noise, and sibilance.
Easy-to-use, quick results
Professional sound editing is demanding, but with SOUND FORGE Audio Cleaning Lab you don't need any prior experience. Simply let the integrated wizards help you. Apply the right sound characteristics and cleaning tools and check the results. There's no need for a manual and you can get started right away. The Infobox provides valuable tips and tricks for all the possibilities, so that you won't be left with any unanswered questions. One keyword in the search field is all you need to find the project templates, or tools and effects you're looking for.
Editing music with SOUND FORGE Audio Cleaning Lab
SOUND FORGE Audio Cleaning Lab enables you to perform all tasks concerning MP3 conversion easily and quickly. But it is capable of much more than that. The easy-to-use interface as well as numerous presets and wizards ensure that you can get started with no training and become a true audio expert simply by trial and error.
SOUND FORGE Audio Cleaning Lab
The easiest way to clean & restore audio.
Spectral Cleaning: The spectral display provides a clear visualization of the various frequencies of an audio track.
Automatic cleaning: The auto cleaning function analyzes the audio material and recommends settings for optimizing it. Alle of these settings can also be modified manually.
Video Sound Optimizer: Enhance speech recordings and reduce background noise, wind noise and sibilance – the Video Sound Optimizer offers a wide range of presets for removing all types of noise.
Program wizards & presets: Automatic cleaning and sound characteristics with a single click with over 360 presets.
Tips & tricks: The Infobox provides valuable tips and tricks for all functions and aspects of the program, helping you get the answers you need, when you need them.
Simple search: It is possible to find suitable templates, appropriate help texts as well as the right tools and effects with only one keyword using the search function.
Highlights:
modernEQ
Track controls
Preset search in the plug-in browser
Loudness Visualization
Improved audio engine and ARA2 support
SpectraLayers Elements 9
iZotope RX 10 Elements & iZotope Ozone 9 Elements
VST3 interface for seamless integration of external plug-ins
Professional tools for precision audio editing
Start download