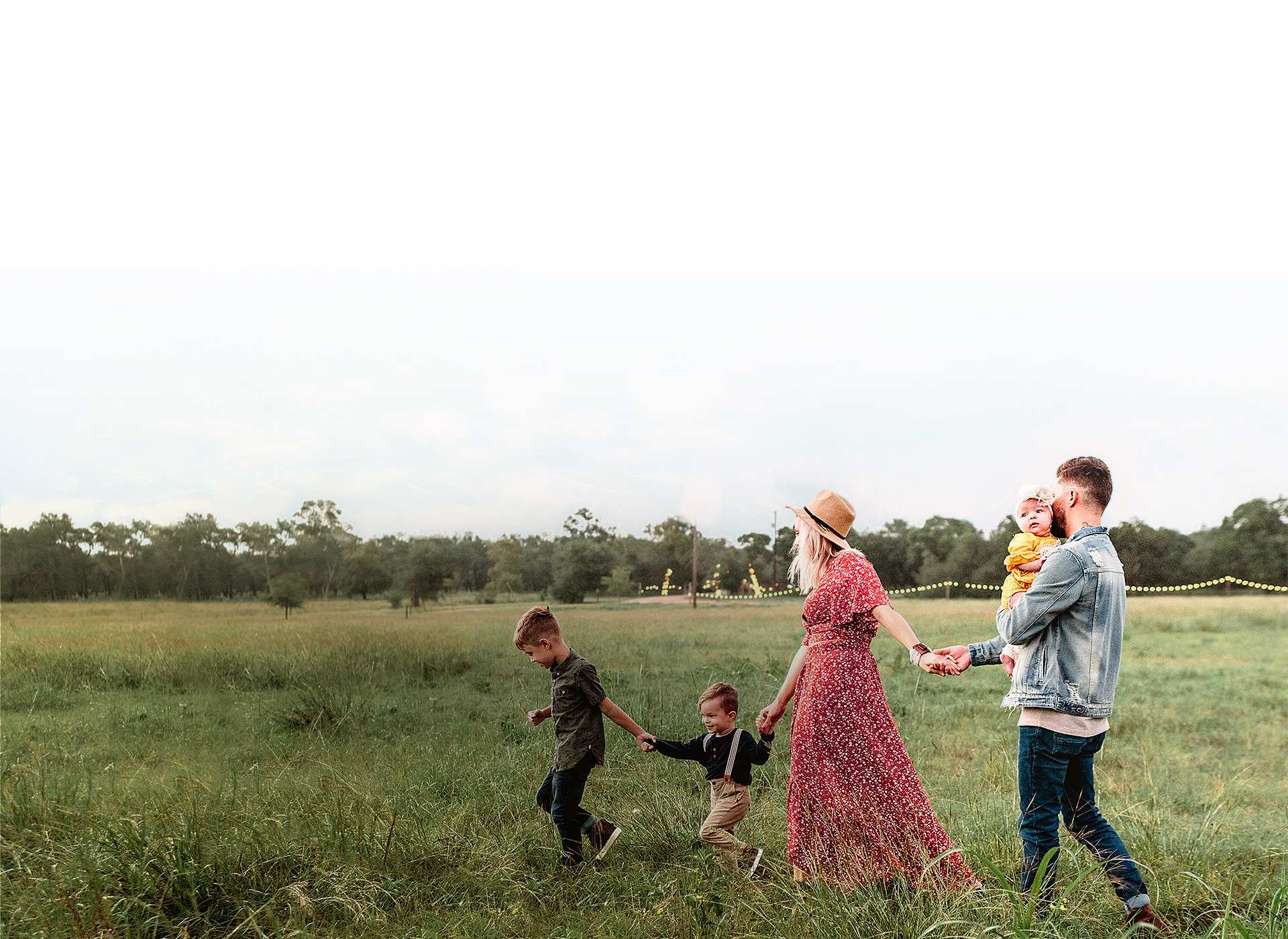 2. Edit videos
Your trip was full of exciting experiences – now it's time to turn all those videos into a movie. Use the editing tools in Movie Studio to make the right cuts and put the focus on the highlights.
1. Import media
Import recordings from video- and DSLR cameras or smartphones. All your clips can then be viewed in the Mediapool in Movie Studio and you can drag & drop them into your projects.
3. Optimization & effects
Got shaky footage or recordings that are too dark or too light? Don't worry! Movie Studio provides the right tools to preserve your favorite videos. You can then apply titles, transitions, effects and color correction to really make your film shine.
4. Present your films
Share your experiences with your friends, family and the whole world! Burn your movies to DVD and Blu-ray Discs, share your films online and enjoy the results with loved ones on TV in the highest quality.
3. Optimization & effects
Making captivating videos has never been this easy. Movie Studio brings together efficient cutting tools, extensive optimization options and up to 1,500 effects and titles in a single, powerful video editing program.
Movie Studio is designed for content creators & video hobbyists. Easily produce all kinds of home movies, YouTube videos, tutorials, or product reviews and share with your audience.
Bring your ideas to life – 100% the way you imagined.
700,000 regular users
3 examples of Movie Studio's workflow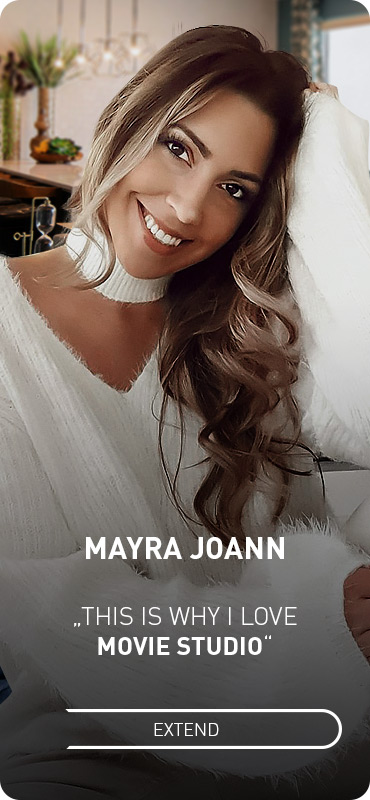 Editing a Youtube vlog can take a lot of time and, being a mother of 2 kids, I need to get it done fast. That's why I love Movie Studio, because I can produce videos and get creative in just a few minutes.
Mayra Joann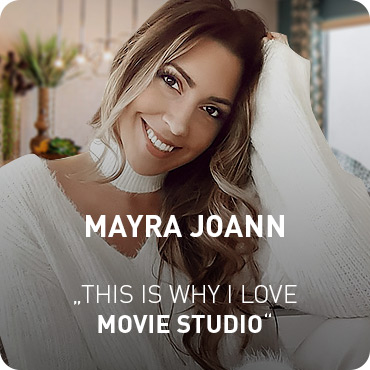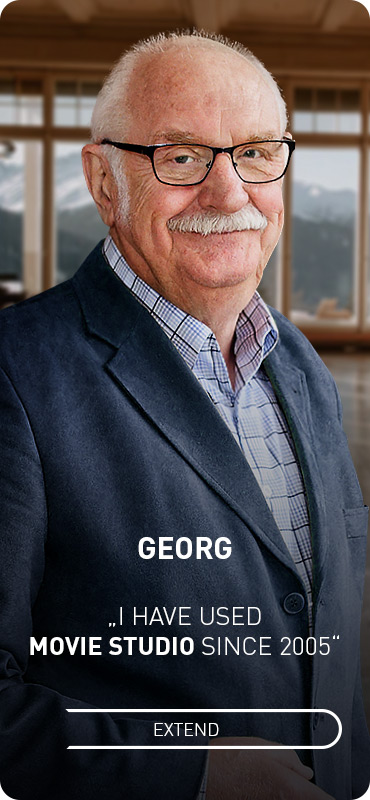 "I have used Movie Studio since 2005. I have been actively exchanging ideas with other users for a long time and in all that time I have witnessed numerous technical developments that are based on customer feedback."
Georg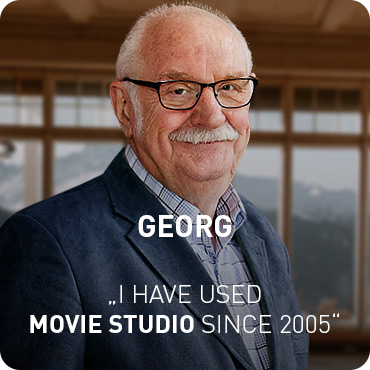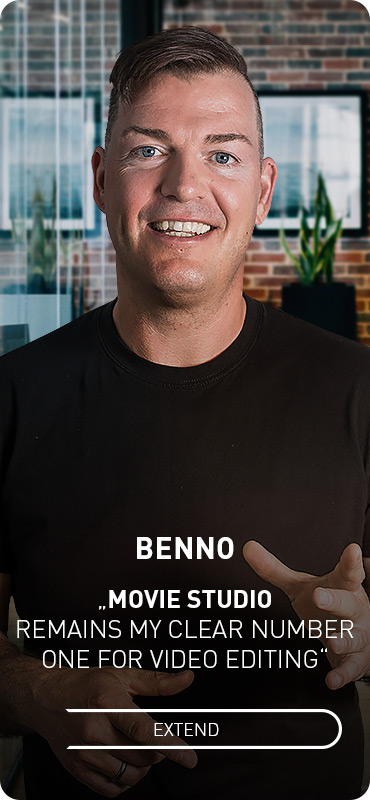 Movie Studio combines all the functions I need for the production of my multimedia content and remains the clear number one for video editing for me, also due to its intuitive operation. It's also great that the MAGIX software developers always have an open ear for comments.
Benno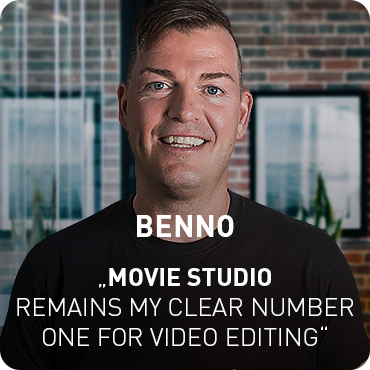 Video editing – always intuitive and user-friendly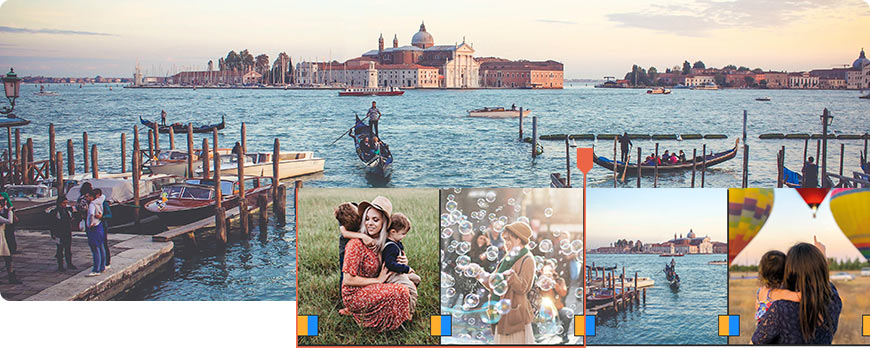 Flexible program interface
Use the detailed timeline for frame-by-frame video editing or Storyboard mode for greater clarity. Easily customize the size and positioning of your workspace to suit your own workflow. In the unique multi-format timeline, you can freely arrange video, audio and photo media on each track.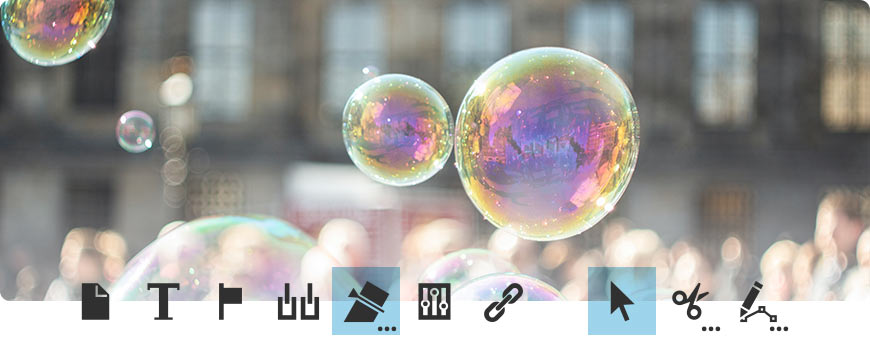 Diverse editing tools
With practical tools like "Split", "Remove beginning" or "Split movie" you have the ability to choose the exact workflow that suits you best. And you can also activate any of the tools using keyboard shortcuts. One particular highlight: With the touch of a button, you can automatically close all the gaps between the individual videos in your movie.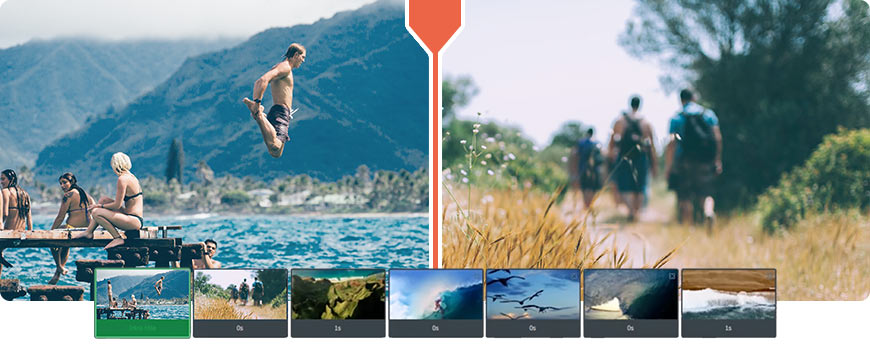 Editing wizards
Wizards offer help for the entire workflow, from media transfer to burning a finished film to DVD. Editing and movie templates even enable you to skip time-consuming cutting. Select a template, add material, select a scene – that's it!
Editing and movie templates exclusively in Platinum | Suite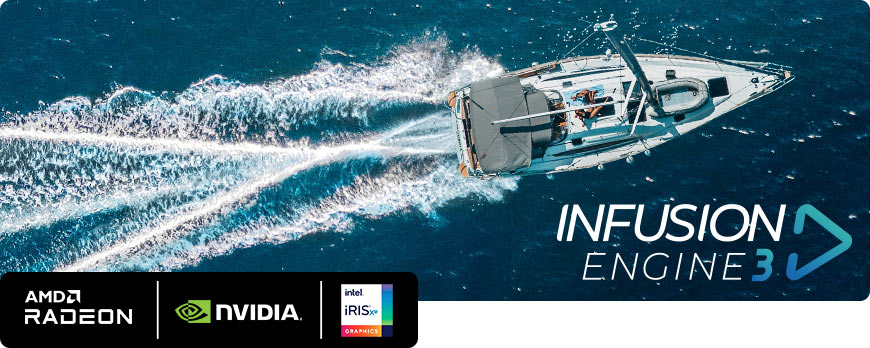 GPU support
The core of Movie Studio is the INFUSION Engine 3: It enables smooth work all the time, even for complex projects with numerous effects and color correction work. This is made possible by GPU support for current graphics cards from Intel, NVIDIA and AMD.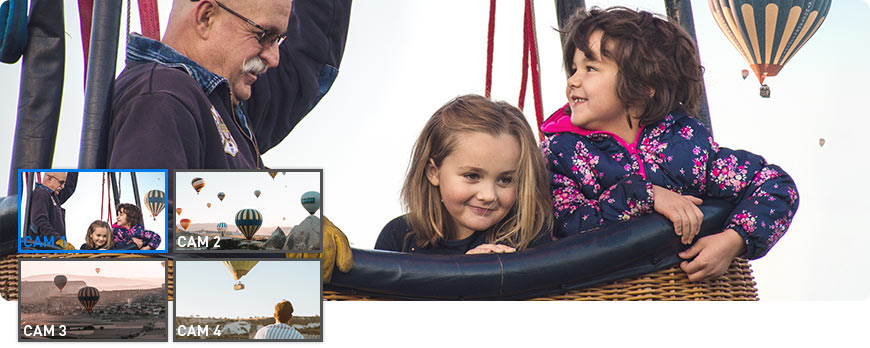 Multicam editing
The ideal solution for events where several cameras are filming simultaneously: In multicam code, you can simply click the camera to define which recording should display and when – Movie Studio makes automatic cuts as you work. This saves you time when making raw cuts and adding different angles gives your film a professional touch.
Exclusively in Platinum | Suite
Optimize videos & adjust colors to create the right atmosphere
Image Stabilization
Whether due to strong winds, lacking a tripod, or animated movements during shooting, it's easy to get shaky footage. But thanks to integrated video stabilization from VEGAS, you can quickly and effectively reduce shaky footage.
Color correction
Dark video or washed out colors? Modify brightness, contrast and color fully automatically or manually – the Platinum and Suite versions even allow you to work selectively on individual color ranges.
Secondary color correction exclusively in Platinum | Suite
Automatic shot match
Want to recreate the look of your favorite movie or balance the exposure of individual clips? With just a few clicks, you can match color, brightness and contrast levels against a reference video.
Exclusively in Platinum | Suite
Create videos
With up to 1,500 effects and creative tools

Over one million content items:
Your library for music, stock footage, and animation!
Whether you need music, sound effects, stock footage, or animations, MAGIX Content provides an unlimited collection of royalty-free HD videos and audio files. And best of all, you have access to all content for any project, any type of publication, and for an unlimited period of time thanks to our collaboration with Storyblocks – without any worry about usage rights.
Exclusively in the Platinum & Suite subscription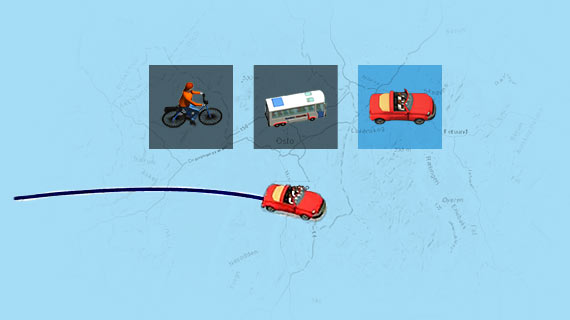 Animated travel routes
Create lovingly animated travel routes in no time with MAGIX Travel Maps. There are numerous design elements available, including different vehicles, avatars and locations, customizable map layouts, fly-in animations and much more.
Additionally, you have the ability to showcase all the stops on your journey with photos and titles. Take your audience along for the journey!
Exclusively in Platinum | Suite
Easily design split screens & animations
Use the easy-to-use handles to adjust the position and size of videos directly in the video monitor to create custom split screens and video collages. The versatile rotation point allows you to easily animate dynamic motion.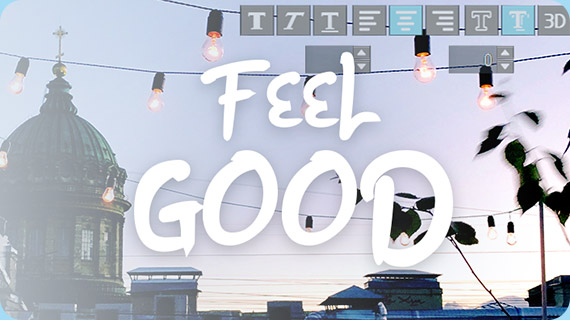 Over 650 titles & transitions
Choose from a wide range of high-quality fonts to add a personal touch to your movies and use different fades to create a variety of transitions. Access 15 templates for dynamic title animations to create the perfect video intro.
Dynamic slow motion and fast motion
Speed up or slow down footage to give your movies unique dynamics or to emphasize details. Movie Studio creates new intermediate frames between images, so even videos with lower frame rates play smoothly in slow motion.
Share videos with family and friends
Intuitive export thanks to numerous presets
A wide range of formats for all channels and playback devices
Burn DVDs & Blu-ray Discs directly in the program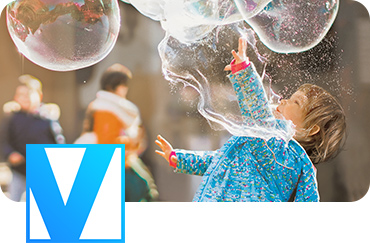 Movie Studio
Diverse editing tools
Around 900 effects, transitions, titles & professional image stabilization
Easy-to-use color correction
Export to DVD, Blu-ray Disc, YouTube, Vimeo and as files
8K UltraHD support + HiDPI program interface
NEW! Export 5x faster with INFUSION Engine 3
NEW! Video collages and animations: Now even more varied & easier to design
NEW! Panorama Storyboard with integrated audio editing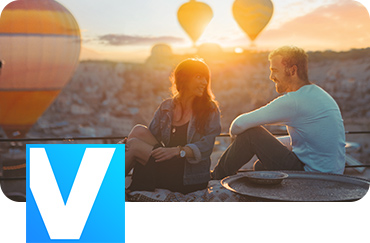 Movie Studio Platinum
Diverse editing tools including multicam editing
Around 1,500 effects, transitions, titles & professional image stabilization
Detailed color correction, shot match & film looks
Export to DVD, Blu-ray Disc, YouTube, Vimeo and as files
8K UltraHD support + HiDPI program interface
Exclusively in the subscription: MAGIX Content with stock footage, music and much more. Powered by Storyblocks!
NEW! Export 5x faster with INFUSION Engine 3
NEW! Travel route animation with brand-new features
NEW! Video collages and animations: Now even more varied & easier to design
NEW! Panorama Storyboard with integrated audio editing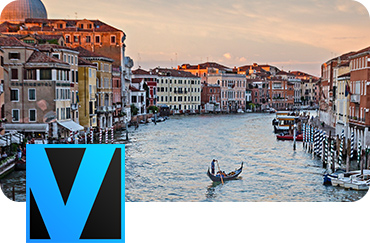 Movie Studio Suite
Diverse editing tools including multicam editing
Around 1,500 effects, transitions, titles & professional image stabilization
Detailed color correction, shot match & film looks
Export to DVD, Blu-ray Disc, YouTube, Vimeo and as files
8K UltraHD support + HiDPI program interface
Exclusively in the subscription: MAGIX Content with stock footage, music and much more. Powered by Storyblocks!
NEW! Export 5x faster with INFUSION Engine 3
NEW! Travel route animation with brand-new features
NEW! Video collages and animations: Now even more varied & easier to design
NEW! Panorama Storyboard with integrated audio editing
EXCLUSIVELY IN THE SUITE! NewBlue Stylizers 5 Illuminate with around 100 templates for atmospheric light effects
Movie Studio 365
Movie Studio 12 month subscription
Movie Studio 365
Movie Studio 1 month subscription
Movie Studio 2022
Shortcut to amazing
Up to 900 Effects, titles, templates & transitions
Easy color correction
Professional image stabilization
Burn DVDs & Blu-ray discs
NEW! Accelerated export thanks to the INFUSION Engine 3
NEW! Edit and export 8K UltraHD video
Up to 900 Effects, titles, templates & transitions
Easy color correction
Professional image stabilization
Burn DVDs & Blu-ray discs
NEW! Accelerated export thanks to the INFUSION Engine 3
NEW! Edit and export 8K UltraHD video
Up to 900 Effects, titles, templates & transitions
Easy color correction
Professional image stabilization
Burn DVDs & Blu-ray discs
NEW! Accelerated export thanks to the INFUSION Engine 3
NEW! Edit and export 8K UltraHD video
Movie Studio Platinum 365
Movie Studio Platinum 12 month subscription
Movie Studio Platinum 365
Movie Studio Platinum 1 month subscription
Movie Studio 2022 Platinum
Shortcut to amazing
Upgrade: Movie Studio 2022 Platinum
Shortcut to amazing
Up to 1,500 Effects, titles, templates & transitions
Easy color correction
Professional image stabilization
Burn DVDs & Blu-ray discs
NEW! Accelerated export thanks to the INFUSION Engine 3
NEW! Edit and export 8K UltraHD video
Film looks
Multicam and 360° editing
Travel route animations
Available until August 28, 2022
Only now for free in this offer:
✔ proDAD ReSpeedr V1 ($109 value)
Up to 1,500 Effects, titles, templates & transitions
Easy color correction
Professional image stabilization
Burn DVDs & Blu-ray discs
NEW! Accelerated export thanks to the INFUSION Engine 3
NEW! Edit and export 8K UltraHD video
Film looks
Multicam and 360° editing
Travel route animations
Up to 1,500 Effects, titles, templates & transitions
Easy color correction
Professional image stabilization
Burn DVDs & Blu-ray discs
NEW! Accelerated export thanks to the INFUSION Engine 3
NEW! Edit and export 8K UltraHD video
Film looks
Multicam and 360° editing
Travel route animations
Available until August 28, 2022
Only now for free in this offer:
✔ proDAD ReSpeedr V1 ($109 value)
Up to 1,500 Effects, titles, templates & transitions
Easy color correction
Professional image stabilization
Burn DVDs & Blu-ray discs
NEW! Accelerated export thanks to the INFUSION Engine 3
NEW! Edit and export 8K UltraHD video
Film looks
Multicam and 360° editing
Travel route animations
Available until August 28, 2022
Only now for free in this offer:
✔ proDAD ReSpeedr V1 ($109 value)
Movie Studio Suite 365
Movie Studio Suite 12 month subscription
Movie Studio 2022 Suite
Shortcut to amazing
Upgrade: Movie Studio 2022 Suite
Shortcut to amazing
Up to 1,500 Effects, titles, templates & transitions
Detailed color correction
Professional image stabilization
Burn DVDs & Blu-ray discs
NEW! Accelerated export thanks to the INFUSION Engine 3
NEW! Edit and export 8K UltraHD video
Film looks
Multicam and 360° editing
Travel route animations
Up to 1,500 Effects, titles, templates & transitions
Detailed color correction
Professional image stabilization
Burn DVDs & Blu-ray discs
NEW! Accelerated export thanks to the INFUSION Engine 3
NEW! Edit and export 8K UltraHD video
Film looks
Multicam and 360° editing
Travel route animations
Up to 1,500 Effects, titles, templates & transitions
Detailed color correction
Professional image stabilization
Burn DVDs & Blu-ray discs
NEW! Accelerated export thanks to the INFUSION Engine 3
NEW! Edit and export 8K UltraHD video
Film looks
Multicam and 360° editing
Travel route animations
Available until August 28, 2022
Only now for free in this offer:
✔ NEW! Includes Movie Studio 2023 Suite ($129 value)