What's new
in Samplitude Pro X6
We focused on your individual workflows. That's why we developed new features with the knowledge gained through years of experience and – most importantly – your feedback.
Experience exceptional performance at a whole new level with more than 20x faster graphics performance than the previous version. Edit hundreds of tracks and thousands of objects smoothly and without delay.
Benefit from new search functions, extended automation, flexible editing and efficient interface and windows organization throughout your whole project.
Samplitude Pro X6 Suite unites everything to achieve your perfect sound: You get SOUND FORGE Pro 14, the latest Steinberg SpectraLayers Pro 8, iZotope Ozone 9 Elements and iZotope RX8 Elements and even more great-sounding instruments.
NEW! More than 20x faster graphics performance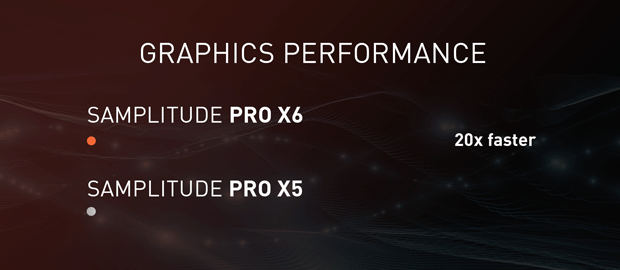 Experience exceptional performance at a whole new level with more than 20x faster graphics performance than the previous version.
Edit hundreds of tracks and thousands of objects smoothly and without delay.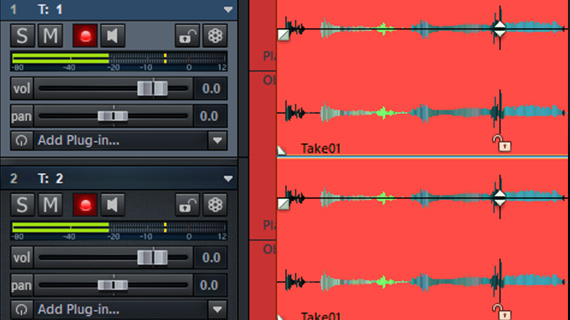 NEW! Improved audio recording
Discover even more possibilities and customization options using the new routing functions for recording. Exclusivity of audio inputs is now switchable to allow you to use one recording source more than once across different tracks.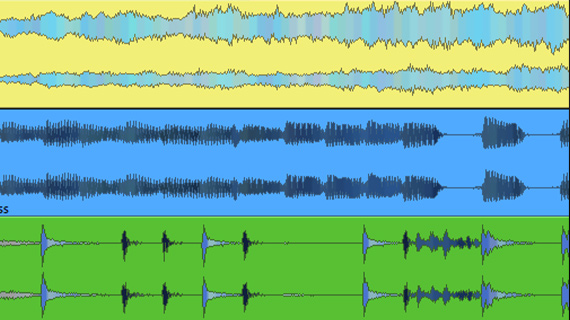 NEW! Detailed waveform display
Enjoy additional, helpful waveform display options, which are now available as presets within the Comparisonics waveform display and complementary to the current WaveColor options.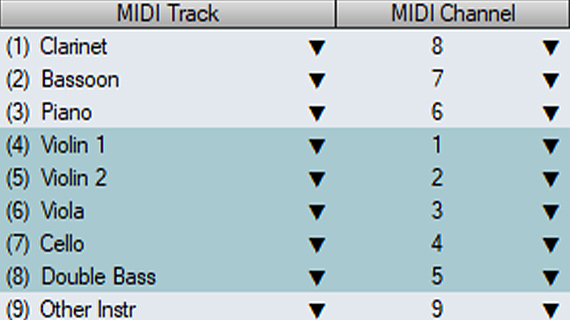 NEW! VST instruments manager
Thanks to 2 new columns, enjoy better overview and control for all the MIDI routing of your VST instruments in both small and large projects. It is now possible to change the MIDI track assignments and channels as well as send them to respective VST instruments in order to create new MIDI tracks for an assignment as desired.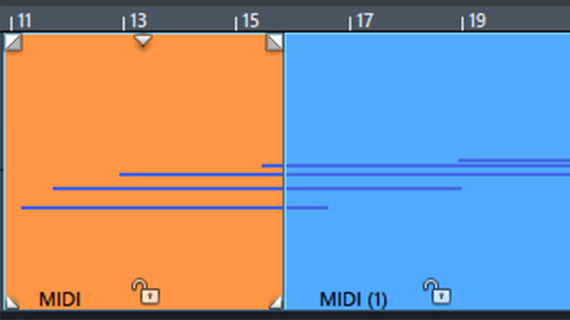 NEW! Soft split option for MIDI objects
Keep the MIDI notes you've made after object editing, giving you the freedom to work on any portion of your project, regardless of how many cuts you've made to MIDI objects.
NEW! Work on multiple video files in a single project
Enjoy more flexibility and take your workflow to the next level by working on film post production and film scoring projects containing multiple video files in a single project.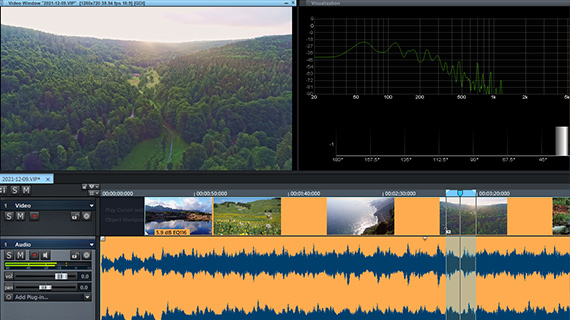 NEW! Now featuring a dockable video window
Take advantage of a clearer overview when working with footage. Maximize your usage of space and keep an eye on your footage thanks to the new, dockable video window.
More highlights
of Samplitude Pro X6
NEW!
Search & find your presets in the Plug-in browser
With the Plug-in browser extension, you can now access plug-in presets directly and quickly. Mark your favorites for quick access and take advantage of the keywords and filters.
Rediscover the potential of your entire plug-in collection!
NEW!
Use dynamicEQ to shape your sound
dynamicEQ makes mixing easier and more precise – apply frequency cuts and boosts only where your material will benefit. You can dynamically boost, attenuate and shape your sounds across your entire project. Multiple filter options for each EQ band allow you to edit your tracks with surgical precision.
NEW!
Create flexible automation with the new Central Automation Control
Write and edit automations immediately and exactly where they are needed. Edit complex arrangements and make adjustments in preview mode without interruption. Advanced editing capabilities let you keep your focus – see which curves are in read, preview, or write mode to set the automation state for the entire project.
NEW!
Keep your orientation during every step of your project
With the dockable track editor you have access to all the important functions of a track at any time – from audio and AUX settings to plug-ins, mixer settings, and equalizers. Organize your project views flexibly – whether on a different monitor, with a different program window layout or in portrait or landscape format. Use the track editor to control faders and routings easily, bring track settings and information into focus and experience even more agility in your workflow.
Ideal workflows for maximum time savings
Operate with absolute flexibility at any time – render clean material or edit during playback.
NEW! Render flexibility with track output recording
When you record the output of the track, you record what you hear and not what is being feed into the track. Samplitude saves your project material in a clean state, giving you full control to render your project material flexibly and experiment with effects afterwards.
NEW! Edit in real time during playback
Bring your project even faster to the final stage. Edit your material the moment it is in playback – listen to any part of the material from a recording and cut and arrange objects simultaneously. Without wasting time you'll experience workflow enhancements at it's best.
Precise control with superior quality
Maintain absolute control over your output at all times – whether you need to control aux levels or change the perfect sample rate.
NEW! Precise control through convenient aux level control
The new aux level control gives you full overview and unrestricted control. Switch between aux channels in an instant and put level control from an aux channel strip onto the faders to define your aux levels with pinpoint accuracy.
NEW! Achieve the highest quality with the best resampling engine
With the newly integrated resampling you have the option to work with any sample rate in your project. The configurable engine ensures that you consistently output the highest quality and obtain only the best from your material. In real time and without prior conversion.
Exclusive in Samplitude Pro X6 Suite
Samplitude Pro X6 Suite unites everything to achieve your perfect sound: You get SOUND FORGE Pro 14, the latest Steinberg SpectraLayers Pro 8, iZotope Ozone 9 Elements and iZotope RX8 Elements and even more great-sounding instruments.
SOUND FORGE Pro 14
Comprehensive functions in the areas of editing and mastering make SOUND FORGE Pro the perfect companion software for Samplitude Pro X6 Suite. This powerful audio editor works on a detailed, sample-based level and offers a premium selection of tools for precise modification and for finalizing audio material in stereo and surround.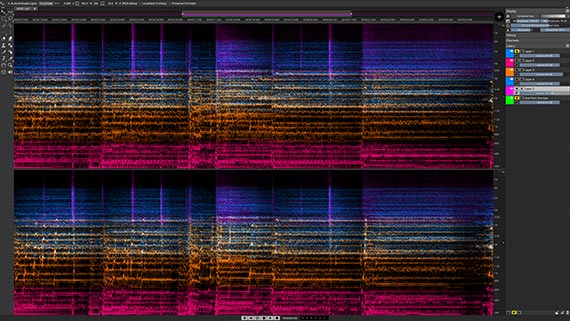 Steinberg SpectraLayers Pro 8
SpectraLayers Pro 8 is the most advanced audio spectrum editor on the market and transforms sound into a unique visual world of multidimensional data. Its visual concept and toolkit enable sounds to be extracted, optimized or rearranged in ways previously thought unimaginable. Thanks to ARA2, Steinberg SpectraLayers Pro is now more seamlessly integrated into Samplitude Pro X6.
The new version 8 is the ideal complement to the Samplitude Pro X6 Suite with its improved tools and workflows. It allows automatic, artificial intelligence-driven, processes across multiple layers to provide the best possible results.
iZotope RX 8 Elements
iZotope RX Elements includes a stand-alone editor and VST plug-ins for resolving common issues with recordings such as clipping, humming, clicks and unwanted background noise.
iZotope RX 8 Elements offers everything needed to perfect an audio production.
iZotope Ozone 9 Elements
iZotope Ozone Elements contains a wide range of presets and macro controls for a faster, simpler mastering process. The Mastering Wizard analyzes your mix and suggests EQ, compressor and panorama settings that you can preview before applying.
Customize the sound depending on the kind of master you want – from radio play to streaming, you can get results easily and in next to no time.
colorFX Suite
The colorFX Suite offers a wide palette for assertive sound coloration. With signal routing that can be filtered and modulated, colorFX can be used flexibly – as subtle emulsifiers for masters and grouped signals, or to create a distinctive texture for individual tracks.
coreFX Suite
Essential tools for mixing and mastering can be found in coreFX Suite. Access nine sophisticated components for sound creation: Three delay effects for creating echo and reverb, five plug-ins for precise dynamic control, plus a rhythm effect for modern production.
When it comes to the fundamental stages of editing a production, the coreFX Suite is with you every step of the way.
NEW! 8 powerful virtual instruments
Discover 8 exciting new virtual Tiny Percussion instruments that are a cut above: Barrel, Christmas Bells, Claps & Snaps, Tambourine, Cowbells, Darbuka, Djembe and Doumbek.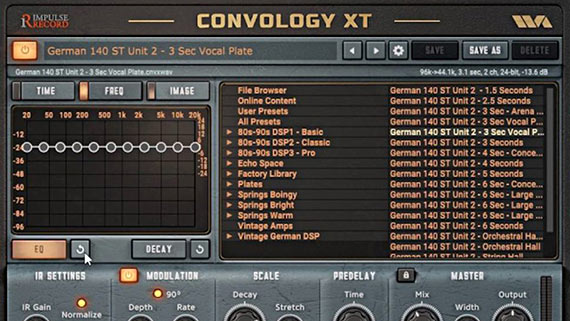 NEW! Use legendary reverbs with Convology XT Complete
Enjoy an impressive collection of high-quality impulse responses (2965 files, 4.6 GB) from classic reverb units and other vintage devices. The bandwidth of synths included ranges from guitar amps to tape echoes. Amplitude, waveform length, decay - Convology XT lets you build upon basic convolution with a wide number of parameters which can otherwise only be used for digitally created reverb.
Highlights
This is what to expect in the latest version of Samplitude
New in Pro X6
NEW! More than 20x faster graphics performance
NEW! dynamicEQ
NEW! Dockable Track Editor
NEW! Track output recording
NEW! Preset search function in the plug-in browser
NEW! Centralized automations control in the Automation Panel
NEW! Realtime editing during playback
NEW! Simple and precise AUX level control
NEW! High-quality resampling engine
coreFX VolumeFormer
iZotope Ozone 9 Elements
Celemony Melodyne 5 essential
MAGIX Independence Pro Plus
+
21 virtual instruments (4 new)
Exclusive in Pro X6 Suite
NEW! Steinberg SpectraLayers Pro 8
SOUND FORGE Pro 14, the full version of the legendary editor
colorFX & coreFX Suite with high-quality essential effects
iZotope RX 8 Elements for optimal restoration
Ozone 9 Elements for perfect masters
Convology XT Complete
+
47 virtual instruments (8 new)
70 GB Independence Library