Combine catchy samples and powerful virtual instruments to create your own arrangements. Get the band together and start recording. Combine the best takes to create the perfect mix. Add finishing touches in mastering. Samplitude Music Studio has everything you need.
Recording
Easy and professional
Choose from a range of recording templates for pure MIDI sessions or entire recording projects. Record vocals and perfectly tuned instruments on multiple tracks at the same time.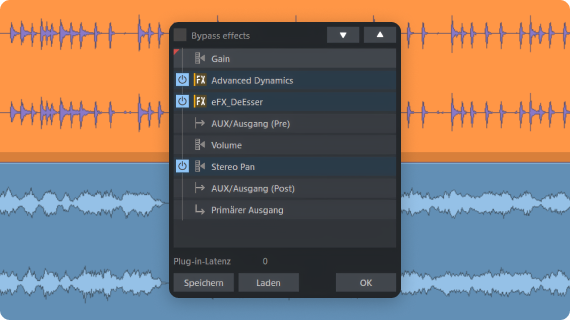 NEW:
AUX routing from Samplitude Pro X
You can now use the same professional audio routing as Samplitude Pro: Set AUX sends to Direct Out, Pre-Fader or Post-Fader. Pre-Fader creates separate monitor mixes, while Post-Fader takes the signal after the volume control. Perfect your sound with Samplitude Music Studio X8.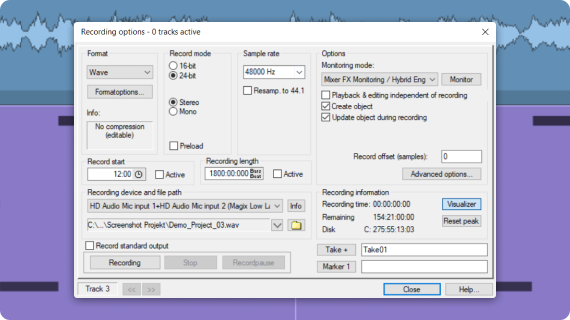 NEW:
Direct recording – what you hear is what you get
Using the new direct recording function, you can capture the audio signal from your headphone output directly. Expand your creative horizons. Sample sounds, record podcast interviews, or effortlessly record movie or game audio for sound design. Discover a new world of audio capturing.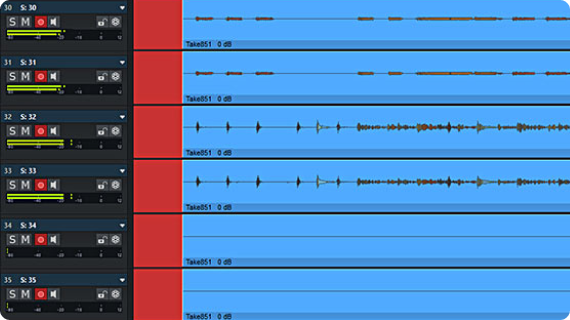 Multitrack recording
Multi-track recording
Record instruments and vocals in up to 24-bit/96 kHz studio quality on up to 16 mono tracks or 8 stereo tracks at the same time. From band practice to demo tapes to entire albums – access professional editing tools and plug-ins for all project tracks.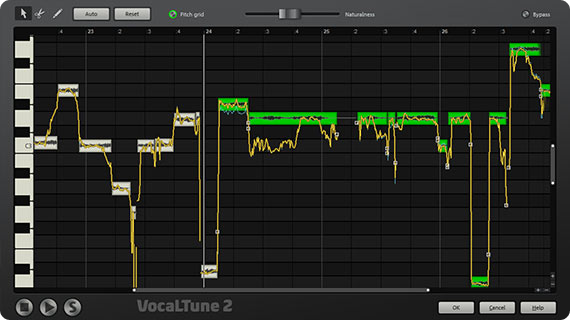 Vocal recording correction
With Vocal Tune 2, correcting your vocal recordings is simple. The pitch curves and practical waveform display let you adjust recordings in detail with the pencil tool.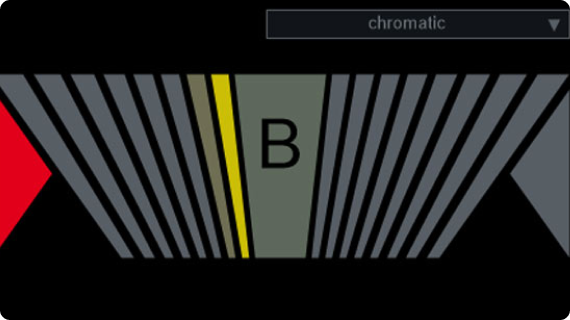 Tuner
With the integrated tuner, you can make sure your guitar and bass are perfectly tuned before you start recording. Simply hit a string and adjust it. This tool also works with acoustic resonating bodies and other amplified instruments, such as analog synths.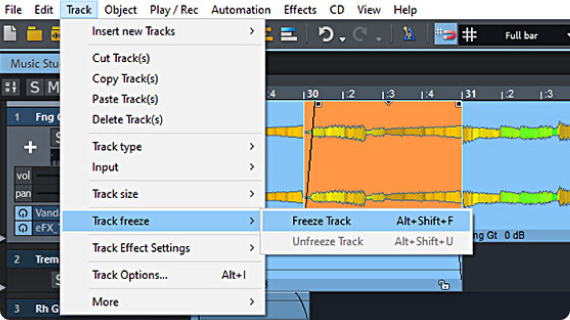 Track freeze
The gentle cycle for your hard drive and RAM without loss of sound quality: Recordings made with effects can be easily converted to normal audio files using track freeze. The applied effects are disabled until the tracks are "thawed out".
Virtual music production
Instruments, MIDI & Soundpools
Once your bass, vocals and drums are recorded, you can easily add more musical elements to them. Bring your songs to completion by recording virtual instruments with MIDI controllers and combining sounds and loops from different genres with drag & drop controls.
Improvise, compose, harmonize.
Instruments in Samplitude Music Studio
Samplitude Music Studio 2023 contains a wide range of impressive VST instruments for improvising and composing your own music – from concert grand pianos to atmospheric synthesizers to full-bodied drums and entire ensembles.
12 Tiny Percussion instruments
Tiny Percussion Barrel: Thrilling drum rhythms that deliver pure suspense – ideal for dramatic moments in movies.
Tiny Percussion Christmas Bells: Ideal for adding a festive atmosphere to any song.
Tiny Percussion Claps & Snaps: The light clap and snap sounds will inspire your listeners to start dancing.
Tiny Percussion Cowbells: This unique bell sound is characteristic in the cha-cha-cha and adds a Latin flavor to any track.
Tiny Percussion Darbuka: This sound evokes the "Arabian Nights" and is perfect for Middle Eastern and belly dance music.
Tiny Percussion Djembe: This popular goblet drum transports you away on a musical journey through West Africa.
Tiny Percussion Doumbek: Spark a musical fire in your listeners' ears using passionate rhythms from this drum.
Tiny Percussion Tambourine: The sounds of the tambourine are great for adding both rhythm and fine details throughout a piece.
Tiny Percussion Bongos: These drums sounds that originate in Cuba add an exciting rhythm and a hot salsa flair.
Tiny Percussion Congas: When the congas kick in, it's guaranteed to get everyone onto the dance floor.
Tiny Percussion Shaker: From pop and jazz to Latin sounds, the shaker can be used in any genre to create the perfect groove.
Tiny Percussion Taiko: Drum sounds from Japan that form the perfect backdrop to fast-paced fighting scenes and create a dramatic effect.
5 drums & percussion instruments
Soundtrack Percussion: A wide palette of impressive bells, drums, timpani, gongs and taiko drums for building up the drama in film music in a rhythmic way.
Jazz Drums: Drum sticks, brushes, tom toms, ride cymbals and hi-hats provide that true groovy jazz sound.
Rock Drums: Dynamic snares, powerful kick and precise hi-hats. Supported by a wild electric guitar.
Pop Drums: Play booming trap beats, pumping techno grooves or a furious double bass in a metal style with Pop Drums!
Drum engine: The classic sound and style of legendary drum machines and samplers.
6 synthesizers
Lead Synth: This polyphonic synth specializes in catchy lead sounds, growling sawtooth and smooth phatty sounds.
Bass Machine: This bass machine delivers the ultimate bass lines with powerful, bone-rattling tone.
Analog Synths 2: From analog to digital and classic to modern: These unique synths will enrich any piece of music.
Cinematic Synth: Dark dreamy sequences lose themselves in this synthesizer between grating basslines & extra-terrestrial sounds.
Cinematic Soundscapes: Explore icy, vast expanses of sound – ideal for creating depth & tension.
Revolta 2: An electronic dance track with an animated beat and playful synth lines.
5 orchestra sounds & choirs
Cello: An instrument that sounds just as good on its own as it does in an ensemble: the cello. The master of nuanced sounds, from delicate to powerfully expressive.
Orchestral Ensemble: Full orchestra, brass, woodwind, percussion and strings with an impressively authentic sound – ideal for arranging film score.
Concert Grand: This virtual concert piano shines in modern pop and all other kinds of productions.
Church Organ: This organ is based on an original recording in a little church near Venice and ideal for authentic organ sounds.
Choir: A dark melody with mystical undertones sung by a mixed choir.
2 guitar instruments
Power Guitar: Phenomenal power chords, screeching slides and powerful overdrives – all you need for a deep, full guitar sound.
Jazz Guitar: Warm, semi-acoustic tones that are a wonderfully harmonic complement to any recording.
Additional instruments
Accordion: A light summery accordion melody just like in classic French films.
Folk: Whether banjo, piano, percussion or acoustic guitar: These traditional sounds lend your music that special note.
World Flutes: The exotic woods create organic sounds that are perfect for chillout, world music and tropical house.
Vita 2: Ultra realistic drums with VITA 2 instruments Acoustic Dum Kit Pop and Acoustic Percussion 1.
Vita Sampler: With the Vita sampler, you can play every loop like an instrument.
Plug in, record, edit.
MIDI in Samplitude Music Studio
Simply connect your MIDI device, such as a keyboard or pad controller, record to your heart's content, and then work on your MIDI material in the editor.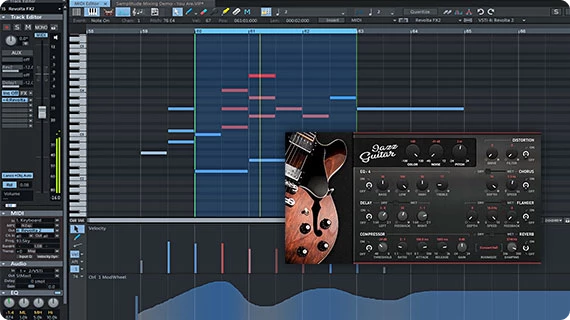 Support for MIDI VST plug-ins
The new Samplitude Music Studio naturally allows you to use MIDI plug-ins too. This opens up lots of new possibilities for music production. Make use of the wide variety of MIDI plug-ins available and combine as many plug-ins as you want. In addition, the new plug-in support allows you to freely route MIDI signals.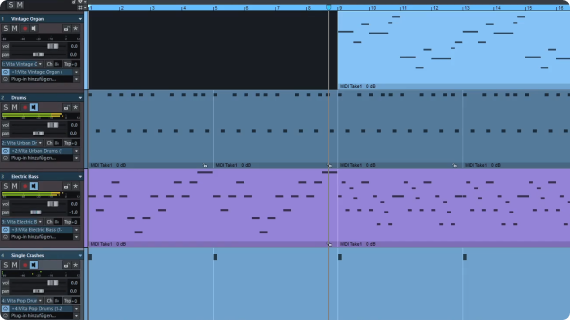 NEW:
Optimized MIDI object display
More prominent note blocks and a clearer color design allow for better orientation in your project and let you keep track of everything. You can now concentrate 100% on composing with your MIDI instruments and let your creativity run free.
Soundpools
Grooves and gear for all your tracks
Choose from lots of different styles and hundreds of richly produced samples. Use drag & drop to combine urban and exotic sounds any way you want. Create new rhythms, new melodies, and new songs.
Editing
Shape your tracks
Whether at the object level or the track level, Samplitude Music Studio offers practical solutions for editing audio tracks and files.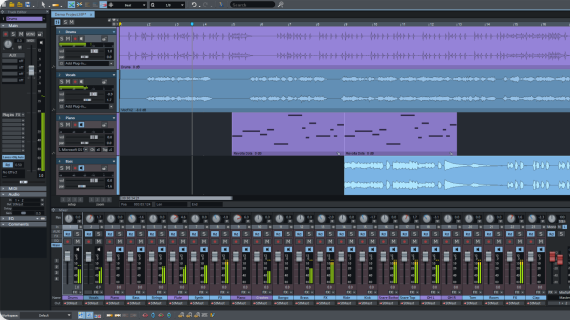 NEW:
Improved user-friendliness
The mixer and plug-in browser can now be docked, making all elements easily and quickly accessible. They also scale to fit any window size. You can now work with a clearer interface that lets you drag & drop your plug-ins from the plug-in browser right into your project.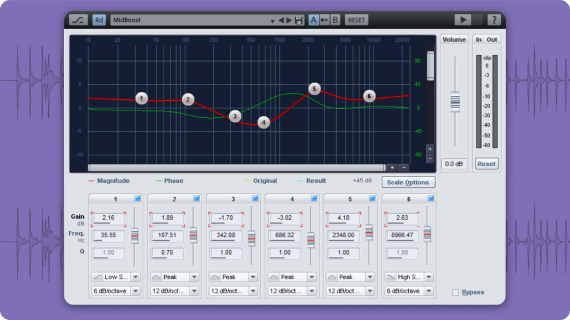 NEW:
EQ116
Discover a powerful 6-band EQ – perfect for precisely shaping your sound. EQ116 includes an oversampling option to deliver significantly better sound quality. The integrated analyzer provides an overview of your entire frequency spectrum and gives you absolute control of your sound.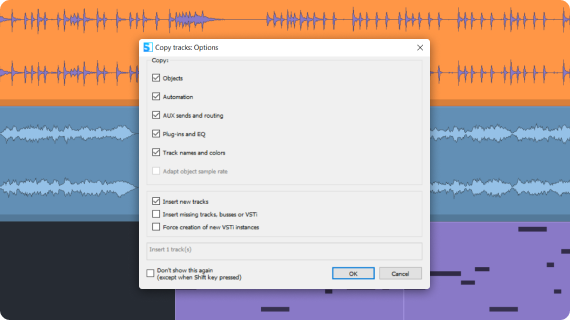 NEW:
Improved track copy function
The practical function for a lightning-fast workflow in Samplitude Pro X. This tool allows you to seamlessly transfer tracks between projects while retaining all the effects, automations, plug-ins and other track properties you want.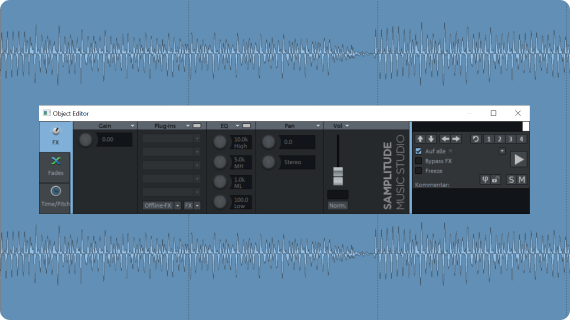 Object editor
Edit the sound of individual audio clips without having to change track settings or create new tracks. For instance, you can apply an effect to just a single word in a vocal recording to make it stand out. The object editor also provides EQ and time/pitch settings for each clip.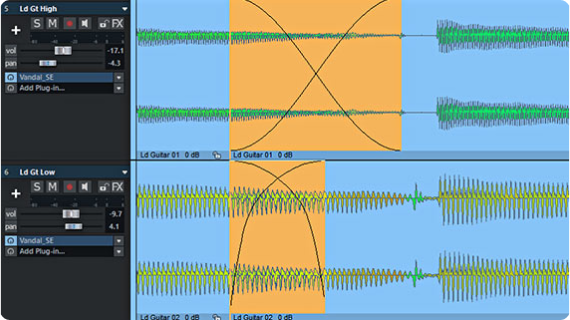 Perfect transitions
Much more than the sum of its parts: Use the crossfade editor to design seamless transitions between different audio files. For an incredible listening experience.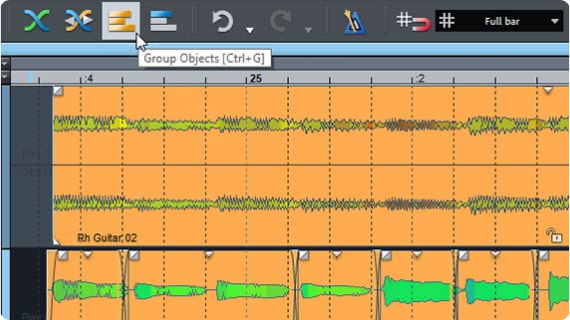 Combine objects & takes
Combine all your takes and objects into groups at any time. You can group all the objects on one or more tracks and move them together, edit them or add effects.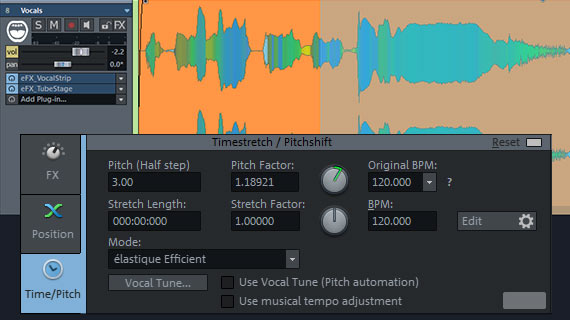 Pitch shifting & time stretching
Easily adjust the pitch of audio files without affecting playback speed. This feature is great for making quick harmony changes in arrangements.
And if you need to pick up the pace a little bit, you can also easily adjust the playback speed of your audio material without affecting the pitch.
The perfect sound
Mixing & mastering
Achieve unparalleled sound for your music with powerful effects and tried-and-true tools, whether in the mix or during the final stage of production, mastering. All of the reverb and delay effects on each individual track can be sent to the AUX busses. Submix busses are also available for combining the outputs of multiple tracks, such as individual drums.
NEW:
wizardFX Suite
Whether for last-minute changes or totally unexpected sounds, wizardFX speeds up any mix and offers endless inspiration for your songs. With its one-knob concept and numerous presets, you can achieve your audio goal in no time at all. Simply select, listen and get started. Applying professional effects has never been this easy.
Dynamics
One end calms the wild ups and downs of danceable sounds, while the other holds pulsing levels in check and smooths dynamic waves with a steady hand. wizardFX Dynamics are both yin and yang, working with naturally impulsive spikes and equalize different volume levels in accordance with the required sound.
wizardFX Modern VolumeFormer
For pads that rise and fall rhythmically and basses that pulsate to the beat of the kick drum – wizardFX VolumeFormer. Ideal for enabling gating and sidechaining without any complicated routing.
wizardFX Compressor


The wizardFX Compressor is designed to keep the dynamics of your audio in check without losing control. It adjusts loud and quiet passages and adds more punch to rhythm instruments.
wizardFX Limiter


In order to limit excessive level peaks, the wizardFX Limiter cuts off the peaks of an audio signal almost inaudibly and losslessly to help achieve more loudness. This makes it ideal for mastering purposes in the last position in the signal chain.
wizardFX Gate


Reduce noise and ensure clear signals with wizardFX Gate. This helps to keep noise at bay during vocal recordings and reduce cross-talk when recording with several microphones. It's also perfect for creative stutter effects.
Coloration
More character, more color, more punch – wizardFX has it all! Use Tape Machine for analog warmth or fat overdrive. Bitcrusher offers authentic lo-fi sounds and Tube Distortion ranges from light oversaturation or punchy distortion. Tape Machine, Tube Distortion as well as Compressor and Gate are equipped with auto input gain. This warns if the input is too low or too high and sets optimum levels with just a single click.
wizardFX Tape Machine
Subtle variations in pitch give tape recordings their nostalgic charm. Additionally, tape saturation produces more overtones in louder signals, adding that extra drive.
wizardFX Bitcrusher
Looking for that authentic lo-fi sound? By reducing the bandwidth of the audio to lower sample and bit rates (e.g. 22 kHz and 8-bit), the wizardFX Bitcrusher is able to create distortion ranging from vibrant to aggressive.
wizardFX Distortion
Tubes don't just become warm: they create warm sounds too, as a result of harmonious clipping. These FX bring the sound of analog tube amps to the digital world. Ideal for enhancing different instruments and vocals.
Modulation
The courage to change is always rewarded – modulated sounds ensure a strong impression and attract attention. Accentuated with delays, lush chorus effects and striking flanger effects. Nicely wrapped in reverb, and rounded out for the perfect mix. Faster than you would think, but prettier than expected: wizardFX modulation effects.
wizardFX Modern Reverb
Stay with the flow and instantly find the essential reverb settings – it's easier than ever before with wizardFX Modern Reverb, which transforms your sound with lifelike space and atmosphere.
wizardFX Delay


The world's most uncomplicated delay provides the flavors of space and time for any track. Thanks to practical presets, classic and creative echoes are ready at the click of a mouse when you need to speed up your mix.
wizardFX Chorus


wizardFX Chorus offers increased depth in your sound – all without any presets. The included textures provide width, depth and inspiration for each track.
wizardFX Flanger


If a modulated, delayed signal is added to the original input signal, it will create meandering oscillations. Enhances melodies for haunting solos and dry harmony to moving canvases.
NEW:
coreFX Delay
From subtle to wild and clean to dub echo: Simulate both vintage and modern echo devices with coreFX Delay.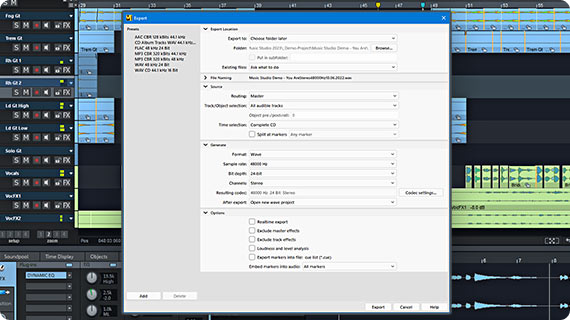 Improved export workflow


Audio file export is a core function of any DAW. Samplitude's export workflow has been improved, allowing you to work even faster and more efficiently. The new, clear structure and modern design offer you an optimal overview of the essential functions. It also lets you access your favorite export formats more quickly.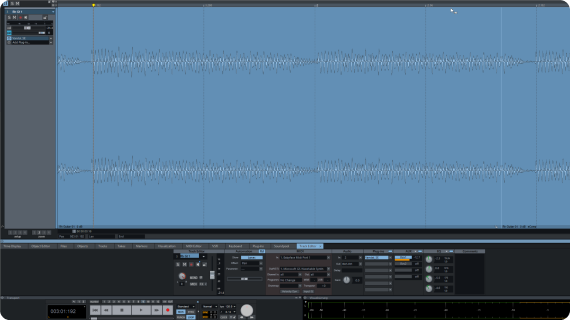 Keep a clear overview of projects with the dockable track editor
The dockable track editor ensures that you always have access to all the most important track functions – from audio and AUX settings to plug-ins, mixer settings and equalizer. Enjoy even better control over faders, flexible window arrangements for your projects and the ability to keep all your track settings and information in the foreground.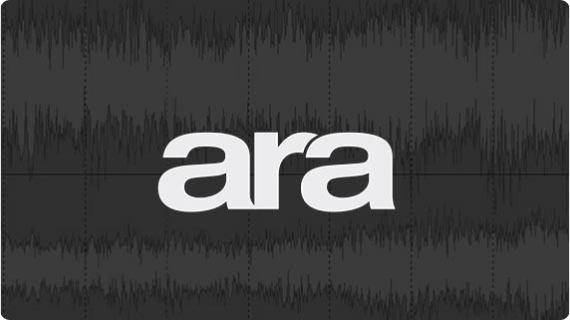 Enjoy a faster workflow with ARA2 support
Experience greater speed when using ARA2-compatible plug-ins and edit your audio files even more efficiently. Perform editing tasks on multiple tracks simultaneously and create seamless clip borders. Integrating plug-ins take place via the dedicated browser and provides you with you even more creative possibilities.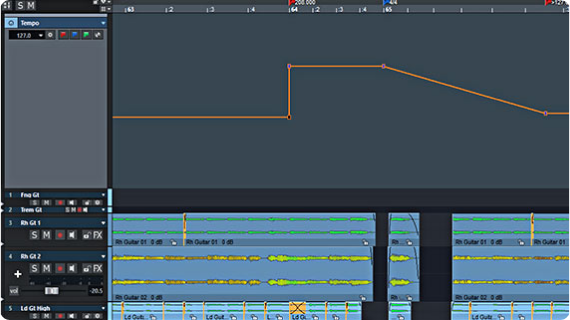 Tempo Track


Using a track to control tempo ensures that your arrangement has a clear structure. The speed and tempo changes you make are displayed using easy-to-manage markers. Transitions for musical climaxes and slow-downs can be easily automated.
Automation Shapes & advanced copy functions
Use the available shapes to create smooth custom transitions between automation points. The predefined curve types are suitable for making both classic fades and dramatic modulations. Use the available shapes to create smooth custom transitions between automation points. The predefined curve types are suitable for making both classic fades and dramatic modulations.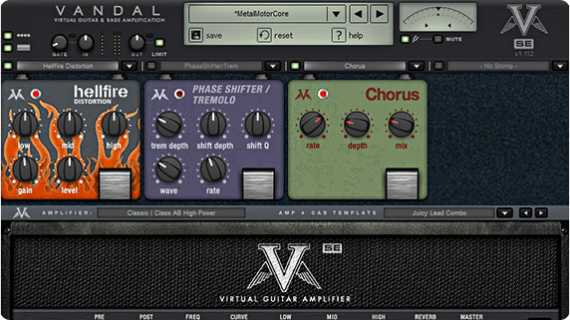 Vandal SE
Overdrive or distortion, tremolo or chorus: the Vandal SE virtual guitar and bass amp sounds like an authentic analog amplifier, but with a range of unique and diverse features. Can be used with connected instruments or as an insert effect in the mix.
essentialFX Suite
11 sophisticated plug-ins in one collection: With the essentialFX Suite, the most important effects for mixing and mastering are always right where you need them.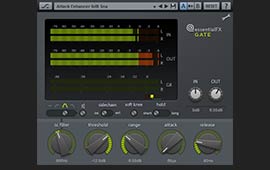 eFX Gate
The flexible gate plug-in offers noise reduction with soft knee options and sidechain filter function for rhythmic ducking effects.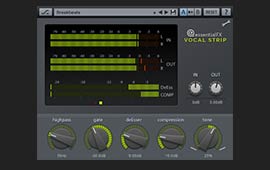 eFX Vocal Strip
Optimized for vocal and speech recordings: This channel strip offers compressor, DeEsser, gate, high-pass filter and sound shaping.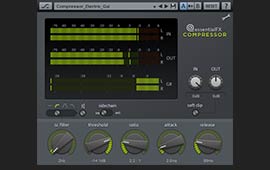 eFX Compressor
A classic compressor for level compensation for audio material and for adding punch – includes a soft clip function and an advanced side chain filter.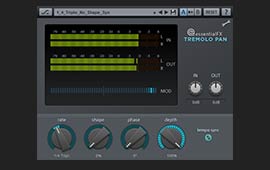 eFX Tremolo Pan
eFX Tremolo Pan lets you achieve classic tremolo effects and edit rates, shapes, tremolos, tempo synchronization and panoramas.
eFX Chorus Flanger
eFX Chorus Flanger offers everything you need for more depth for your sound – from chorus effects to flanger sounds. In addition, easily define settings for frequency, depths, feedback and mix.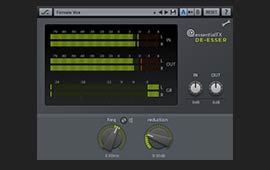 eFX deEsser
With eFX DeEsser, filter out unwanted "s" sounds from speech and vocal recordings.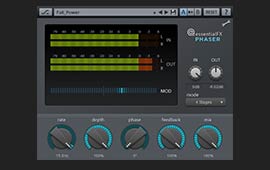 eFX Phaser
Add more movement to main tracks and more dynamics to guitar. This classic phaser effect also includes settings for speed, depths, feedback and mixes.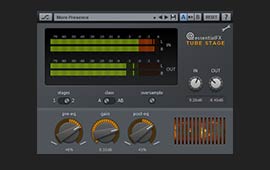 eFX Tube Stage
eFX Tube Stage contains pre EQs and post EQs for creating an impressive analog sound – perfect for simulating the authentic, warm sound of analog tube amps.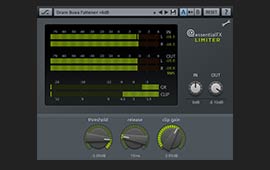 eFX Limiter
Access enhanced volume for audio signal and reduced clipping with this efficient and dynamic limiter.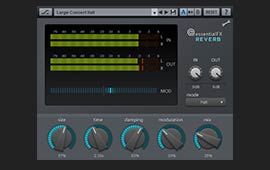 eFX Reverb
Add short or long reverb – eFX Reverb brings more space and more atmosphere to your sound.
eFX Stereo Delay
With individually adjustable delays for both channels and a sophisticated tempo sync feature, stereo delay adds spatiotemporal spice to any track.
Sound analysis
Listen with your eyes
Samplitude Music Studio offers many different ways to analyze sound, from the new WaveColor tool with its colored frequencies to the visualization of spectrum and level. This way you'll always know exactly where to make adjustments to keep your tracks sounding well-rounded.
WaveColor
Wouldn't it be great if you could represent the sound character and pitches of a song with color gradients and saturation levels? Well, you're in luck. WaveColor makes it easy to spot noise and other artifacts in your audio tracks, even before you listen to them. The colors make it simple to tell different instrument types apart, so you'll always know what's going on in the waveform. In the new Samplitude Music Studio.
Visual sound analysis
Visual analysis helps you mix and tidy up essential frequency ranges so that every element comes through loud and clear. The program includes a vectorscope (phase control), spectroscope (spectrum level) and spectrogram (frequencies shown over time).
Direction meter
The direction meter shows you what your production's sound looks like in the stereo field. This lets you assess mono compatibility better and carry out precise adjustments where they're needed.
Peak meter
The peak meter displays the peak level for your production. If certain values are exceeded too often, you should the lower levels of the corresponding causes when mixing down your song. This eliminates clipping from the mix.
More functions
Full of sound. Full power. One-of-a-kind results.

Internal Hybrid Audio Engine
The internal Hybrid Audio Engine is used by professional sound engineers and producers the world over and provides optimal latency management during recording and playback of your tracks.

64-bit & multi-core support
64-bit and multicore support allows you to use your PC to its full potential. This enhanced performance becomes particularly noticeable when using RAM-intensive plug-ins and working with large, complex mixes.

VST3 & ReWire
Samplitude Music Studio offers VST, ReWire and DirectX support for additional instruments and effects. It also includes VST3 plug-in support for integration, automation and VST multi-output. Available interfaces include: VST3, VST2, ASIO, ReWire, SMPTE, MTC, MC.
Full projects. Full control.

One project, 32 instruments
In Samplitude Music Studio you can load and work with up to 32 instruments simultaneously within a single project. This enables you to achieve an even fuller sound for your compositions.

Hardware support
Samplitude Music Studio supports the Mackie Control protocol and conventional hardware controllers, making it possible to write automations live by moving the sliders on external devices.

Automation Lanes
In Samplitude Music Studio, automations for track and effect parameters are shown on dedicated subtracks to the audio track. Edit several parameters in parallel and show or hide automation lanes to keep your projects clear and organized.

Plug-in browser
The Plug-in browser makes it possible to access effects and instruments quickly and easily apply plug-ins using keyboard shortcuts or your mouse. You can also sort effects and instruments and use filters to easily find the plugins you're looking for.

Marker Manager
The Marker Manager ensures interface clarity when producing albums. It enables you to filter and edit a whole range of markers – such as track and pause markers – in complex mastering projects.
Samplitude Music Studio X8
Everything you need for your music.
Samplitude Music Studio X8
Everything you need for your music.
R1,890.00
Regularly R3,280.00
Available until 7 January 2024
Only now for free in this offer:
✔ Celemony Melodyne 5 essential (R1,390 value)
Upgrade: Samplitude Music Studio X8
Everything you need for your music.
R949.00
Regularly R3,280.00
Available until 17 December 2023
Only now for free in this offer:
✔ Celemony Melodyne 5 essential (R1,390 value)
Samplitude Music Studio 365
Samplitude Music Studio 12 month subscription
R797.88

/ year
Regularly R1,139.88

/ year
Available until 7 January 2024
What is Samplitude Pro X?

Samplitude Pro X is a DAW for audio professionals. The big brother of Samplitude Music Studio, it offers professional tools and a wide range of functions for all stages of audio production. Virtual instruments that inspire new sounds, precise audio engineering tools and indispensable mixing and mastering effects are also included.
Is there a free trial version
of Samplitude?
Yes, free 30-day trial versions of Samplitude products are available. Just go the free-download section and get started.
Are MAGIX MUSIC MAKER and
MAGIX Samplitude compatible?
If you want to take your MUSIC MAKER skills to the next level and are looking for a DAW with higher performance and more functions, Samplitude Music Studio is the right choice! It's fully compatible with MUSIC MAKER and you can easily drag & drop to import MUSIC MAKER project files (.mmm) and save them as a Samplitude file (.vip).