Included as part of this offer: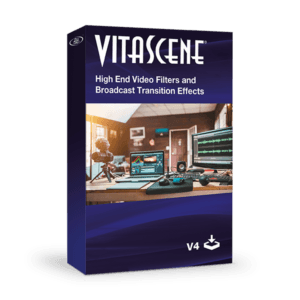 proDAD VitaScene V4 PRO
(value: £589.00 / A$1079.00)
Ideal for video pros – a comprehensive effects collection from proDAD
proDAD VitaScene V4 PRO offers you access to a collection of over 1,400 professional effects.
Enjoy a wide range of tools for creating smooth, dynamic transitions between cuts. In addition, color shift and motion blur provide your videos with impressive final touches.
A wide range of presets mean all effects can be applied quickly and easily.
Video editing
always on the cutting edge of technology
We're continuously optimizing and developing Video Pro X in line with feedback from our community and the latest technological trends. This way, we can provide you with a video editing program that delivers optimal support for all your film projects and offers endless creative possibilities!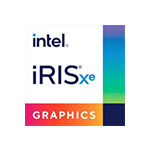 Get ready for the future:
Intel® Hyper Encode
Thanks to our partnership with Intel, we can now offer optimized Intel® Hyper Encode technology alongside Video Pro X. This means both graphics cards are simultaneously enabled on Intel desktop and laptop systems equipped with an onboard GPU and an additional Intel GPU, such as the brand-new Intel® Arc™. Hyper Encode accelerates rendering, so you can export your movie twice as fast* as with just one GPU.
* During our test, exporting a 2 minute 4K video on a ASUS Vivobook took 47 seconds with the new version, compared to 98 seconds with the previous version.
The most well-equipped toolbox in Video Pro X history:
NewBlue TotalFX – MAGIX Edition*
We've collaborated with the professionals at NewBlue to offer you an exclusive effects bundle that includes tools for all areas of post-production, from color correction to title design.
Play around with 5 packs with a total of 100 plug-ins and over 1,000 presets.
Color correction: NewBlue Filters 5 Ultimate
Title templates: NewBlue Titler Pro 7
Image optimization: NewBlue Essentials 5 Ultimate
Green screen editing: NewBlue Elements 3 Ultimate
Light effects: NewBlue Stylizers 5 Ultimate
* NewBlue TotalFX – MAGIX Edition is included upon purchase of new software, or when you upgrade Video Pro X. This Edition is supplied without stabilizer and transitions.

Got tons of shots? The timeline lets you sort them at high speed!
Your last adventure was so impressive that you just couldn't stop filming, but now your timeline is filled with 4 hours of material. Thanks to the optimized response time of the high-speed timeline, it's not a problem. Even with large projects, the timeline reacts immediately to your commands and lets you navigate through your recordings faster than ever before. Up to 20x smoother than before!
Inspired by customer feedback:
More creative options for travel route animations
Custom angles for your animations, display for GPX elevation profiles, fly-in animations, constant playback speed between locations, MP4 and 4K* export – discover all these new features in the freshly revamped MAGIX Travel Maps. Another highlight: Create your travel route animations in fullscreen mode and enjoy the new, easy-to-use menu.
* Export up to 4K is dependent on the respective screen resolution.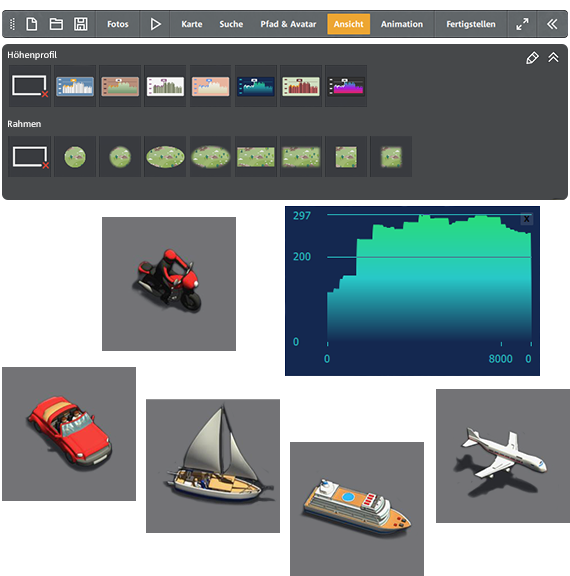 Three highlights in detail:
Fly-in animations
Use the new fly-in animation to give your animated routes a proper intro. Choose the angle at which you want the animation to start and the length you need for your movie. Then, MAGIX Travel Maps will take care of the rest.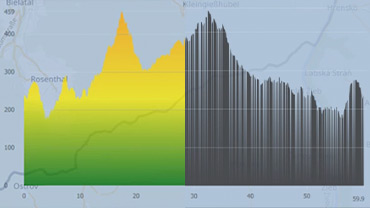 Display GPX elevation profiles
Whether camping or hiking: Keep your audience riveted by showing how many meters of elevation you've climbed during your journey. You can now depict elevation data from imported GPX files directly in your animation – and live at your avatar's position.
Custom viewing angle
Bring a new perspective to your travel route: With the help of the redesigned control menu, you can easily skew and rotate the map. There are also two zoom options that allow you to adjust the level of detail in the map view.
What is GPX data?
GPX files contain geodata such as position and altitude generated, for example, by GPS trackers or online navigation systems. MAGIX Travel Maps supports a variety of different GPX file formats, including .gpx, .kml, .kmz, .tcx, .trk and .xml. Easily import any of these files and use them to create a detailed route for your travel route animations
Improved access
to video effects, templates and transitions
Long searches for the right creative effects are now a thing of the past!

1. Intelligent search feature
Use the intelligent search feature to locate what you need in no time at all – whether it's an effect, template, transition or content from the in-app Store. Discover the search feature that's intelligent! Even if you mistype or can't remember the exact name, the new search algorithm will provide you with the right suggestions.

2. Content overview, customizable with one click
What's more, you can customize the overview of effects, templates, transitions and in-app store content with a single click. Want to make all content visible at the same time? Or would you prefer to have an overview of the categories? You decide.

3. Your favorites, always at hand
Save your favorites for easy access: Mark your favorite transitions and templates with heart icons. The favorites filter means no more long searches for transitions!

INFUSION Engine 3
Export 5x faster than real-time export*
No waiting around. INFUSION Engine 3 now enables a seamless GPU workflow for the latest graphics cards by Intel, NVIDIA and AMD. In addition to ultra-smooth playback even for complex projects, INFUSION Engine 3 now also offers accelerated export for AVC and HEVC formats. Videos can now be rendered faster than in realtime.
* 12-second export time for 1 minute Full HD, MP4, AVC with Intel i7 6700 and NVIDIA GeForce GTX 1070.
Discover more new features

Highest image quality<br/>8K | UltraHD | HDR
Thanks to full 8k Ultra HD support, AVC and HEVC videos can now be played in realtime.* This makes time-consuming preview rendering a thing of the past. Even the finest nuances of color are now visible in the new HDR color space, Full HD/UHD or SD, allowing for ultra-precise color correction.
*Dependent on the graphics card used. For more information, contact the card manufacturer.

Easily design your own animations
The new handles offer even more control and allow you to adjust both the position and scale of video objects directly in the program monitor.
The flexible anchor point offer new creative possibilities for your animations – in this way you can create dynamic movements just the way you imagined.

Keep track of everything: Panorama storyboard
New, extra-large thumbnails offer a clearer overview. The subject of your video appears right in the center of the screen and you can keep track of every aspect when working on more comprehensive projects.
The innovative audio workflow enables you to start editing your audio clips with precision in the storyboard.

Title animations & fonts
30 new fonts are included for creating a one-of-a-kind look. Created in a handwritten style, all fonts can be freely combined with both existing and new titles. Perfect for various kinds of film material, themes & occasions.

Vertical videos
Vertical videos, for instance from smartphones, are recognized directly upon import and can be displayed in the mode in which they were originally filmed. Vertical project and export templates, including ones for social media video, are also available.

Layer masks
Combining various movies scenes using masks creates unlimited options for design. The templates area now includes a large range of alpha masks – so you can have a video border gradually fade out to transparent, or define the exact way you want title objects to appear.
The highest image quality
Easily design your own animations