Xara: The easy and effective way to edit pictures
Anyone can edit pictures as long as they have the right application. Ever since the number of digital cameras went through the roof, the amount of image editor programs has also soared.
The user is left with the question: "What's the right program for me?" They are available in almost every price segment – from free downloads to suites costing several thousand euros. The problem is that free versions don't offer enough photo editing options and expensive versions are too complexto use. The perfect solution is right in between: Xara Photo & Graphic Designer.
This application lets you edit pictures and create collages. It offers intuitive operation and is easy to learn. You can also edit pictures with vectors in this photo montage. This technology enables non-destructive photo editing and at the same time, features unrivaled processing speed. You can scale images time and time again without compromising quality. Even old outdated computers near the end of their service life can easily perform various steps, where programsfrom the competition would quickly slow them down. All of this is possible in real-time, with only one program. The comprehensive operating concept only requires the user to learn a single interface to tap into a host of photo editing options. Among other things, there is a wide range of effects for your photos and powerful retouching functions. By combining these tools with skill and finesse, you can let your imagination run wild and create genuine masterpieces from your pictures.In particular, the feature for creating your own graphics rounds off the creative options for creating your photos. Hardly any other photo editing software lets you create real vector graphics. Its advantage lies in its unlimited scalability. This allows you to continuously enlarge drawings without risking any blurs. You can of course also recrop your pictures, align them, correct distortion and optimize contrast and colors. The low price of the software with so many easy to learn functions rounds off the overall package – editing pictures was never easier than with Xara Photo & Graphic Designer.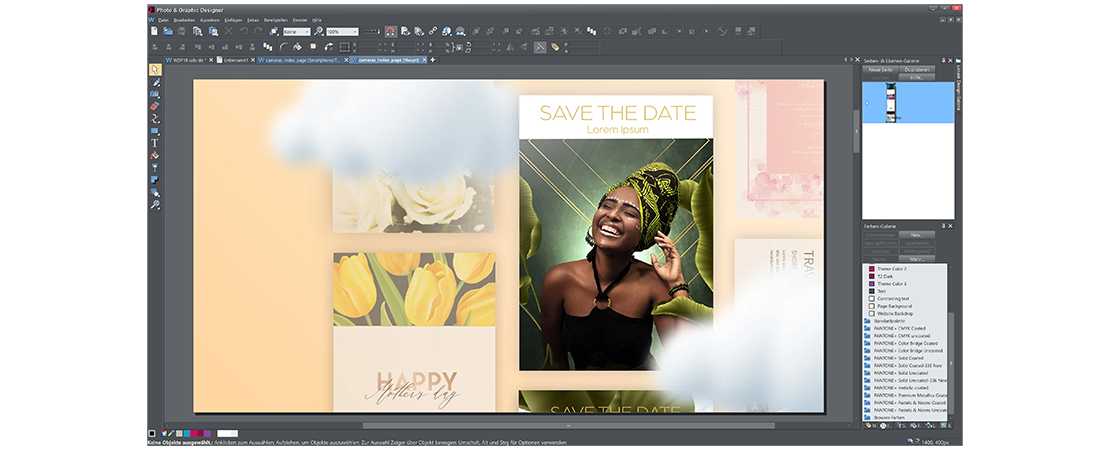 Editing pictures can be so easy!
Xara Photo & Graphic Designer wins over the hearts of all those who want to edit pictures, but up until now have been intimidated bythe sheer number of photo editing software options. The program sets itself apart with its easy operation, speed and unbeatable value for money - with this software, anyonecan make the most of their pictures. Try out the free trial version now and see for yourself.