The picture editing program from Xara
The picture editing program for Windows from the German software specialist MAGIX is called Xara photo & Graphic Designer.
The software is an all-rounder for editing pictures, creating a logo, designing 3D animation – you can do it all in next to no time. And the functions are easy to find and use in the intuitive interface. Unlike the picture editors from the competition, Xara Photo & Graphic Designer has a flat learning curve. After you learn functions one time, you can use them in a wide variety of ways. You can perform complex editing tasks in simple steps. It allows you to create impressive photo montages in no time at all.
A versatile picture editing program, such as Xara Photo & Graphic Designer of course not only offers an option for arranging different pictures so that you can compile a new image. The user can effectively use the graphic software to edit photos. The steps and functions that you learn here can be used for other picture editing areas. As a result, Xara Photo & Graphic Designer offers a wide range of functions that even a complete beginner can quickly use, since the different editing steps are usually built on each other and are therefore very similar. The complete beginner can then work on his photos, images and graphics with a single program.
Simply mask certain image areas to protect against unwanted changes and adjust the rest as you like. Or select certain areas to edit them. No matter which way you use, you'll always you reach your goal. Everyone can work with the program as they see best fit. Specific image elements can be cropped in several ways. The cropped elements can then be removed or rearranged. For good picture editing, you first need a good idea. You can do the rest with this software in a blink of an eye.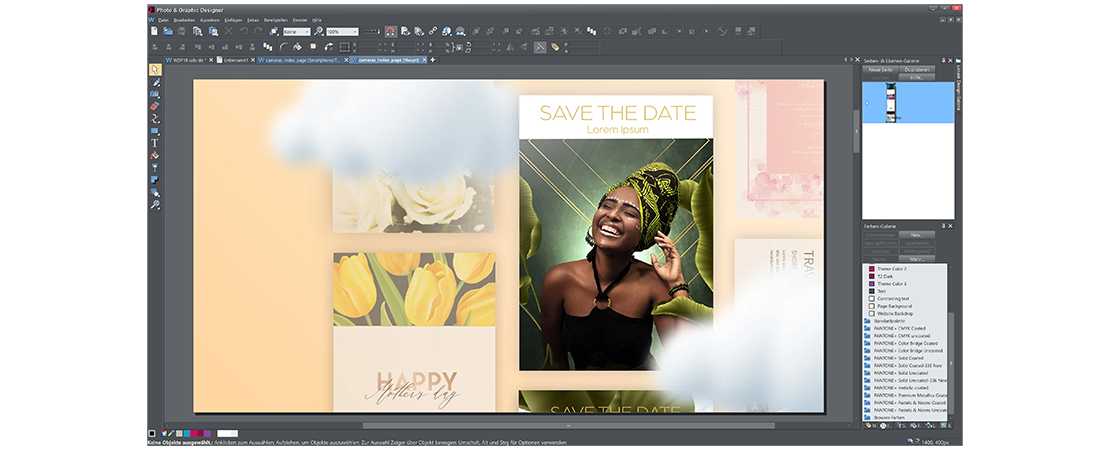 A simple picture editing program with enormous depth
Thanks to the intuitive interface, you don't have to spend long agonizing hours struggling through manuals or install a whole range of software on your PC, since you can complete all your work with just a single piece of software. This picture editing program has much more to offer: Photo & Graphic Designer from Xara is a simple but highly effective program to fully meet virtually all of your image and photo editing needs. The lower learning curve is a huge advantage that allows every user to use the software for their own needs. The finished edited picture can be used for a simple flyer as well as developed or printed in all kinds of ways. Edited pictures on canvas can make any room look better and round off the vacation stories in a photo album. You can edit your own pictures for any imaginable subject in a flash.
Try it out for yourself! You'll be amazed by how much more you can do than just edit pictures with this powerful software. The free trial version is available for download.
* With the update service you will receive a full year of free new features and updates, which can be used indefinitely. If you reinstall the program after one year, you will have access to the basic version. After the one-year update service has expired, you can extend it for a discounted price.