Picture editing with Xara – The perfect introduction
Picture editing with specialized PC software opens the door for many possibilities. Images can be optimized, cropped, edited, artistically distorted and processed by using various filters and features to create a totally unique photo experience.
The picture editing program Photo & Graphic Designer from Xara, can help you to transform any photo from your vacations, family celebrations and other events into amazing pictures. With this program, anyone of any skill level can perform picture editing and transform an average snapshot into an amazing photo that can be enjoyed for years to come.
In addition to supporting RAW formats (raw data formats) from current camera models and a vast selection of tools for image optimization, the program also offers lots of photo retouching functions. This makes it possible to remove unwanted elements from your photos quickly and easily. From simple picture editing like adjusting the contrast or brightness or by adding artistic effects to change the colorization of landscapes, with this program you can let your creativity run wild during the image editing process. With a bit of practice, you can even change body shapes which is a similar feature performed on images in fashion magazines.
Even small adjustment to your photos can have lasting effects. Changing the exposure of your photos can have a dramatic effect as this effect change the color temperature in the image. A cool image has a corresponding cold effect and this is the reason why so many photos taken during bad weather can sometimes be unappealing. If your vacation was rained out, use this feature to make you photos more inviting. With this program, you can also automatically combine several photos to create an amazing panorama photo.
Not only does this software optimize and edit your photos but you can even design your own vector-based graphics in the blink of an eye. The advantage of vectors is that they are based on mathematical formulas instead of pixels. This means that they can be adjusted and resized without any loss in quality. Using a combination of graphics, text and image you can tell an entire story with a single photo. When you're finished, you can save your masterpieces in all standard formats including JPEG, TIFF, PSD files or even GIF files.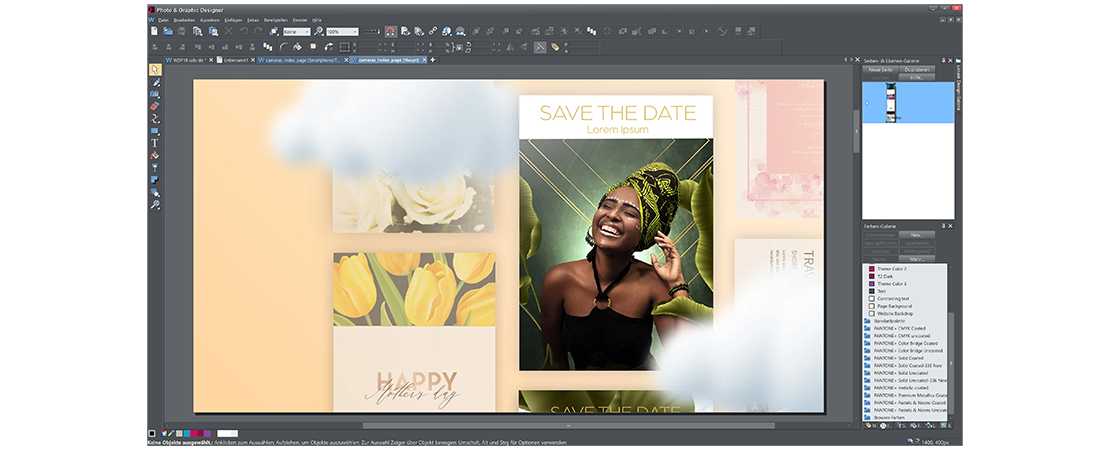 Picture editing created with high-performance technology
Thanks to its easy learning curve, Xara Photo & Graphic Designer is the perfect solution for users who don't want to struggle through thick user manuals. Xara Photo & Graphic Designer is just that easy to learn and use and it doesn't place any limitations to your creativity.
* With the update service you will receive a full year of free new features and updates, which can be used indefinitely. If you reinstall the program after one year, you will have access to the basic version. After the one-year update service has expired, you can extend it for a discounted price.