MAGIX offers the best music software and has the solution for both consumers and professional musicians alike
Music creation software has become one of the main selling points for many new computer platforms.
Although the music creation business has been largely dominated by users not on the PC platform, users of Windows computers are often looking for solutions that are both easy to use and inexpensive. MAGIX has made it its mission to fill that void and has been making top level audio editing and music creation software since the early 90s. MAGIX first developed music software for the Amiga platform in 1994 and since then has been creating the first in a long line of Music Maker programs with resounding success. Seeing that the PC platform was going to be largely dominated by the MS Windows OS, MAGIX began developing for that platform and made music production software available to all and proving that anyone can make awesome music on a PC.
Audio Cleaing Lab is one of the best solutions on the market for tweaking and repairing audio files. Using ProAudio tools derived from some of MAGIX's professional tools, users can import damaged, or non-optimized audio, and then quickly apply preset audio fixes, then re-export the new optimized files.
Adding a powerful hardware component to Audio Cleaning Lab's base program, MAGIX created Rescue Your Vinyl and Tapes! This hardware and software solution is seamlessly integrated to allow users to import audio from any source that has at least one audio output. The software includes a preamp allowing users can save obsolete or damaged analogue audio sources and preserve their audio file forever. This allows you to keep on listening to your old LPs and tapes with optimized sound on new devices like your smartphone or tablet.
Music Maker, one of MAGX's first consumer products has been hugely successful over the last 15 years. Using power audio drivers, Music Maker creates music with a drag and drop building block system. The program comes with Soundpools and can support any audio file type which can easily be dropped into the build list and manipulated in the main screen. Using Music Maker is really that easy!
For the more professional user, Samplitude Pro and Sequoia provides users with an object-based experience creating a complete in-the-box workflow that is based on a Hybrid Audio Engine.
So, with MAGIX, you have everything ready at your fingertips to create the best songs and produce professional audio files with the best music software.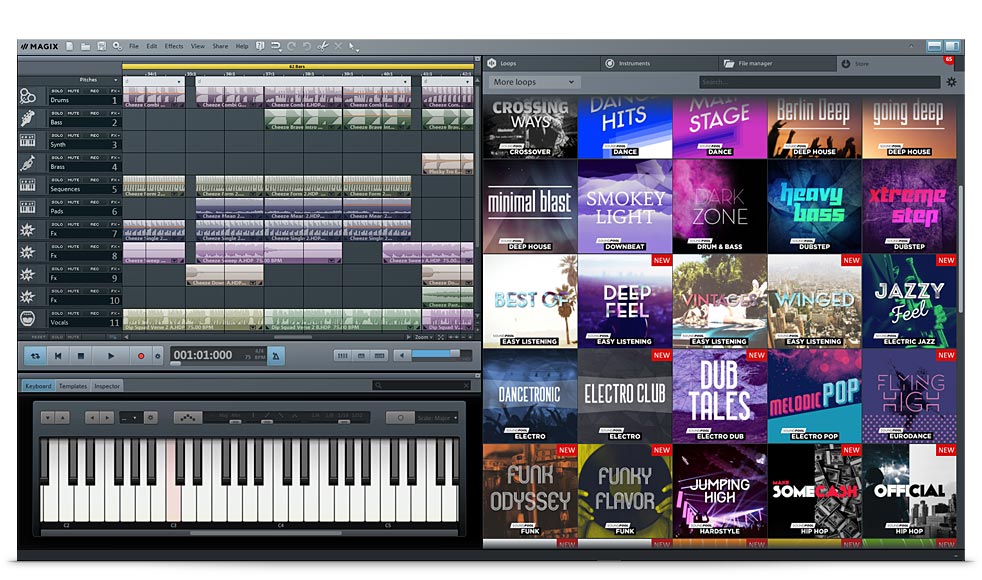 The best music is made with the best tools
MAGIX has everything you need to produce your own songs and sound with the best music software. Whether for audio production or audio editing, MAGIX has it all. Try Music Maker 2016 today and experience how easy it is to create songs on your PC like a pro. With Music Maker, you'll experience a whole new dimension to music creation – and have lots of fun along the way!