Convert your MP3 from CDs and other music files with MAGIX
People want to be able to have the flexibility to convert their CDs and music files into MP3s and other formats from their home PC. Compared to conventional compact discs, digital formats offer many advantages for users. For instance, digital audio files can be easily transferred and listened to on the go such as on a smartphone or MP3 player.
The MP3 codec is great for music archiving. It compresses the music into relatively small files which makes it possible to store huge collections on a single hard drive. These are the files that can be transferred to your audio devices like a MP3 players or smartphone. In addition to increased mobility, the MP3 format simply offers an easier and more efficient way to arrange and organize music files.
With the software MP3 deluxe from MAGIX, you can easily convert music files to MP3 or any other standard format including OGG, WMA or WAV. As an audio converter, this program is easy to use and offers a wide range of conversion formats. This all-in-one audio program is also the perfect solution for organizing your music collection. The powerful search and filter functions makes your life easier by enabling you to find exactly the song you're looking for in seconds with just a few simple clicks.
The digital formats OGG Vorbis, WAV, WMA and MP3 all offer various advantages. OGG Vorbis audio offers more efficient compression than MP3. WAV formats usually take up more space than MP3s. A general advantage with music files is that they can be played back from the computer without the interruption caused by having to change a CD. With self-made playlists, a collection of songs or albums can be played non-stop for hours creating pure music enjoyment. To benefit from the many advantages of MP3s you need to have MP3 software that can convert music from CDs and other formats into MP3s. The program MP3 deluxe from MAGIX works as a converter and also as a music collection manager and a player.
If your music collection is make up of various file formats – e.g. WMA or AAC – MP3 deluxe can easily compile and play back these files from a playlist. Or you can convert all of your files to one format to guarantee that your smartphone or MP3 player can play back your favorite songs without any problems. MAGIX MP3 deluxe can recognize almost any music file and is able to process and convert it. It's also possible to import songs from CDs to your computer. But MP3 deluxe doesn't stop as a solution for simple audio file conversion or organizing, it has even more features and impressive functions for all your audio needs.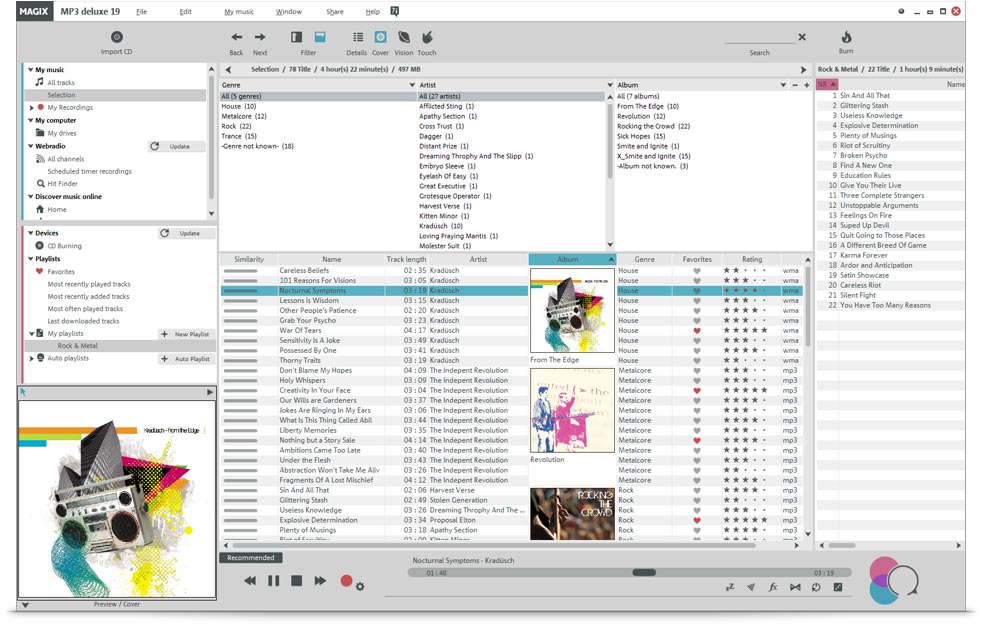 Convenient converter: Transform music files into mp3s
The effects included in the MP3 conversion and organizing software, MP3 deluxe can bring the sound of audio files to a whole new level and remove unwanted noise. For those who like to make their own music, the converter can be used to cut out passages from songs so they can be used in a sequencer as loops. After all, real music lovers probably want to do more than just convert their songs into mp3s and will want to use them as a foundation for their own creative ideas. With MP3 deluxe from MAGIX, you can do it all and let your creative freedom run wild.