Meet the new ACID Pro 8.
Your creativity. ACIDized.
Introducing the all-new ACID Pro 8. This is the latest version of the software that launched loop-based music production over 20 years ago and is packed full of contemporary and pro-level features for today's creative artists and producers. Powerful 64-bit technology sits behind a sleek, new interface that maintains ACID Pro's famed easy workflow. Dozens of new instruments, loops and effects line up with 12 GB of brand new content to give you everything you need to create music in any genre. With VST3 support coming soon in a free update, ACID Pro is future proof and ready to embrace a new world of plug-ins.
ACID Pro 8 is the legendary software reborn for 21st century audio production: With more features, more power and more plug-ins – all with the same easy-to-use workflow.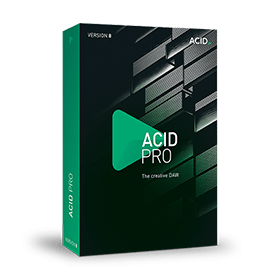 New features at a glance:
New and sleek interface
Powerful 64-bit engine
24-bit, 192 kHz multitrack recording
Innovative loop-based composition
Advanced MIDI and audio editing features
$1,000 of new plug-in instruments, loops and effects
9 GB of all-new ACIDized loops
The all-new ACID Pro 8.
Looks great. Is great.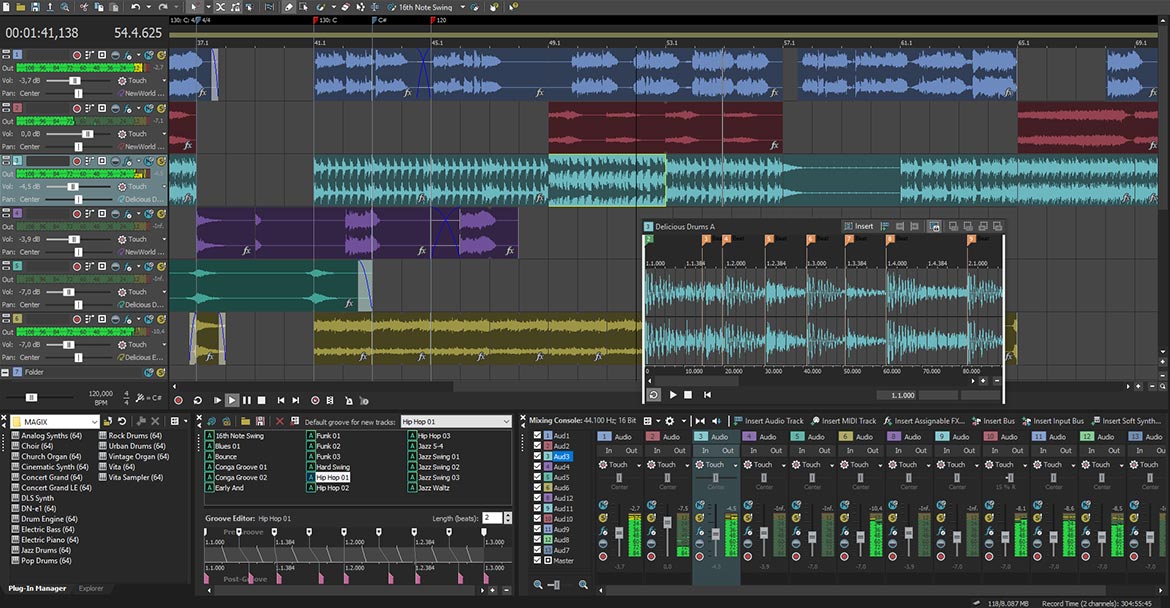 The Arranger
ACID Pro 8 makes it very easy to create entire song arrangements in no time at all. It offers many creative tools for today's producers that can be accessed from the main Arranger area. It's easy to divide your project into logical sections and then order them on the timeline. Tracks can be easily organized by placing them into Track Folders and then use cluster editing to drag, pitch-shift, cut, copy and paste whole sections of an arrangement to complete your tunes with ease.
The Mixer
ACID Pro 8 offers an incredibly flexible recording environment with a dedicated feature-rich mixer. It's easy to assign plug-in effects or work with external effects and devices. There are also an array of routing options like recording external audio utilizing ACID Pro 8's effects. You can also create complex submixes with bus-to-bus routing and monitor everything in real time. ACID Pro 8 also handles surround mixing projects with a surround panner for precise control over channel positions.
Your Plug-in Manager
Within the Plug-in Manager, you can organize all of your DirectX and VST plug-ins – effects and instruments – and ReWire devices. You can assign effects to tracks and busses, synths, instruments, soft synth busses and rename and reorganize plug-ins. ACID Pro 8 also offers several ways to view plug-ins within folders or within the Mixing Console and even lets you categorize instruments so you can target exactly the ones you need for speed and flexibility.
The Chopper
Groove Pool
Real-time pitch and tempo manipulation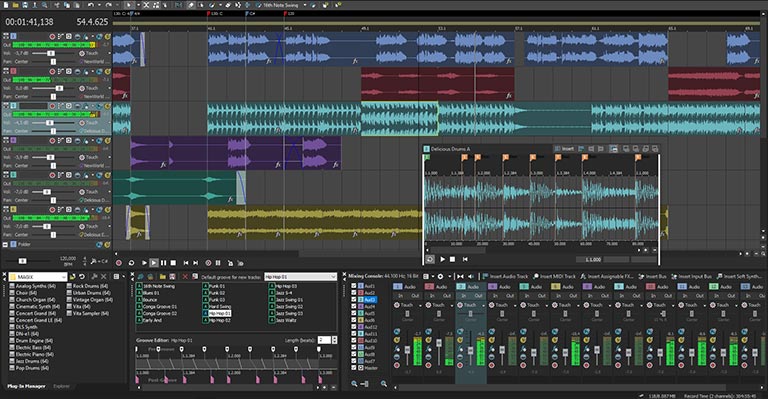 ACID Pro 8 boasts a brand new interface reflecting its status as a modern, sleek and creative DAW that appeals to all levels of music producers. Existing ACID users will feel right at home with its familiar workflow while enjoying a slick, new environment designed for more precise mixing, creative composing and professional recording.
More power under the hood.
New technologies in ACID Pro 8.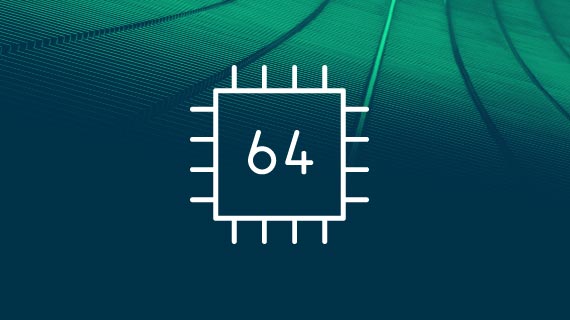 64-bit
Give your music production a boost with a DAW designed to take full advantage of your computer's resources. ACID Pro 8's new 64-bit architecture works with your PC, utilizing its full power so that it can handle even the most demanding projects.
Your creativity now has no limits. Run real-time effects, unlimited audio tracks, hundreds of loops and instruments within huge projects, all latency free.
Everything you need to fuel your creativity -
Out of the box.
16 incredible instruments: From virtual analogue synths and techno beats to classic pianos and rock drums
13 great effects: Enjoy the warmth of vintage compressors or the atmosphere of shimmering reverbs
9 GB of ACID loops and soundscapes catering for a wide variety of genres: From metal and Trap to EDM and hip hop
PLUS! A $79.99 coupon* to choose more sounds and instruments from producerplanet.com to add to your ACID collection
* The coupon is not available for ACID Pro 365 in the 3-month version.
The new plug-ins.
A powerful arsenal for your ideas.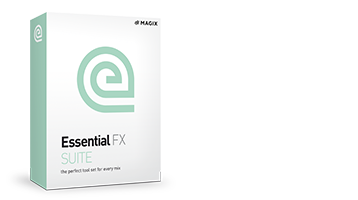 essentialFX Suite
New to ACID Pro 8 is essentialFX Suite which has all the effects you need for creative music production. It includes 11 first-class plug-ins for all stages of the music making process, including a compressor, gate, reverb and delay.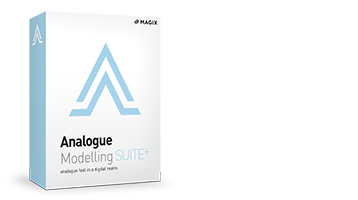 Analogue Modelling Suite
(am|track SE)
Liven up or smooth out your musical tracks with AM|TRACK SE, an ultra-realistic analog modelling compressor which features a Vintage Mode, ideal for adding attitude when you need it.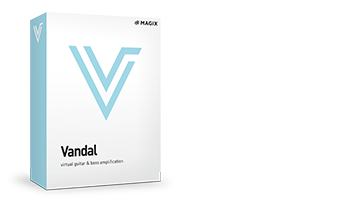 Vandal SE
A powerful guitar and bass effects rack that models stomp boxes, guitar amps and speakers. It's a complete guitar effect signal chain, in software.
New virtual instruments.
Make some noise.
ACID Pro 8 boasts an incredible new range of plug-in instruments. These include a performance sampler, analog synth and 13 amazing Vita Solo instruments that produce everything from rock drums to an ultra-realistic grand piano.
Pop Drums
This is a fantastic beat-making tool and is ideal for many current genres of music. Play everything from huge trap beats to furious metal!
Concert Grand
An incredible, sampled concert grand piano which offers all the power and detail of an amazing instrument recorded in its natural environment.
Church Organ
This instrument stylishly recreates the emotional and dramatic sounds of an original organ and is suited to both classical and contemporary music.
Urban Drums
This drum instrument is perfect for dubstep and hip-hop grooves, and programming it is easy as it's based on easy-to-use hardware beat makers.
Electric Piano
Create a variety of vintage tones with all the organic character of the original instrument. Ideal for smokey jazz, melodic blues or funky riffs.
Rock Drums
The perfect instrument for providing more dynamic beats to your music – everything from grooves with a huge arena sound to clean studio drums.
Drum Engine
Drum Engine includes a range of preset sounds – from modern pop kits to groove box samples – so you can create beats over a wide variety of styles.
Choir
Create the complete sound of a choir including classic choral arrangements, male voices, crystal-clear female vocals and mixed-voice choirs.
Cinematic Synth
Take your sonics out of this world and produce everything from dreamy sequences to heavy basslines and atmospheres to soundtrack any film.
Analog Synths
Emulate the sounds of legendary hardware synthesizers! With its retro design and hands-on controls you'll be creating vintage tones in no time.
Vintage Organ
Take a trip back in time with an instrument that is focussed completely on vintage organ sounds, with plenty of hands-on controls to shape the sounds.
Electric Bass
Perfect for laid-back funk riffs, soul ballads or more current genres. It is elegantly-designed with a multitude of options for sound design.
Jazz Drums
Everything from the driving pulse of a classic jazz tune to a more abstract groove for an electronic-based track, and also great for more laid-back beats.
Vita 2
A sample player based on the Independence ROMpler. It reproduces a variety of real instruments with an on-board filter and effects for sonic customization.
Vita Sampler
A fantastic sampler that slices up any audio file and automatically assigns the samples to pads so that you can create new grooves and melodies.
DN-e1
A powerful but easy-to-use virtual analog synth which is capable of creating everything from classic vintage sounds to modern EDM soundscapes.
Exclusively in ACID Pro 365
Enjoy all the new additional features in ACID Pro for a low monthly cost and get exclusive content too! ACID Pro 365 keeps you up to date with the ACID Pro universe with all the updates, new features, new instruments and effects as soon as they are released – starting at just $7.99 a month.
ACID Pro 365 also includes exclusive instruments like Vita Pop Brass and Orchestral Ensemble and effects like Analogue Modelling Suite to help you stay ahead of the game. Your future is secure with ACID Pro 365!
Even more instruments
in ACID Pro 365
Vita Pop Brass
Vita Pop Brass Pop Brass will find a home in all genres of music: Smooth funk, orchestral arrangements, tight Latino rhythms and modern R&B. It is the ideal instrument for both elaborate productions and creative jam sessions.
Orchestral Ensemble
An instrument that focuses on the ensembles within a symphonic orchestra. It sounds incredibly authentic but is also very easy to use and ideal for everything from dramatic brass staccatos to gentle string legato.
Exclusive effect plug-in
Analogue Modelling Suite
Another exclusive addition for ACID Pro 365 users is Analogue Modelling Suite. It has four classic plug-in effects: the AM|MUNITION compressor/limiter, the AM|PULSE transient modeler, AM|PHIBIA tube amplifier/channel strip and the AM|TRACK compressor/tape simulator.

Exclusively in ACID Pro 8 Suite
ACID Pro 8 Suite is the ultimate collection of plug-ins for music making and provides producers with an incredible $2,000 worth of instruments, loops and effects to make complete songs in any genre.
More music, more genres.
10 new Vita Solo Instruments.
Vita Power Guitar
Produce high-quality guitar sounds with energetic slides, aggressive power chords and squealing overdrives. This instrument combines different playing techniques with an extensive sound library, so you can create a vast amount of guitar sounds.
Vita Century Guitar
Century Guitar offers exactly what you need: clean, authentic guitar melodies and accompaniments. The unadulterated sound with the highest attention to detail plus a wide range of expressive possibilities all guarantee an absolutely realistic playing experience.
Vita Soundtrack Percussion
Soundtrack Percussion lets you create your own percussive scores and is perfect for adding a touch of drama to any soundtrack. The instrument features a wide range of sounds including bells, drums, thunder bells, gongs and Taiko drums, so is the ideal percussion partner.
Vita String Ensemble
This virtual instrument contains a whole ensemble of powerful and stirring strings. From historical, classical string sounds to electronically manipulated effects, everything is included, old and new.
Vita Bass Machine
Get those speaker cones rumbling with this collection of superb bass sounds. Create powerful and pumping bass lines and the perfect bass tone with plenty of filters and a wide variety of presets.
Vita Upright Bass
From real orchestral sounds to classic jazz, Upright Bass contains a variety of acoustic sounds for dynamic, powerful and groovy bass lines that add depth and soul to any track.
Vita Century Keys
From classic piano to modern electro piano presets, this VST instrument contains fantastic sounds for pop, rock, jazz, hip hop, soul, RnB, house and other genres.
Pop Brass
(Exclusively in ACID Pro 365 and ACID Pro 8 Suite)
Pop Brass has it all: slick funk, orchestra arrangements, tight Latino rhythms and the sound of the roaring '20s. It is is perfect for both elaborate productions and creative jam sessions.
Vita Space Pad
The Space Pad synthesizer is particularly useful for out-of-this world sounds, offering multi-layered sonic textures, complex sequences and organic synthesizer sounds suitable for a variety of projects.
Orchestral Ensemble
(Exclusively in ACID Pro 365 and ACID Pro 8 Suite)
Orchestral Ensemble contains various ensemble recordings of an orchestra complete with brass, woodwind, percussion and strings. With everything from angry brass staccatos and driving orchestral thrills to soft string legato, it is perfect for all film and pop music producers.
Brilliant mixing & mastering.
Exclusive effects.
With the Analogue Modelling Suite, Vintage Effects Suite, VariVerb II and Vandal, music producers have a huge arsenal of effect plug-ins at their disposal, offering unmistakeable vintage character for pro quality results.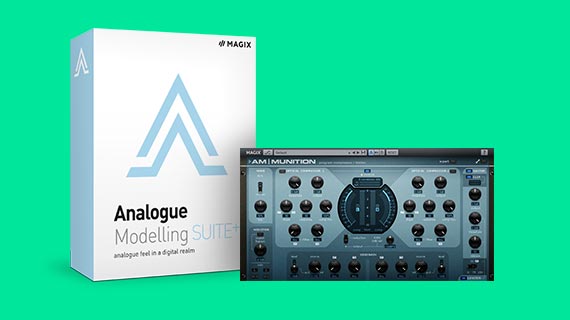 Analogue Modelling Suite
All your analog recording needs are tailored for with Analogue Modelling Suite. It contains four excellent plug-ins – the AM|MUNITION compressor, AM|PULSE transient designer, AM|TRACK tape simulator and AM|PHIBIA tube amp – offering pristine mastering effects, and an analog experience that no studio should be without.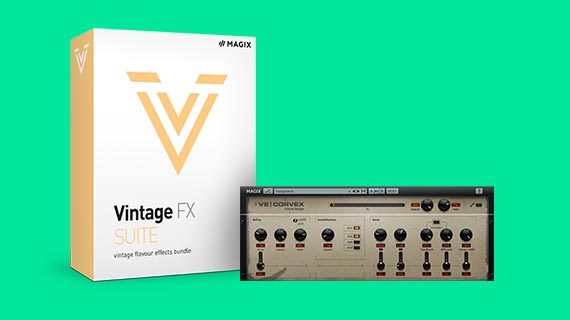 Vintage Effects Suite
This suite includes three incredible VST plug-ins: Corvex, Ecox and Filtox. These authentically recreate the classic sound of analog devices, offering realistic tape echo sounds, plus precise modulation, chorus and flanger effects for the perfect vintage vibe.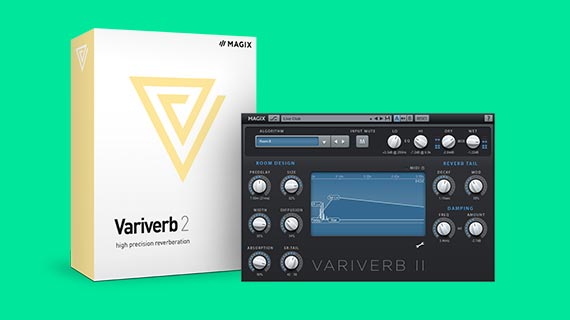 VariVerb II
The VariVerb II plug-in contains evocative preset and custom reverbs that will add atmosphere to your mixes and give drums, guitars and vocals a brilliant depth and enhanced character.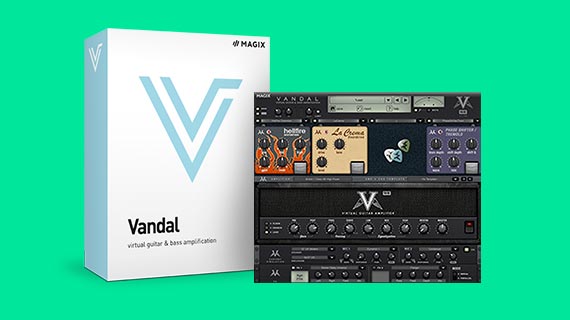 Vandal
Vandal is a virtual bass and guitar amplifier and a whole lot more besides. It offers guitarists and bassists the complete signal chain and authentic recreations of real amps, from their tubes to speaker coils.
Find even more content on
PRODUCERPLANET.com
Producer Planet is a brand new platform for all producers. There are ACID loops and samples, virtual instruments and other audio and video products, all designed to enhance your music making experience. It's also the ideal resource for any professional producer to access the tools they need for whatever production they are working on.
ACID Pro 8
Valid until April 24, 2019
Included as part of this offer:
Includes ACID Pro 9 (C$199 value)
Learn more
Regularly C$398.00
C$199.00
Buy now
ACID Pro 365
Valid until April 24, 2019
The first 3 months for C$1
From the 4th month C$37.47 for 3 months
Learn more