Create the right atmosphere for your film projects with dubbing
Dubbing is an important part of film production, because in most filming sessions, actors or props often create sounds that don't sound the way they are intended for the viewer.
That's why they are usually added later. A so-called "Foley Artist" mimics sounds to be dubbed into the movie. These "sound artists" create sounds in a studio with a number of helpful aids - cellophane for crackling fire, or peas on aluminum sheets for driving rain. These sounds are recorded with a computer so that they can be dubbed into the movie after. Sound artists play an important and vital role in film production.
High-standard dubbing functions are important when looking for the best video editing programs. MAGIX Movie Edit Pro is video editing software that has this feature, enabling amateur movie makers to use pre-recorded Soundpools that have been produced professionally to provide familiar sounds and audio effects. With two sound collections that have been available for years, Soundpool DVD Collection and Photo & Videoshow Soundpool, MAGIX offers an extensive collection of sounds in different formats that can be easily edited and layered before they are dubbed into your movie. After video editing and before the film is actually presented, the project needs the right musical background score. How important this really is quickly becomes apparent if you consider the soundtrack of one of your favorite movies.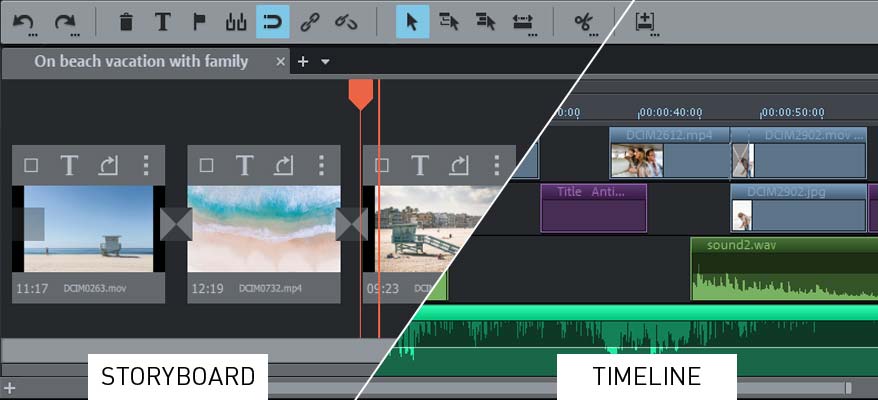 The harmonious duo of movie audio editing: dubbing and film music
After recording any footage, the next piece is the music. Sounds in file are almost always edited on a computer, improved, and often enriched with dubbing the footage to include special sound effects. Composing film music follows dubbing and is usually the last stage before the film is presented.
* With the update service you will receive a full year of free new features and updates, which can be used indefinitely. If you reinstall the program after one year, you will have access to the basic version. After the one-year update service has expired, you can extend it for a discounted price.