Compare Music Maker Editions
Music Maker 2020 Plus Edition

Music Maker 2020 Premium Edition

&nbsp
&nbsp

Tracks

8

min. 8

min. 8

425 free sounds & loops

4 free Soundpools

Vandal Bass & SE guitar amp

Effects

8

min. 8

min. 8

Concert Grand LE (software instrument)

Vita 2 (software sample player)

Revolta 2 (software synthesizer)

Multicore support

Extra content

Sounds, instruments & features worth a value of $265.00

Sounds, instruments & features worth a value of €910.00

Instruments

3 (freely selectable)

6 (freely selectable)

Tiny instruments

1 (freely selectable)

2 (freely selectable)

Soundpool Collections

1 (freely selectable)

1 (freely selectable)

Soundpools

1 (freely selectable)

3 (freely selectable)

Feature packs

4 (2 freely selectable)

9 (6 freely selectable)

More tracks & formats

Creative Suite

Live Pads & Live Sets

iZotope Ozone 8 Elements

coreFX bundles

SOUND FORGE Audio Studio 12

&nbsp
&nbsp
Music Maker Special Editions
Each Music Maker Special Edition contains sounds, loops, instruments and features worth a total of €105.00. In addition to the sounds, loops, instruments, effects and features already included in Music Maker, you can freely select 3 additional Soundpools from your favorite genres (€30.00 value), as well as 1 MAGIX instrument (€30.00 value) and 1 Tiny Instrument (€5.00 value).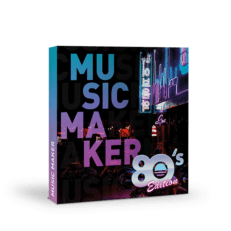 80s Edition
With the 80s Edition, you get a Music Maker that's full of twisted poppy synth sounds. Pumping bass lines, legendary drum machines and instantly recognizable synth leads: Bring back the sound of the 80s with the new Music Maker Edition!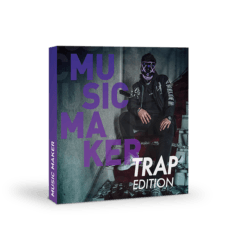 Trap Edition
Hard beats, sluggish basses and stuttering hi-hats: With Music Maker Trap Edition you take your speakers to the limits. It's easy! Music Maker has always been one of the most intuitive tools for beat production.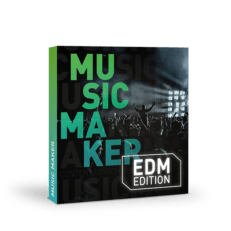 EDM Edition
Thousands of cheering fans, sold out festivals and a whole lot of bass: Produce electronic music simply via drag & drop. Access easy operation, crazy drops, pushing synthesizers and a whole lot of good vibes to boot.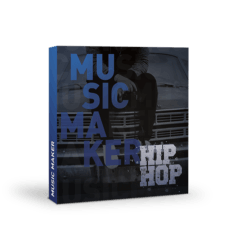 Hip Hop Edition
Booming speakers, phat rap beats and your own lyrics: The Hip Hop Edition offers everything for producing your own beats and rap songs. Transform your PC into an audio studio, record your own raps, mix tracks and make heads bob with your flow!