The best Music Maker ever
The new Music Maker 2022 is more powerful, more versatile and even more fun than before!
Discover the latest customizable tools and features for producing amazing songs with ease.
The new Beatbox Now featuring hardware integration.
A handmade craft
Hardware integration provides even more intuitive operation through visual feedback, advanced feature mapping, and one-shots.
Full control
Choose from a wide variety of kits in different genres and mix custom drum tracks in Beatbox or using dedicated hardware.
Stay up-to-date
From analog drum machines to exclusive artist content, enjoy creative inspiration from the new Beatbox Kits in the Music Maker Store.
The new Song Maker AI. Now even more intelligent.
Intuitive beat making.
The most advanced feature in Music Maker now creates even better beats: Song Maker AI has been improved to make rhythmic loops and musical drum parts that complement the feel of a song.
Your creative helpers
Song Maker AI now provides information in greater detail about the drum loops and Soundpools used in the mix. Enjoy precision to a hundredth of a second.
Personalized to fit you
Song Maker AI offers suggestions, you make the decisions! Edit the song parts offered by Song Maker AI to your liking and enjoy complete creative control while working on your production.
Work as fast you can think
More personalized than ever before: Experience the new, customizable user interface that makes production even more intuitive.
Get started quickly
It's never been this easy to get started: Learn the ins and outs of Music Maker with step-by-step in-app tutorials that help you from your first idea to a finished song.
Keep a clear overview
Clear and intuitive: The Arranger and Mixer feature a dedicated track for Beatbox Pro, so that it's easy to make your own beats.
Music production without limits:
Music Maker Premium Edition.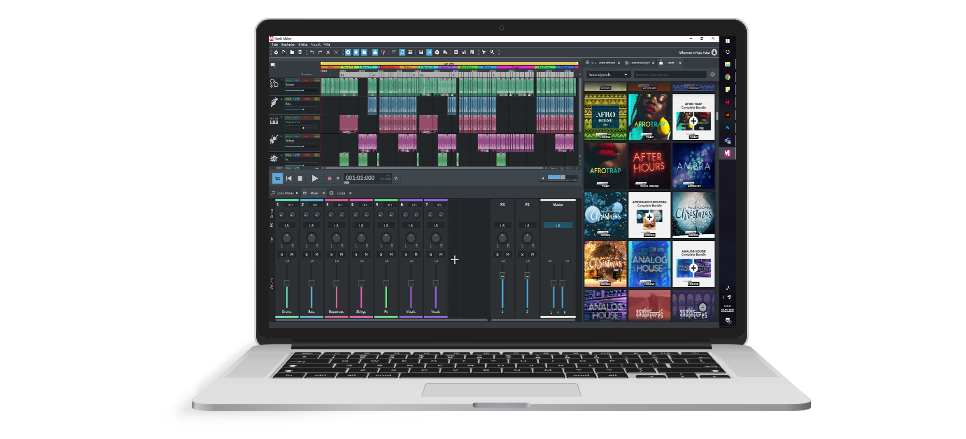 Let your creative potential run wild with the most powerful Music Maker ever.
Thanks to Song Maker AI, artificial intelligence is at your fingertips – exclusively in the Premium Edition. Experience high-end sounds, tons of exclusive content, and all the new features.
Music Maker Premium: S

tart producing on the pro level.