Convert M4A to MP3 - With Audio Cleaning Lab
With the MAGIX Audio Cleaning Lab, audio software for Windows, you can convert your audio recordings and music files to WAV, FLAC, OGG Vorbis, M4A or MP3. To convert these files, simply drag the file into the program, click export and select the codec file type you like. That's really just it - it's that easy. You can also set the quality of the export format with conversion bit rates of up to 320 kBit/s.Other audio converters will just assist you with converting M4A files and at the most, allow audio playback. But with MAGIX Audio Cleaning Lab, not only can you convert files but you can also record, edit music and optimize all your audio files. The software comes with various presets for removing noise and for optimizing the sound to provide you with the maximum audio quality after editing and converting. Thanks to the ease of use of this converter and intuitive program interface, you can edit audio files in next to no time.Test Audio Cleaning Lab out for free for the next 30 days and convert your files to any file type you want like M4A, WAV, WMA, AIFF, FLAC or MP3. Find more information about the full version here and start making the most of your audio files today.
M4A files unfortunately are not compatible with all portable audio players or smartphones - whereas MP3 is considered to be the standard digital format for audio. Your solution to convert your files into MP3s is Audio Cleaning Lab. With the program you'll receive everything you need and more. Audio Cleaning Lab is an MP3 converter, an audiograbber and audio editing software. It provides many possibilities to optimize and edit audio - you get all in one software program! This multi-tool not only assists you with converting M4A to MP3, but also with recording, cutting, and optimizing your audio files. Converting WAV, FLAC, WMA, OGG Vorbis, AIFF or M4A to MP3 is a walk in the park with this converter. You can also, of course, convert files in the opposite direction too: from MP3 to other audio file formats.
All you have to do to get started is import a file, select the audio format, set the quality and your file will be converted in a snap. Whether it's an audio book in M4A format, speech recordings in WAV file or music as OGG or FLAC, this software can quickly and effectively converts your audio files on your Windows PC. You can also transfer your optimized recordings with just one click to your music management program, such as MAGIX MP3 deluxe. With Audio Cleaning Lab, you get the easiest way to convert M4A to MP3 and other types of audio formats. Try it now for free for the next 30 days by downloading the free trial version. Visit the Free Download Page from MAGIX.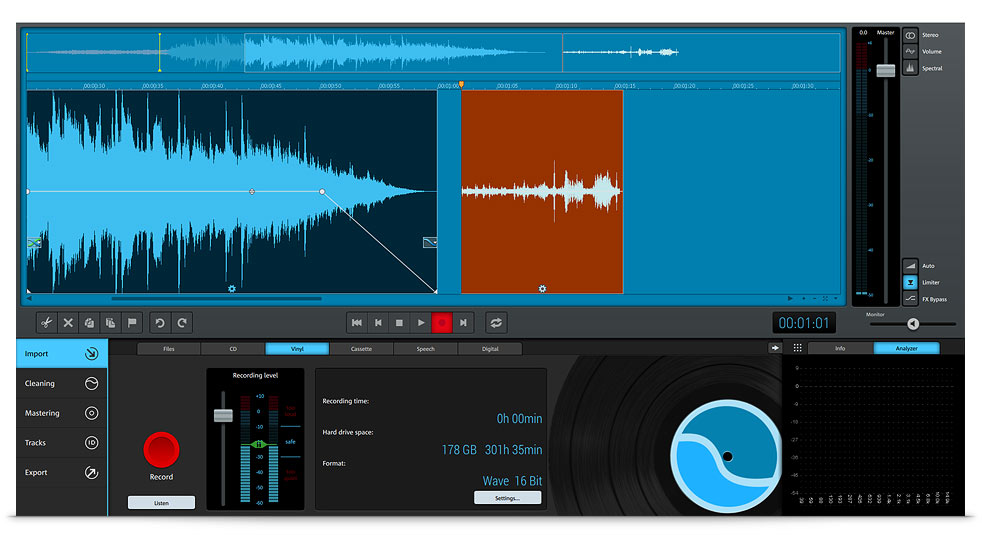 Convert M4A to MP3 and more - With this multitool for audio files
MAGIX Audio Cleaning Lab software assists you in converting your audio files to MP3 and all other audio formats. Converting OGG Vorbis, FLAC, WMA or M4A to MP3 is just as easy with this program as recording audio signals or removing noise from recordings. It's a great solution in other areas as well with its clearly laid-out program interface, ease of use as well as various presets that makes converting, cutting and editing audio files a breeze. Common audio file formats for converting and playback include AAC, FLAC, WMA, MP3, AIFF, and OGG Vorbis.